SC 1800 & SC 1800B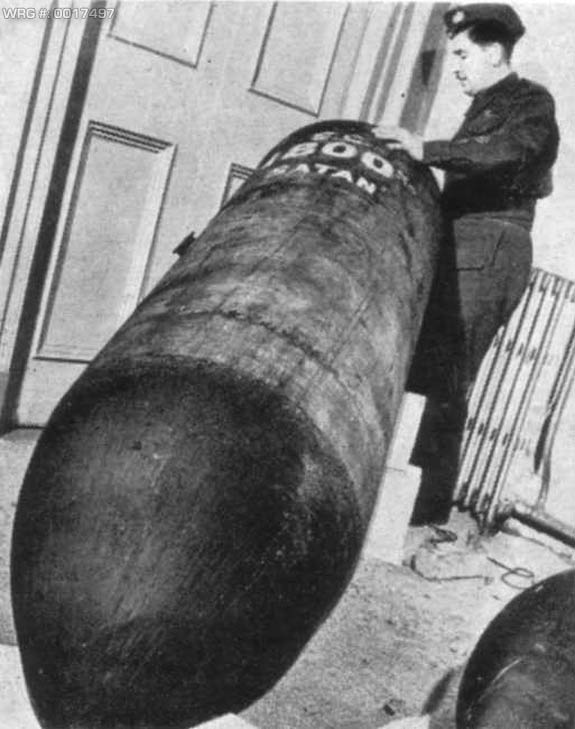 Type: General Purpose
Over-all Length: 147.9 in.; (B) 137.7 in.
Body Length: 107 in.; (B) 106 in.
Body Diameter: 26 in.; (B) 26 in.
Wall Thickness: 0.5 in.; (B) 0.5 in.

Tail Length: 55.2 in.; (B) 44.7 in.
Tail Width 36.0 in.; (B) 26.0 in.
Filling: 40/60 Amatol, TNT, and Trialen 105
Fuzing: 28B; (B) 28B or 25B

---
SUSPENSION:
Horizontal, using the H-Type suspension lug.
COLOR AND MARKINGS:
Sky blue over-all with a yellow stripe on the tail cone.
CONSTRUCTION:
The SC 1800-kg. bomb has the same general construction as the
SC 1000
and
SC 1200
series. It is fitted with a single fuze pocket.
The tail unit is constructed of sheet steel. The four fins are braced with diagonal bars on the
SC 1800B
model. The SC 1800 series has the central TNT exploder tube like the
SC 1000
.
REMARKS:
If filled with Trialen 105, the following will be stenciled on the case.
"105" "Bei Abwurf auf land nicht im tiefangrift und nur o. V." (Not to be released from a low height on land targets; always nondelay).
---
Image Source:
Rickard, J (28 November 2008),
SC 1800 Satan German HE bomb
---
All information for this entry were acquired from Army Technical manual TM 9-1985-2/Air Force Technical Order TO 39B-1A-9 GERMAN EXPLOSIVE ORDNANCE (Bombs, Fuzes, Rockets, Land Mines, Grenades & Igniters)