SC 1000 HERMAN (C, L, AND L2)
Type: General Purpose
Over-all Length:
Body Length:
Body Diameter:
Wall Thickness:
Tail Length:
Tail Width:
Weight Of Filling:
Charge/Weight Ratio:
Total Weight:

C
109.5 in.
75.0 in.
26.0 in.
0.4 in.
46.5 in.
24.0 in.
620 kg.
57%
1,090 kg.

L
99.5 in.
68.6 in.
25.5 in.
0.4 in.
46.5 in.
25.3 in.
530 kg.
53%
1,002 kg.

L2
109.5 in.
75.0 in.
25.6 in.
0.4 in.
46.5 in.
24.0 in.
600 kg.
60%
1,002 kg.

---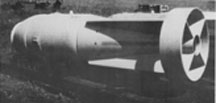 ---
Filling:
40/60 Amatol TNT; TNT Aluminum powder woodmeal; Tialen (105)
Fuzing:
28B2 Extension Cap III, AZ25B and AZ (55).
Color and markings:
Sky blue with a yellow strip on the tail cone.
Construction:
The SC 1000 and SC 1000 L2 general demolition bombs have a drawn steel tube body. A very heavy constructed pointed nose is welded to the forward end of the drawn steel body. The after end of the bomb body is threaded to take a female base plate. The tail attachment brace is tack welded to the body just forward of the base plate.
The magnesium alloy tail unit is of welded construction and is equiped with ring type strut. The unit is secured to the bomb body in two ways; it is welded directly to the bomb where the base of the cone contacts the body, and it is also bolted to the tail attachment brace with 16 round head bolts. This series of bombs are equipped with only one transverse fuze pocket. It is located approximately 8 inches off the suspension lug, and usually contains one of the E1 AZ (55) series fuzes. In addition to the boster pellats in the transverse fuze pocket, a central exploder tube of high grade TNT is located in the center of the explosive cavity. This tube runs almost the entire length of the cavity and is used to insure high order detonation.
The nose of the bomb is always fitted with the large size kopfring.
Suspension:
Horizontal by means of a H-type lug
Remarks
When filled with Trialen (105), in place of yellow stripes on the tail cone a silhouette of a ship is stencilled in yellow paint. On the bomb body is stencilled "nur gegen handelschiffen" (use only against merchant ships). It is also states that against nonarmor plated targets it gives off a good mining and blast effect, also good underwater results. Low level attacks using this bomb cannot be made because of the lack of safety for the releasing plane.
---
All information for this entry were acquired from Army Technical manual TM 9-1985-2/Air Force Technical Order TO 39B-1A-9 GERMAN EXPLOSIVE ORDNANCE (Bombs, Fuzes, Rockets, Land Mines, Grenades & Igniters)