---
WARBIRDS RESOURCE GROUP
>
BOOKS & MULTIMEDIA
>
PREVIOUS PAGE
---
Book & Multimedia Reviews
---
IMAGES OF WAR
TWIN MUSTANG
THE NORTH AMERICAN F-82 AT WAR
By Alan C. Carey

---
One of the most unusual and remarkable American fighter aircraft, the F-82 Twin Mustang was the last mass production propeller-driven fighter acquired by the U.S. Air Force. Originally intended as a very long-range fighter escort for the Boeing B-29 Superfortress during World War II, it arrived too late to see combat and evolved into a night and all-weather fighter during the post-war years. Combat operations in the Korean War followed, along with a host of other dynamic episodes of deployment...
---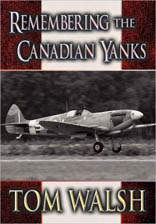 Remembering the Canadian Yanks
By Tom Walsh

---
Remembering the Canadian Yanks tells the stories of thirty five Americans, that for various reasons, entered the war flying for Canada. The author provides plenty of back ground information on each of the pilots, providing an interesting picture of the time period and why these individuals chose this career path. The book is structured very well and provides an enjoyable read and a fresh perspective on the subject.
---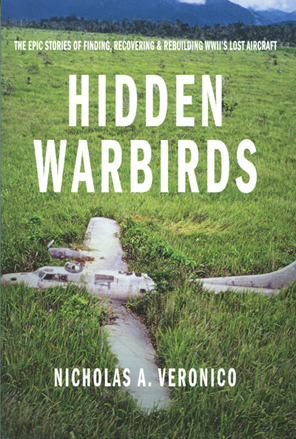 HIDDEN WARBIRDS
The Epic Stories Of Finding, Recovering & Rebuilding World War II's Lost Aircraft
By Nicholas A. Veronico

---
Have you ever wondered how those wonderful warbirds we see at the airshows came to be there? How more than seventy years after they were built, they survive and in some cases thrive? Who are the people who rescue, restore, and maintain these magnificent aircraft?
---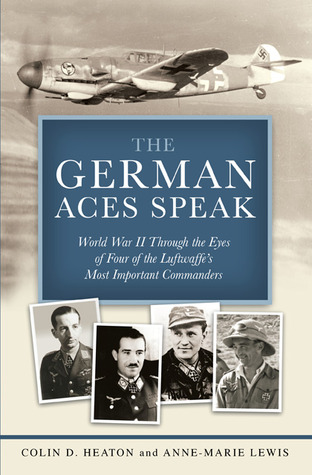 The German Aces Speak
World War II Through the Eyes of Four of the Luftwaffe's Most Important Commanders
By Colin D. Heaton & Anne-Marie Lewis

---
This book contains interviews and stories from four Luftwaffe pilot. Walter Krupinski and Adolf Galland, who are two of the more famous Luftwaffe aces, and Eduard Neumann and Wolfgang Falck. The latter two might be less well know but are equally intersting in there own right.
---
American Combat Aircraft Of The 20th Century
By Ray Wagner


---

Most visitors to this family of sites will have at least one Aircraft encyclopedia in there collection. A glance at the WRG library wall reveals that I do indeed have one... and five more.
---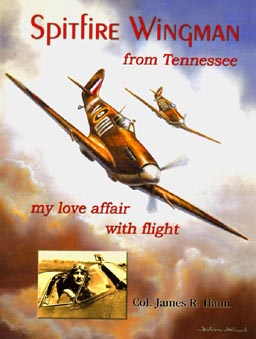 Spitfire Wingman from Tennessee
By James R. Haun

---
I was pleasantly surprised by this book and found myself unable to put it down. The life of Colonel James Haun is not your typical life of a World War II veteran and includes quite a few "adventures" before he even entered the military.
---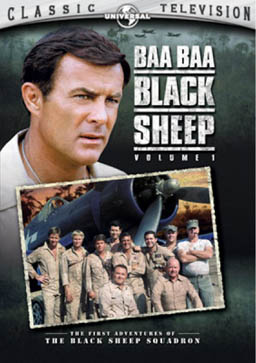 BAA BAA BLACK SHEEP
Volume 1
---
This show helped make the Corsair one of the most recognizable aircraft to non-warbird enthusiast and helped create a generation of fans of the bent-wing bird.
---
THE SWAMP GHOST
By Justin R. Taylan
TYPE: DVD




www.TheSwampGhost.com

Rating:


---

This is the second project by Justin Taylan that we have reviewed and I must say he has continued the trend of producing interesting and informative media products. The Swamp Ghost is legendary among warbird enthusiasts and is obviously a subject involving much passion for Justin. This DVD documents the history of B-17 41-2446 from production to today and includes fascinating interviews with the surviving crew members. After establishing the history of this mysterious aircraft, Justin and his team visit the crash site and explore the aircraft, paying homage to the aircraft and the men who served aboard her. As fascinating as this is there is a section that is truly interesting in
giving you a detailed "tour" of the wreckage. This is also the only blemish on the otherwise brilliant DVD. The navigation graphics were not quite up to what I would expect in a "produced" DVD. However this is a minor aesthetic glitch and doesn't really effect the experience or the information provided.
While not as polished as some higher end productions, I find that that is a minor issue on an otherwise fine DVD. If you love B-17's, wreck archeology or just aviation history then this will make a fine addition to your library.
---
High Honor
Recollections By Men And Women Of World War II Aviation.
By Stuart Leuthner & Oliver Jensen

ISBN 0-87474-650-7
TYPE: Book


---


Use this link to order fom Amazon.co.uk

Rating:


---

This is one of the best books I have read in the last 6 months. It is very entertaining and informative and gives the reader an insite in not only the military career of the individuals covered but in most cases thier lives pre- and post war as well. A particular interesting facet of this book is that it covers individuals, both male and female, from a wide variety of aviation related occupations during world war. From fighter & bomber pilots to transport and liason pilots to bombadiers, navigators, and even aircraft builders. A much suggested read for anyone interested in the background of the people who fought World War II, either directly or indirectly.

---
The Pilots
By James Spencer

ISBN 0-399-14973-2
TYPE: Book


---


Use this link to order fom Amazon.co.uk

Rating:



---

This was a very entertaining book that deals with several fictional pilots and thier lives from childhood to post-war. The author creates an insightful environment and transport the reader to the South Pacific, giving you a feel for the hardships experienced by these pilot. Suggested reading for those looking to take a break from highly technical historical books and wanting to have a little fun.

---
A Question Of Honor
The Kosciuszko Squadron
Forgotten Heroes Of World War II
By Lynne Olson and Stanley Cloud

ISBN 0-375-41197-6
TYPE: Book


---




Rating:



---

This is an excellent book covering the exploits of several aspects of the Polish military during the World War II era. Details of the political wrangling done by the allies over the fate of Poland are provided and are disturbing. The focus of this work deals with 303 "Kosciuszko" Squadron that served in the Royal Air Force, its formation and history, as well as it's exploits during the Battle of Britain and beyond.
This book is heartily recommended for those look to get into the details of what occured in World War II.

---
Battle Of Britain
ISBN -
TYPE: DVD


---




Movie Rating:

DVD Rating:


---

This is one of the best aviation movies ever made and it's finally available on DVD. The quality of the movie is excellent, and the transition to the DVD format is clean. There are no special features aside from the original theatrical trailer. This is somewhat disappointing but not unexpected from a movie of this age. This is a must have DVD for any aviation enthusiast.

---
Wings Of The Luftwaffe
By Captain Eric Brown CBE, DSC, ADC, RN
Published By Airlife Publishing Ltd.
ISBN 1 85310 413 2


---

Rating:


---

This interesting book details Captain Eric Browns evaluation of numerous German aircraft captured at wars end, including the Me 262 and He 219 among others. This book is very informative, especially to pilots or pilot wannabes.

---
Hunting Warbirds
The Obsessive Quest for the
Lost Aircraft of World War II
By Carl Hoffman
Published By Ballantine Books
ISBN 0-345-43617-2


---

Rating:


---

This fascinating book deals with the recovery of warbirds in general and the failed recovery attempt of the B-29 known as Kee Bird in particular. It is great reading and provides an insight into the motivations of the various individuals involved in preserving these nearly extinct airframes.

---
JG 26-Top Guns Of The Luftwaffe
By Donald L. Caldwell
ISBN -
TYPE: Paperback book


---

Rating:


---

This book is a fairly interesting book to read. It's gives a perspective to the technology that is sometimes lost when looking only at the machinery and not the men who flew these aircraft into combat. Jg 26 chronicles the exsistance of one of Germany's most successful fighter squadrons. It's coverage is complete although there are some minor inconsistancies with the aircraft described in it. But that is my only critism of this fine book.

---
GUIDE TO OVER 900 AIRCRAFT MUSEUMS
USA & CANADA - 21st Edition
By Michael A. Blaugher
ISBN 0-9640 128-9-8
TYPE: Paperback book
CONTACT: www.aircraftmuseums.com


---

Rating:


---

This 184 page guide is quite extensive and provides the reader with ample information on aircraft museums located in the US & Canada. The guide is broken up into several sections, most notable are the listing of museums by state an a seperate section listing aircraft by type. This allows you to fin what your looking for fairly easily. There are also section dealing with individually displayed aircraft, Ship Museums that display aircraft, and WWII landmarks.
If you plan on visiting a variety of museums in the US or Canada then this guide is a must have item.

---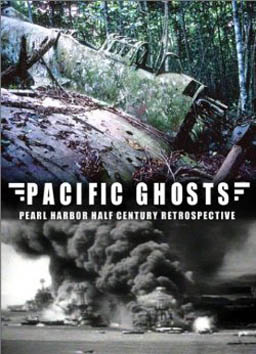 PACIFIC GHOSTS
Pearl Habor Half Century Retrospective
By Justin R. Taylan & Michael J. Claringbould

---
I was quite pleasantly surprised after recieving this CD-ROM for review. They was no installation or requirements for strange drivers, you just slipped it into the drive and it works. This is the way it should be done. I want to see the content not fiddle with settings.
---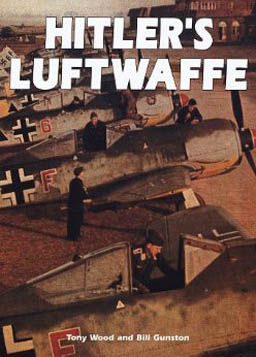 Hitler's Luftwaffe
By Tony Wood & Bill Gunston

---
WRG Watercooler review by Scott D. Rose
This is the single most useful book I have come across while compiling information for this page. It is a delightful book both visually and also technically. I have found few faults with it other than a lack of missle and rocket information. I heartily suggect that anyone looking for information of the Luftwaffe acquire this book.
Available at:


---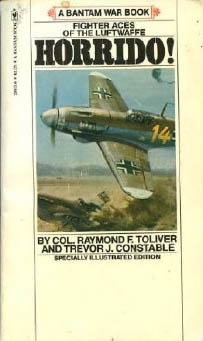 HORRIDO!
Fighter Aces Of The Luftwaffe
By Trevor J. Constable And Col. Raymond F. Toliver

---
I found this book to be one of the most fascinating books about Germany's aces that I have read. Although out of print, I recommend searching your local library for it.
Available at:


---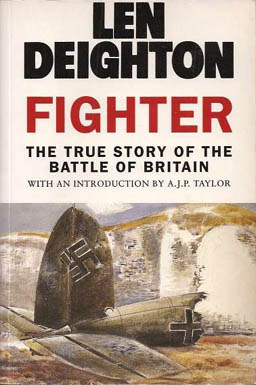 FIGHTER
The True Story Of The Battle Of Britain
By Len Deighton

---
I found this book to be very interesting to read. The information on the aircraft, organization, and men involved in the Battle of Britain, while not comprehensive, can certainly be educational.
Available at:


---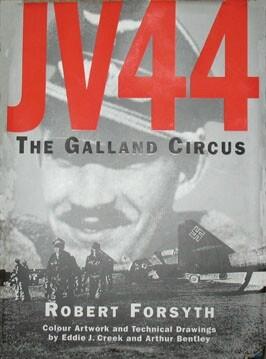 JV44 - The Galland Circus
By Robert Forsyth with Eddie Creek & Arthur Bentley

---
This 356 page book containing 350 photos, 15 colour sections and supporting technical data, an Introduction by the late Gen.Adolf Galland and a Foreword by Gen.Walter Krupinski, is an absolute must for Luftwaffe enthusiasts.
---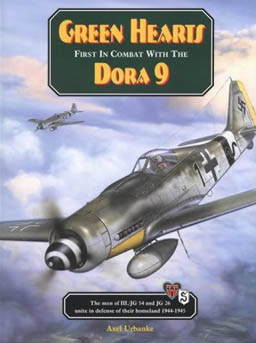 Green Hearts
First in Combat with the Dora 9
By Axel Urbanke

---
Hot off the press, this new publication chronicles the complete story of the men and machines serving with III./JG54 and JG26 as they united in defense of the Reich in 1944-45.
---
WARBIRDS RESOURCE GROUP
>
BOOKS & MULTIMEDIA
>
PREVIOUS PAGE
---