---
WARBIRDS RESOURCE GROUP
>
BOOKS & MULTIMEDIA
>
PREVIOUS PAGE
---
Book & Multimedia Reviews
---
HIDDEN WARBIRDS
The Epic Stories Of Finding, Recovering & Rebuilding World War II's Lost Aircraft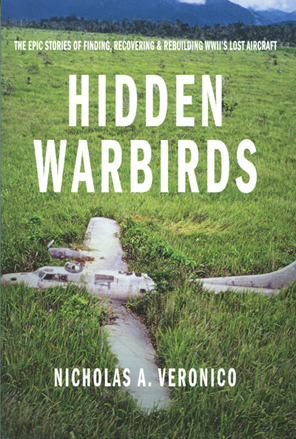 Written by: Nicholas A. Veronico
Type: Hardcover, eBook
Pages: 256 (Hardcover)
Publisher: Zenith Press
Published: June 17, 2013
ISBN-10: 0760344094
ISBN-13: 978-0760344095

---
Rating:





---
Available at:


---
From The Inside Flap:
Shot down, crash-landed, or sometimes just abandoned, the warbirds of World War II, both Allied and Axis, rust away in strange and surprising locations—in lakes and oceans, glaciers and garages, jungles and swamps. Specialized teams compete to salvage these historic aircraft and, if possible, return them to flyable condition.
In Hidden Warbirds, aviation historian Nicholas A. Veronico tells the stories of the pilots and planes as well as the recovery and restoration teams that get these aircraft out of the wilds and into the air. Remote and dangerous locations provide many challenges for salvaging the damaged and deteriorating aircraft. Whether sunken in swamps or perched on mountainsides, buried under snow or resting on lake bottoms, the teams struggle to remove aircraft in a way that will allow them to put them all back together later on.
Incomplete wrecks can be combined into one airworthy plane, while surplus and fabricated parts finish the restoration. Often painted and named for specific historical aircraft, these recovered warbirds become stars of museums and airshows, the roar of their piston engines bringing the past back to life.
Hidden Warbirds covers a wide range of aircraft, from U.S. bombers and fighters to Japanese Bettys and Zeros, discovered all over the world in locations like Alaska, Greenland, Lake Michigan, and Papua New Guinea. Each recovery demands its own unique approach, and Veronico interviews the men and women who solve the problems and save the warbirds. This work is illustrated throughout with two hundred photos, including archival photos from World War II as well as before and after photos of recovery and restoration.
Nicholas A. Veronico is a public affairs officer at the Astronomical Society of the Pacific for NASA's SOFIA Program and a past president of the Society of Aviation History. He has written more than two dozen books on U.S. aviation, including The Blue Angels: A Fly-By History, and runs the website www.wreckchasing.com.
---
WRG Watercooler Review by Scott Rose:
Have you ever wondered how those wonderful warbirds we see at the airshows came to be there? How more than seventy years after they were built, they survive and in some cases thrive? Who are the people who rescue, restore, and maintain these magnificent aircraft?
If you have pondered any of these questions then the new book Hidden Warbirds will be of interest to you. Nicholas Veronico has compiled numerous stories and interviews covering all aspects of warbird recovery and restoration. Profiling several individual warbirds, he also covers some of the larger multi-warbird recoveries in the 70s and 80s. These stories include where and how the aircraft were recovered, how they got there in the first place, and their fate.
A bright point of this book is the insight that is given into the people behind the sheet metal. These people who live and breathe warbirds, often sacrifice financially and emotionally to see these aircraft come alive again. They often spend decades bringing what most people would consider junk back to the aircrafts former glory, and often back to the sky. These individuals create living machines from piles of corroded scrap, a process that any sane person would not even try.
If you have even asked yourself any of these questions, either in the past or pretty much as you read this review, then I wholeheartedly recommend this book to you. I sincerely hope that this book is but the first in the series and if so, I will be the first one in line to purchase volume two.

---
WARBIRDS RESOURCE GROUP
>
BOOKS & MULTIMEDIA
>
PREVIOUS PAGE
---