---
U.S.A.A.F. RESOURCE CENTER
>
USAAF ACES & LEGENDS
>
PREVIOUS PAGE
---
Frank E. Birtciel
---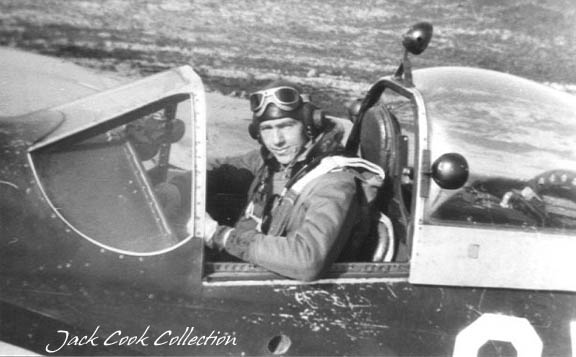 ---
Born: July 7, 1923
Enlisted: Jan. 7, 1942


---

Last Wartime Rank:
Captain
Unit(s):
343rd Fighter Squadron
– 55th Fighter Group (Wormingsford, England)
— 8th Air Force
Theatre(s): ETO


---

Decoration:
DFC with 2 Oak Leaf Clusters
– 2nd OLC awarded on June 21, 1945, GO #1152 3d Air Div.
Air Medal with 13 Oak Leaf Clusters
– While in the inactive Reserve received a letter awarding me
the 9th, 10th, 11th, 12th and 13th Oak Leaf Clusters to the
Air Medal June 11, 1945 GO #1106.

Victories: *See note below.
Aerial:
– 1 Me 262 damaged, Schwabisch-Hall, March 22, 1945.

Ground: All at Munich-Brunnthal Landing Ground, Apr. 9, 1945.
– 5 Aircraft destroyed.
— 1 Bf 109
— 2 Ju 88
— 2 He 111
– 1 Aircraft damaged.
— 1 Ju 88
Total Sorties: 121

---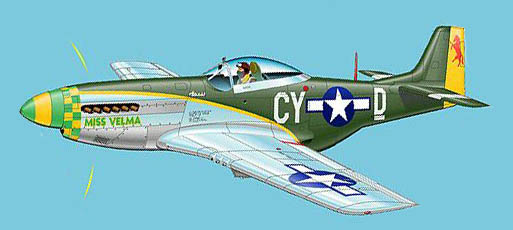 ---
Aircraft Flown:
P-38J CY*D s/n 42-67872
– Crew Chief: SSgt Bernard Fow.

P-51D CY*D s/n 44-14561
– "Miss Velma"
– Crew Chief: SSgt Bernard Fow.


P-51D CY*A s/n 44-13350
– "Miss Velma"
– Crew Chief: Sgt John T. Grodoski.
– Note: CY-A assigned to Ray Allen
when Capt. Birtciel finished
his 2nd tour.

---
Victories:
On February 25, 1945, Capt. Birtciel along with Lt. O'neil/8th Air Force engaged a Me 262 and succeeded in shooting it down. It was reported and a press release was issued in April 1945. However, even though a letter was recieved from the 343rd Intelligence Officer Halsey Carey, reported that all Capt. Birtciel's claims had been confirmed, no official confirmation through channels was recieved.
Notes/Remarks:
Capt. Birtciel flew two tours, the first in the P-38 and the second in the P-51, completing a total of 121 combat missions. On April 3, 1945, while flying P-51D "The Millie G" CY*G (SN:44-15701, normally assigned to Major Edward B. Giller) the engine seized forcing Capt. Birtciel to bail out over Belgium (near Bruges), thankfully landing in friendly territory. He was able to return to his unit in 3 days and finished his second tour 11 days later on April 17, 1945.
Postwar Service:
Active Reserves and recalled in 1951 as Instructor Pilot and Flight Commander Vance AFB, OK.
1955 - Sent to Germany as Instructor Pilot Furstenfeldbruch, Germany (Captain) Moved to Landsberg, Germany (Major) as Squadron Operations Officer retraining the West German Air Force.
1959 - B-47 Aircraft Commander SAC Davis Monthan AFB, AZ.
1960 - B-52 Co-Pilot SAC Altus AFB, OK. Short time later was Aircraft Commander, Instructor Pilot, Standboard Pilot, Chief of Standboard.
1968 - Lt Col Squadron Commander 26th Bomb Squadron Altus, OK.
1969 Retired at Kincheloe AFB, MI.
Accomplishments/Associations:
Life Member The 55th Fighter Group 442 Air Service Group.
Life Member The Veterans of Foreign Wars.
Life Member The National P-38 Association.
Life Member The Eighth Air Force Historical Society.
LIfe Member The Mustang Pilots Association.
Member of The American Legion.
Member of the Military Officers Association of America.
Former Editor of The Arizona Chapter of the 8th AF Historical Society.
Former Editor of The Arizona Chapter MOAA.
Current Historian of the Arizona Chapter MOAA.
Unofficial Historian of the 343rd Fighter Squadron.
Weblinks:
55th Fighter Group History at Nuthampstead written by Frank Birtciel
Historical notes about MOAA from Frank Birtciel - incl. a picture of Frank in the cockpit of "Miss Velma".
The 332nd. Fighter Squadron, Santa Ana, California, July, 1943 (Frank Birtciel pictured in group).
Picture of 44-13350 CY*A "Miss Velma".

---
Sources:
Artwork by Rocky Gooch. — Photograph courtesy of the Jack Cook Collection.
Profile created by Frank Birtciel and Robert Smith, with additional data by Jack Cook.
Special thanks to Frank Birtciel for assisting us with this profile.
---
---
U.S.A.A.F. RESOURCE CENTER
>
USAAF ACES & LEGENDS
>
PREVIOUS PAGE
---