---
LUFTWAFFE RESOURCE CENTER
>
FIGHTERS/DESTROYERS
>
PREVIOUS PAGE
---
MESSERSCHMITT Bf 109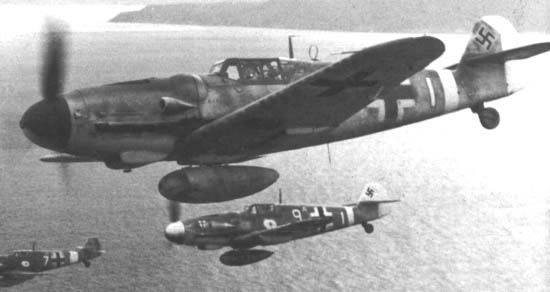 Messerchmitt Bf 109G-5's of 7/JG 27 over the Mediterranean, 1943.
[Source: Unknown]
The Messerschmitt Bf 109, often called Me 109, was a German World War II fighter aircraft designed by Willy Messerschmitt and Robert Lusser during the early to mid-1930s. It was one of the first truly modern fighters of the era, including such features as all-metal monocoque construction, a closed canopy, a retractable landing gear, and was powered by a liquid-cooled, inverted-V12 aero engine.
The Bf 109 first saw operational service during the Spanish Civil War and was still in service at the dawn of the jet age at the end of World War II, during which time it was the backbone of the Luftwaffe's fighter force. From the end of 1941 the Bf 109 was supplemented by the Focke-Wulf Fw 190.
Originally conceived as an interceptor, later models were developed to fulfill multiple tasks, serving as bomber escort, fighter-bomber, day-, night-, all-weather fighter, ground-attack aircraft, and as reconnaissance aircraft. It was supplied to and operated by several states during World War II, and served with several countries for many years after the war. The Bf 109 was the most produced fighter aircraft in history, with a total of 33,984 units produced from 1936 up to April 1945.
Specifications:
---
LUFTWAFFE RESOURCE CENTER
>
FIGHTERS/DESTROYERS
>
PREVIOUS PAGE
---