---
U.S. NAVAL AVIATION RESOURCE CENTER > NAVAL BOMBERS > CURTIS HELLDIVER > PREVIOUS PAGE

---
CURTISS SB2C HELLDIVER
DESIGN & DEVELOPMENT

The Helldiver was developed to replace the Douglas SBD Dauntless; it was a much larger aircraft able to operate from the latest aircraft carriers of the time and carry a considerable array of armament and featured an internal bomb bay that reduced drag when carrying heavy ordnance. Saddled with demanding requirements set forth by both the U.S. Marines and United States Army Air Forces, the manufacturer incorporated features of a "multi-role" aircraft into the design.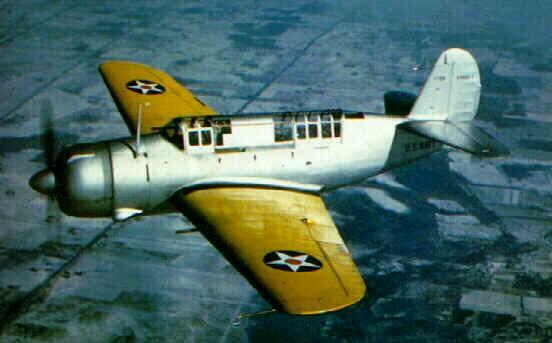 A prototype Curtiss XSB2C Helldiver. The aircraft carries a colorful US Navy peacetime finish, which indicates that the photo had been taken before the USA joined the war, probably some time during 1940.
[Source: U.S. NAVY]

The Model XSB2C-1 prototype initially suffered teething problems connected to its R-2600 engine and 3-bladed propeller; further concerns included structural weaknesses, poor handling, directional instability and bad stall characteristics. In 1939, a student brought a model of the new Curtiss XSB2C-1 to the MIT wind tunnel. Professor Emeritus of Aeronautical Engineering Otto C. Koppen was quoted as saying, "if they build more than one of these, they are crazy". He was referencing controllability issues with the small vertical tail.

The first prototype made its maiden flight on December 18, 1940. It crashed on February 8, 1941 when its engine failed on approach, but Curtiss was asked to rebuild it. The fuselage was lengthened and a larger tail was fitted, while an autopilot was fitted as a result of the aircraft's poor stability. The revised prototype flew again on October 20, 1941, but was destroyed when its wing failed during diving tests on December 21, 1941.

Large-scale production had already been ordered on November 29, 1940, but a large number of modifications were specified for the production model. The size of the fin and rudder was enlarged, fuel capacity was increased, self-sealing fuel tanks added and the fixed armament was doubled to four 0.50 in (12.7 mm) machine guns in the wings, compared with the prototype's two cowling guns. The SB2C-2 was built with larger fuel tanks, improving its range considerably.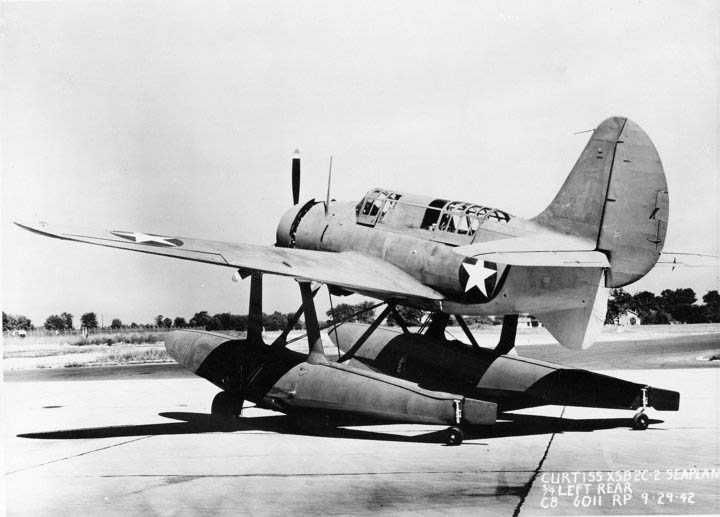 Photograph of an XSB2C-2 Helldiver configured as a seaplane taken on September 29, 1942.
[Source: National Museum Of Naval Aviation]

The program suffered so many delays that the TBF Avenger entered service before the Helldiver, even though the Avenger had begun its development two years later. Nevertheless, production tempo accelerated with production at Columbus, Ohio and two Canadian factories: Fairchild Aircraft Ltd. (Canada) which produced a total of 300 (under the designations XSBF-l, SBF-l, SBF-3 and SBF-4E) and Canadian Car and Foundry which built 894 (designated SBW-l, SBW-3, SBW-4, SBW-4E and SBW-5), these models being respectively equivalent to their Curtiss-built counterparts. A total of 7,140 SB2Cs were produced in World War II.
---
U.S. NAVAL AVIATION RESOURCE CENTER > NAVAL BOMBERS > CURTIS HELLDIVER > PREVIOUS PAGE

---
HOW CAN I
SUPPORT
THIS SITE?
(Click Here For Info)
---
---
---