---
U.S. NAVAL AVIATION RESOURCE CENTER
>
FLYING BOATS
>
CORONADO
>
PREVIOUS PAGE
---
Consolidated PB2Y Coronado
---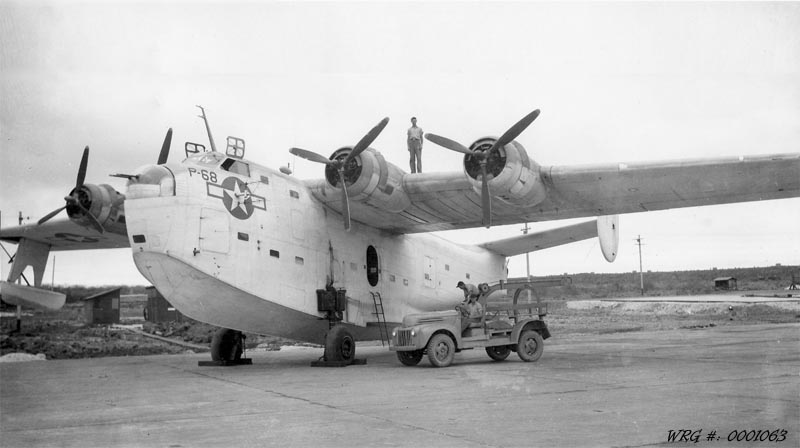 A U.S. Navy Consolidated PB2Y-3 Coronado assigned to Patrol Bombing Squadron VPB-1
at Naval Auxiliary Air Facility Galapagos on Seymour Island.
[Source: National Museum Of Naval Aviation]

---
After deliveries of the PBY Catalina, also a Consolidated aircraft, began in 1935, the United States Navy began planning for the next generation of patrol bombers. Orders for two prototypes, the XPB2Y-1 and the Sikorsky XPBS-1, were placed in 1936; the prototype Coronado first flew in December 1937.
After trials with the XPB2Y-1 prototype revealed some stability issues, the design was finalized as the PB2Y-2, with a large cantilever wing, twin tail, and four Pratt & Whitney R-1830 radial engines. The two inner engines were fitted with four-bladed reversible pitch propellers; the outer engines had standard three-bladed feathering props. Like the PBY Catalina before it, the PB2Y's wingtip floats retracted to reduce drag and increase range, with the floats' buoyant hulls acting as the wingtips when retracted.
Development continued throughout the war. The PB2Y-3, featuring self-sealing fuel tanks and additional armor, entered service just after the attack on Pearl Harbor and formed most of the early-war Coronado fleet. The prototype XPB2Y-4 was powered by four Wright R-2600 radials and offered improved performance, but the increases were not enough to justify a full fleet update. However, most PB2Y-3 models were converted to the PB2Y-5 standard, with the R-1830 engines replaced with single-stage R-1830-92 models. As most existing PB2Y-3s were used as transports, flying low to avoid combat, removing the excess weight of unneeded superchargers allowed an increased payload without harming low-altitude performance.
– Specifications
– Operational History
– Variants
– Gallery
---
U.S. NAVAL AVIATION RESOURCE CENTER
>
FLYING BOATS
>
CORONADO
>
PREVIOUS PAGE
---