---
LUFTWAFFE RESOURCE CENTER
>
ARMAMENTS
>
PREVIOUS PAGE
---
MG 81Z Maschinengewehr 81 Zwilling
---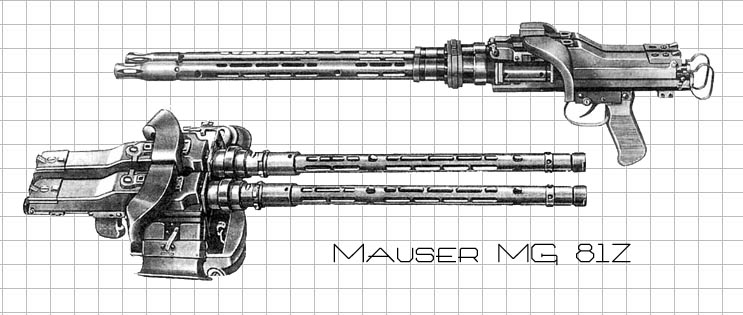 ---
Manufacturer: Mauser
Caliber: 7.92mm
Action: Recoil
Feed Type: Belt
Weight: 12.9 kg
Length: 890 mm
Barrel Length: 475 mm (18.7 in)

Muzzle Velocity: 760-790 m/s*
Effective Range: N/A
Rate Of Fire: 3000-3200 RPM
Cartridge Weight: N/A
Projectile Weight: N/A
* Depending on ammuntion type.

---
The MG 81Z (Zwilling-twin) was introduced in 1942, and was created by pairing up two
MG 81
machine guns on one mount. This weapon was able to provide even more firepower with max 3200 rounds/min without requiring much more space than a standard machine gun.
The MG 81Z can be found in many unique installations in the Luftwaffe. Some of the more known applications, are a pair of MG 81Z's installed in the hollow tail cone of the Dornier Do 217. Designated R19 (R for Rüstsätze) for the factory designed field kit, it allows the pilot of the Do 217 to shoot at pursuers. Another application was the "Watering can", an externally mounted pod with 3 sets of guns and ammo meant to be attached to a Junkers Ju 88 and used to strafe ground targets.
[Source - Wikipedia]

---
LUFTWAFFE RESOURCE CENTER
>
ARMAMENTS
>
PREVIOUS PAGE
---