---
LUFTWAFFE RESOURCE CENTER
>
ARMAMENTS
>
PREVIOUS PAGE
---
MG 81 - Maschinengewehr 81
---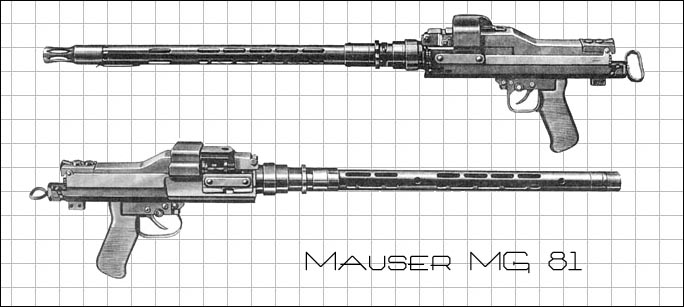 ---
Manufacturer: Mauser
Caliber: 7.92mm
Action: Recoil
Feed Type: Belt
Weight: 6.5 kg (14.33 lb.)
Length:
890 mm (965mm with flash hider)
Barrel Length: 475 mm (18.7 in)

Muzzle Velocity: 760-790 m/s*
Effective Range: N/A
Rate Of Fire: 1500-1600 RPM
Cartridge Weight: N/A
Projectile Weight: N/A
* Depending on ammuntion type.

---
The
MG 81
was a German belt fed 7.92 mm machine gun, used in flexible installations in World War II Luftwaffe aircraft, replacing the older drum magazine-fed
MG 15
.
The MG 81 was developed by Mauser as a derivative of their successful MG 34 infantry machine gun. Development focus was to reduce production cost and time and to optimize for use in aircraft. Developed in 1938/1939, it was in production from 1940 to 1945.
A special twin-mount MG 81Z (Zwilling-twin) was introduced in 1942, which paired up two of the weapons on one mount, to provide even more firepower with max 3200 rounds/min without requiring much more space than a standard machine gun.
[Source - Wikipedia]

---
LUFTWAFFE RESOURCE CENTER
>
ARMAMENTS
>
PREVIOUS PAGE
---