SD 4 HL Hollow Charge Anti-Personnel
and Vehicle Bomb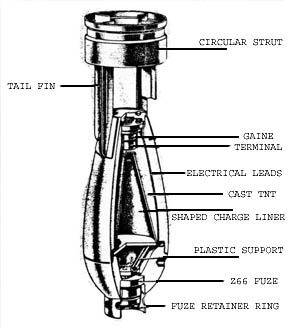 Over-All Length: 12 1/3 in.
Body Length: 7 3/4 in.
Body Diameter: 3 9/16 in.
Wall Thickness: 3/8 in.
Tail Length: 5 1/8 in.
Tail Width: 3 9/10 in.
Total Weight: 9 1/4 lb.

---
Filling: TNT; TNT-RDX (46/54).
Weight Of Filling: 12 oz.
Charge/Weight Ratio: 8.1%
Fuzing: Z (66)

---
SUSPENSION:
74 bombs in AB 500-1 container, 40 bombs in AB 250 container
Bombs are packed nose in tail, thus increasing fuze safety.

---
CONSTRUCTION: The bomb is cast iron and consists of a body into which is screwed the nose cap and the male base plate. A copper plated steel spring fits into a recess machined in the base plate and bears against a plastic igniter holder containing an electric detonator. The ignitor holder fits over a brown plastic insulating adapter which houses the gaine and has two terminals to which the wire leads of the detonator are connected. Two electric leads are connected to the terminals and are led along the inside of the body to the nose fuze. a 32 degree truncated conical-shaped steel liner is flanged at it's base, the flange being slotted at three points to accomodate the two electric leads and the locating pin. The explosive filling is poured through the base if the body around the cone. A plastic support is secured between the flange of the cone and the nose piece. Two holes are drilled through this support for the terminal pins of the fuze to which the electric leads are soldered. The fuze seats on a shoulder in the nose and is secured by a fuze retainer ring which has eight outlet vents.
The tail is sheet steel. It is of the ring strut type with four longitudubal struts spot welded. Each strut forms one segment of the tail cone. The tail is secured to the body by means of four prongs punched into corresponding recesses in the bomb body.
On impact, the (66) fuze induces an electric current which passes via the electric leads to the detonator. The squib is thereby fired, setting off the gaine and the charge.

---
All information for this entry were acquired from Army Technical manual TM 9-1985-2/Air Force Technical Order TO 39B-1A-9 GERMAN EXPLOSIVE ORDNANCE (Bombs, Fuzes, Rockets, Land Mines, Grenades & Igniters)