SD 1700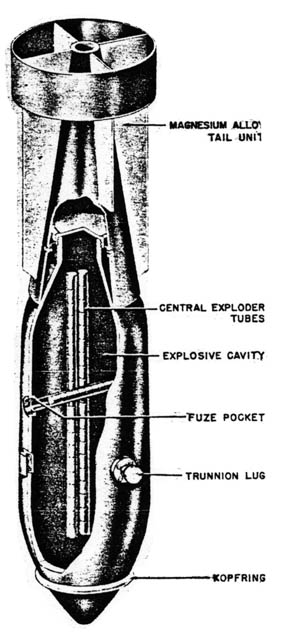 Over-All Length: 129.6 in.
Body Length: 92.0 in.
Body Diameter: 26.0 in.
Wall Thickness: 0.9 in. wall to nose, 3.5 in.
Tail Length: 46.5 in.
Tail Width: 24.0 in.
Total Weight: 1,703 kg

---
Filling: Amatol 60/40; TNT
Weight Of Filling: 730 kg. approx
Charge/Weight Ratio: 43%
Fuzing: 28B6, Extension Cap II

---
CONSTRUCTION: Body is of one-piece, forged steel construction. A single fuze pocket is used with an extension cap fuze in the nose. The base of the bomb is threaded to take a normal female type base plate. A cast steel kopfring is welded to the nose as a preventative against excessive penetration. The tail is made of light alloy and is of the cylinder type. The 8-inch wide band is attached to the fins by rivets. This band is known as a ring type strut.
SUSPENSION: Horizontal, by means of an H-Type suspension lug.
COLOR AND MARKINGS: Black or sky blue over-all. Red stripes on tail. "D1700" stenciled on opposite sides of body in letters 40-mm high.

---
All information for this entry were acquired from Army Technical manual TM 9-1985-2/Air Force Technical Order TO 39B-1A-9 GERMAN EXPLOSIVE ORDNANCE (Bombs, Fuzes, Rockets, Land Mines, Grenades & Igniters)