SD 15 Converted German
Projectile Bomb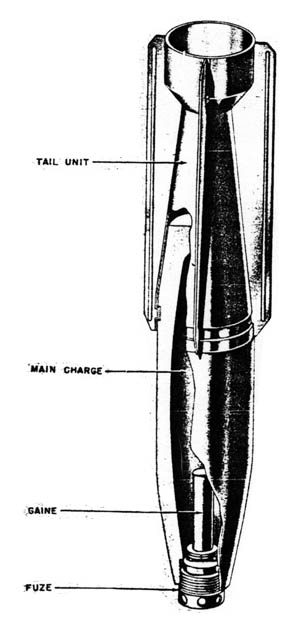 Over-All Length: 24.2 in.
Body Length: 15.5 in.
Body Diameter: 4.1 in.
Wall Thickness: 9/22 in. nose to 1 in. base
Tail Length: 12.4 in
Tail Width: 3.75 in.

---
Total Weight: N/A
Filling: N/A
Weight Of Filling: N/A
Charge/Weight Ratio: N/A
Fuzing: EAZ (66) A

---
SUSPENSION: 24 bombs are carried in a AB 500-1D container.
COLOR AND MARKINGS: Body is dark green with khaki colored tail.
CONSTRUCTION: The bomb body is a converted 105mm howitzer projectile. It is formed of a hollow single piece steel casting, internally threaded at the nose end to accomodate the airflow control ring. The main filling is shaped at the nose to accomodate an NP 10 German projectile gaine which is enclosed in a cardboard sheath. The tail unit is of sheet steel and is formed of four similar sections spot welded together to form the tail cone and four fins. The four fins are braced at their rear ends by a circular stabilizing strut. The tail unit is secured to the bomb body by crimping within an annular groove machined in the bomb body.

---
All information for this entry were acquired from Army Technical manual TM 9-1985-2/Air Force Technical Order TO 39B-1A-9 GERMAN EXPLOSIVE ORDNANCE (Bombs, Fuzes, Rockets, Land Mines, Grenades & Igniters)