SC 50 Grade II - JB, JC, J, J/2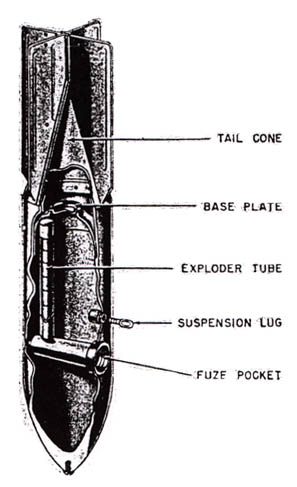 Over-All Length: 43.3 in.
Body Length: 26.4 in.
Body Diameter: 8.0 in.
Wall Thickness: 0.16 in. to 0.24 in.
Tail Length: 16.1 in.
Tail Width: 11.0 in.
Total Weight: 48 to 55 kg.
Filling: Cast TNT; powdered Amatol; or cast Trialen
Weight Of Filling: 21 to 25 kg.
Charge/Weight Ratio: 46%
Fuzing: 5, 8, and 25. E1AZ (38) for water targets.

---
SUSPENSION: Either horizontal or vertical.
COLOR AND MARKINGS: Sandy grey or dark green; yellow stripe on each section of tail cone.

---
CONSTRUCTION: The JB has a one-piece nose and body. The base is welded to the body. The JC has a pressed steel nose and drawn steel body. Here the nose and base are welded to the body. The J was the early model of the JB and they are identical in construction. The J/2 is very similar to the JC, the quality of the steel being the real difference. It was produced only in limited quatities. The sheet steel tail cone is riveted to a ring which is secured to the bomb body by eight screws. The small holes on the fins are used to attach screamers.
Grade II can also be modified for use against water targets. Same modification and results as for Grade I are claimed.

---
All information for this entry were acquired from Army Technical manual TM 9-1985-2/Air Force Technical Order TO 39B-1A-9 GERMAN EXPLOSIVE ORDNANCE (Bombs, Fuzes, Rockets, Land Mines, Grenades & Igniters)