SC 50 Bi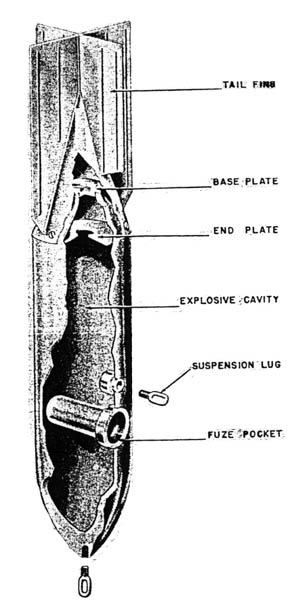 Type: General Purpose
Over-all Length: 46.1 in.
Body Length: 30.0 in.
Body Diameter: 7.9 in.
Wall Thickness: 2.0 to 2.6 in.
Tail Width: 11.0 in.
Tail Length: 16.1 in.
Filling: Cast TNT, Amatol or Trialen
Weight Of Filling: 24.4 kg.
Total Weight: 55.5 kg.
Charge/Weight Ratio: 45.75%
Fuzing: Series 5 or 8
Color: Dark gray or green over-all.

---
CONSTRUCTION: The Bi is a one piece cast steel body machined down. All the fittings are welded in place. It is very similar to the Ja and L Series.
The bomb is threaded at the base to take a male base plate. A steel diaphragm with a central hole is located 3.75 inches forward from the base plate. When the bomb is loaded, the filling charges comes only to this diaphragm.
The tail cone is sheet steel constructed in four pieces, and welded together. The assembled cone is secured to the bomb by means of eight screws.
There is one transverse fuse pocket located just forward of the horizontal suspension lug. The bottom end of the pocket is secured to the opposite wall by a weld. It is long enough to accommodate the normal sized electric fuze and two picric pellets.
In the nose female threads take an eye bolt for vertical suspension. The bomb may include a shock platewelded to the nose to help prevent ricochet when used against water targets.

---
All information for this entry were acquired from Army Technical manual TM 9-1985-2/Air Force Technical Order TO 39B-1A-9 GERMAN EXPLOSIVE ORDNANCE (Bombs, Fuzes, Rockets, Land Mines, Grenades & Igniters)