SC 2000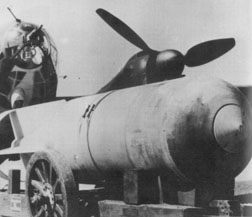 Type: General Purpose
Over-all Length: 136.5 in.
Body Length: 106 in.
Body Diameter: 26.0 in.
Wall Thickness: 17/32 in.
Tail Length: 44.75 in.
Tail Width: 24.5 in.

Filling: 40/60 Amatol
Weight Of Filling: 975 kg.
Total Weight: 1,950 kg.
Charge/Weight Ratio: 50%
Color: Dull black over-all in color. Markings stencilled in white. There is a 4.5-inch yellow band painted about half way down the body.

---
CONSTRUCTION: The entire body is forged into one piece and is machine finished externally. a triangular ring (Kopfring) is welded on the nose to prevent excessive ground penetration. a 5/8-inch plate is welded inside the casing beneath the H-type suspension lug to act as atiffener. The bomb contains one tranverse fuse pocket located just aft of the suspension lug. a 2-inch diameter steel bar with threaded holes in each end also runs transversely but at right angles to the fuze pocket. These holes receive the detatchable trunnion screws which are used only for dive bombing. A dished tail retaining ring containing 24 holes is welded to the bomb casing near the base. Twelve small screws affix the tail assembly to this.
The tail is made of 3/32-inch sheet steel. Each fin and cone segment is formed from one pressing and the four components are welded together. A closed cylindrical container 6.5 inches long 3-5/16 inches in diameter is located in the center of the tail assembly aft of the tail cone. This is closed at the rear by a threaded male plug with a conical spring mounted on it's inner side. The dive bombing trunnions are stored in this space until and if they are to be used. Suspension:
Horizontal, H-type lug, or by trunnions. Trunnions screw into the sides of the bomb 90 degrees from carrying lug.

---
All information for this entry were acquired from Army Technical manual TM 9-1985-2/Air Force Technical Order TO 39B-1A-9 GERMAN EXPLOSIVE ORDNANCE (Bombs, Fuzes, Rockets, Land Mines, Grenades & Igniters)