PC 1800 RS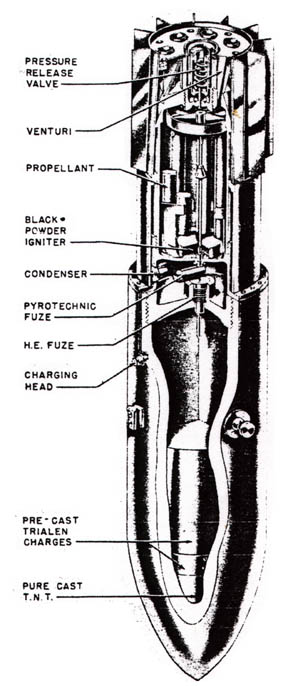 Over-All Length: 107 in.
Body Length: 66.5 in.
Body Diameter: 21 in.
Wall Thickness: 1.5 in to 12 in. tapering
Tail Length: N/A
Tail Width: N/A
Total Weight: 2,057 kg.

---
Filling: Very pure cast TNT in an aluminum container in the nose. Two pre-cast Trialen charges in thick cardboard cylindrical cartons which are waxed into the bomb casing, completes the filling. One specimen had 3 blocks of nitroguanidine in nose and 10 blocks of RDX/Wax/A1 in two cardboard cylinders in the body.
Weight Of Filling: 360 kg.
Charge/Weight Ratio: 17.5%
Fuzing: Charging Head: (49) C1
Pyrotechnic: (49) C2
Impact: (49) C3

---
SUSPENSION: Horizontal.
COLOR AND MARKINGS: Bomb body and tail are sky blue in color. Rocket unit and distance piece are olive drab.
Stenciled on body:


Konus vor Velastungen
Schutzen
unt 13, 10 , 42
Achtung vor Beladung
Zsk Aussenalten
PC 1800 RS

---
CONSTRUCTION: Typical rocket bomb construction with single fuze pocket in distance piece. Nineteen rockets are used--ten 22.5 inches long, eight 20 7/8 inches long and one 11.25 inches long. All have a diameter of 2 15/16 inches. Rocket unit weighs 422 kg.

---
All information for this entry were acquired from Army Technical manual TM 9-1985-2/Air Force Technical Order TO 39B-1A-9 GERMAN EXPLOSIVE ORDNANCE (Bombs, Fuzes, Rockets, Land Mines, Grenades & Igniters)