---
LUFTWAFFE RESOURCE CENTER
>
SECRET PROJECTS & PROTOTYPES
>
PREVIOUS PAGE
---
JUNKERS Ju 488
---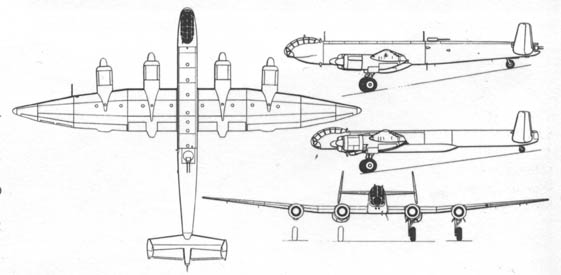 ---
Type: Heavy Bomber
Origin: Junkers Flugzeug und Motorenwerke AG
Crew: 3
Models: V401-406
First Flight: None
Service Delivery: None
Final Delivery: None


---

POWERPLANT:
Ju 488 V401-402:
Model: BMW 801TJ
Type: Radials
Number: 4
Horsepower: 1,890 hp

Ju 488 V403-406:
Model: Jumo 222A-3/B-3
Type: Multi-banked liquid cooled
Number: 4
Horsepower: 2,500 hp

DIMENSIONS:
Wing span: 102 ft 7¾ in (31.28 m)
Length: 76 ft 3 in (23.24 m)
Height: 20 ft 0 in (6.09 m)
Wing Surface Area: 947.22 ft² (88.00 m²)

WEIGHTS:
Empty: 46,297 lb. (21,000kg)
Maximum: 79,366 lb. (36,000kg)


---

PERFORMANCE:
Maximum speed:
– 690 kph (429 mph) at 7,200 m (23,620 ft)
Cruise speed: 487 kph (303 mph)
Range: 3,395 km (2,110 miles)
Service ceiling: 11,350 m (37,240 ft)
Rate of climb: 551 m/min (1,810 ft/min)


---

ARMAMENT:
Guns:
2 × 20 mm MG 151/20 cannons in dorsal barbette
2 × 13 mm MG 131 machine guns in tail barbette

Bombs:
5,000 kg (11,023 lb) of bombs in internal bay

---
The Junkers Ju 488 was a proposed heavy strategic bomber, to be used by Germany in World War II, but the project never got past the prototype stage.
In an effort to produce an advanced four engined strategic bomber for the Luftwaffe, a proposal was made by Junkers during 1944 to create a simplified design by combining sub-assemblies of the Ju 188, Ju 288, and Ju 388 to new wing and fuselage assemblies. This would result in a sleek aircraft with a length of almost 20.4 m (67 ft) and a wingspan of nearly 31.4 m (103 ft). The Ju 488 was to be initially powered by four BMW 801J radial engines. Later versions were to be powered by four Jumo 222 engines. The first two prototypes, Ju 488 V401 and V402 had fuselage sections constructed at the Latécoère factory in France, while the other components were being prepared at Junkers factories in Germany. The Ju 488 V401 and V402 fuselages were completed by 1944, but were damaged by French resistance on 16 July, 1944. Construction of four more prototypes, the V403 to V406, continued at low priority and were not finished by the end of the war.
The Junkers Ju 488 represented the last, and most serious, challenge to Heinkel, in that German aviation's firm to promote the Heinkel He 277 to production status, and on which all design work stopped early in April 1944, with the Ju 488 itself being abandoned late that same year.

---
Sources:
Gunston, Bill & Wood, Tony -
Hitler's Luftwaffe
, 1977, Salamander Books Ltd., London
Brown, Eric, Captain -
Wings of the Luftwaffe
, 1979, Airlife Publishing Ltd., Shrewsbury
The Complete Encyclodepia of World Aircraft
, 1997, Barnes & Nobles Books, ISBN: 0 7607 0592 5
Gunston, Bill -
The Encyclodepia of the Worlds Combat aircraft
, 1976, Chartwell Books, Inc., New York
Wikipedia - Ju 488
---
LUFTWAFFE RESOURCE CENTER
>
SECRET PROJECTS & PROTOTYPES
>
PREVIOUS PAGE
---