---
LUFTWAFFE RESOURCE CENTER
>
SECRET PROJECTS & PROTOTYPES
>
PREVIOUS PAGE
---
JUNKERS Ju 390
---

---
Type: Long Range Bomber or Reconnaissance aircraft.
Origin: Junkers Flugzeug und Motorenwerke AG
Models: V1 to V3 and A-1
Crew: N/A
First Flight: Prototypes only
Final Delivery: None
Number Produced: V1 and V2 Only


---

Engine:
Model: BMW 801E
Type: 18-Cylinder two-row radial
Number: Six Horsepower: 1,970 hp


---

Dimensions:
Wing span: 165 ft. 1 in. (50.30m)
Length: 112 ft. 2.5 in. (34.20m)
Height: 22 ft. 7 in. (6.89m)
Wing Surface Area: N/A

Weights:
Empty: 81,350 lb. (36,900 kg)
Loaded: 166,448 lb. (75,500 kg)

Performance:
Maximum Speed:
Clean: 314 mph (505 kph)
Max. Ext. Load: 267 mph (430 kph)
Initial Climb: N/A
Service Ceiling (Typical): N/A
Range in Recce configuration:
6,027 miles (9700 km)
Endurance in Recce configuration:
32 Hours


---

Armament:
8 × 20mm MG 151
8 × 13mm MG 131

Payload:
Transport (V1): 22,046 lb. (10,000 kg)
Bomber (V3): 3,968 lb. (1800 kg)

Avionics: Ju 390V2
FuG 200 Hohentwiel Radar.

---
The Junkers Ju 390 was a German aircraft intended to be used as a heavy transport, maritime patrol aircraft, and long-range bomber, a long-range derivative of the Ju 290. It was one of the aircraft (along with the
Messerschmitt Me 264
and Focke-Wulf Ta 400) submitted for the abortive Amerika Bomber project.
DESIGN/DEVELOPMENT:
Two prototypes were created by attaching an extra pair of inner-wing segments onto the wings of basic Ju 90 and Ju 290 airframes, and adding new sections to lengthen the fuselages.
The first prototype, the V1, (bearing Stammkennzeichen code of GH+UK), was modified from a Junkers Ju 90V6 airframe (werke number J4918, civil registration D-AOKD) from July 1940 to April 1941, then to the Luftwaffe as KH+XC, from April 1941 through April 1942, then returned to Junkers and used for Ju 390 V1 construction). It made its maiden flight on 20 October 1943 and performed well, resulting in an order for 26 aircraft, to be designated Ju 390 A-1. None of these were actually built by the time that the project was cancelled (along with Ju 290 production) in mid-1944.
The second prototype, the V2 (RC+DA), was longer than the V1 because it was constructed from a Ju 290 airframe (using the fuselage of Ju 290A1 werke number J900155).
The maritime reconnaissance and long-range bomber versions were to be designated the Ju 390 B and Ju 390 C, respectively. It has been suggested that the bomber could have carried the Messerschmitt Me 328 parasite fighter for self-defense, and some test flights are believed to have been performed by a Ju 390 prototype equipped with the anti-shipping PC 1400 Fritz X guided glide bomb.
OPERATIONAL HISTORY:
Ju 390V1
The V1 was constructed and largely assembled at Junkers' plant at Dessau, Germany, and the first test flight took place on 20 October 1943. Its performance was satisfactory enough that the Air Ministry ordered 26 in addition to the two prototypes. However, the contracts for the 26 Ju 390s were cancelled in June 1944 and all work ceased in September of that year.
On 26 November 1943, the Ju 390V1 - with many other new aircraft and prototypes - was shown to Adolf Hitler at Insterburg, East Prussia.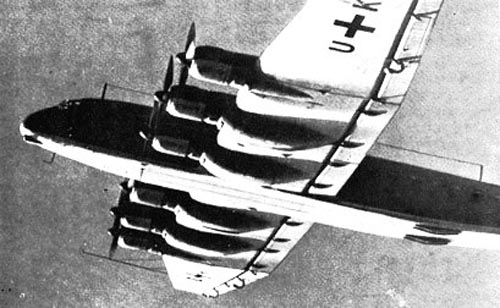 Junkers Ju 390V1.
According to former Junkers test pilot Hans-Joachim Pancherz' logbook, the Ju 390V1 was brought to Prague immediately after it had been displayed at Insterburg, and while there took part in a number of test flights, which continued until March 1944, including tests of inflight refueling.
The Ju 390V1 was returned to Dessau in November 1944, where it was stripped of parts and finally destroyed in late April 1945 as the American Army approached.
Ju 390V2
The Ju 390 V2 was assembled in Bernburg, was first flown in October 1943, and is said to have been configured for the maritime reconnaissance role. Its fuselage had been extended by 2.5 m (8.2 ft), and it was equipped with FuG 200 Hohentwiel ASV (Air to Surface Vessel) radar and defensive armament consisting of five 20 mm MG 151/20 cannon. Some sources note different armament, specifically four 20 mm MG 151/20 and three 13 mm MG 131 machine guns.
Test pilot Oberleutnant Eisermann recorded in his logbook that he flew the V2 prototype (RC+DA) as late as February 1945. However, Kössler and Ott state that the Ju 390V2 was only completed during June 1944, with flight tests beginning at the end of September 1944.
JAPANESE Ju 390?
Design work was carried out on a bomber-reconnaissance version of the aircraft. Considerable interest was displayed in this ultra-long range aircraft by the Imperial Japanese Army Air Force. In the autumn of 1944, the Japanese government acquired a manufacturing license for the Ju 390A-1. Under the licensing agreement, detailed manufacturing drawings were scheduled to be handed over to the Imperial Japanese Army's representative, Major-General Otani, by February 28, 1945.
There is no record of this part of the agreement having been fulfilled. No reference can be found to this Major General Otani mentioned by Russian historians, however ULTRA decrypts of diplomatic signals from Japan's embassy in Berlin concerning the voyage of Japanese submarine I-52 refer to a General Kotani in Germany requiring return passage in connection with transport back to Japan. These same signals refer to other passengers with higher priority.
---
Sources:
Gunston, Bill & Wood, Tony -
Hitler's Luftwaffe
, 1977, Salamander Books Ltd., London
---
LUFTWAFFE RESOURCE CENTER
>
SECRET PROJECTS & PROTOTYPES
>
PREVIOUS PAGE
---