---
LUFTWAFFE RESOURCE CENTER
>
SECRET PROJECTS & PROTOTYPES
>
PREVIOUS PAGE
---
Henschel Hs 132
---

The world's first jet dive bomber. Here after capture by the Soviets.
---
Origin: Henschel Flugzeugwerke AG
Type: Dive bomber
Models: V1, V2 and A, B, and C

Engine: BMW 003A-1 turbojet
Thrust: 1,760lb (800kg)

Dimensions:
Span: 7.20m (23 ft. 7.5 in.)
Length: 8.90m (29 ft. 2.5 in.)
Height: 3.00m (9 ft. 10 in.)

Weights:
Empty: not known
Loaded: 7,496lb (3400kg)

Performance:
Maximum speed with bomb: 435mph (700kph)
Clean: 485mph (780kph)
Range at 32,800 ft (10,000m): 696 miles (1120km)

Armament:
A Model: None
B Model: Two 20mm MG 151 Cannon

---
Comments
The Hs 132 was begun in early 1944 with the concept of taking advantage of the fact that a prone pilot could better resist g forces. The advantages of a reduced frontal area was also not lost; it was thought allied anti-aircraft gunners would not be able to hit such a small fast target. The 132A series carried no guns. The 132B series, with the more powerful Jumo 004 engine was to be armed with two 20mm MG 151 cannon as well as the bomb. There were to be more variants but the factory was overrun before flight testing could begin.
---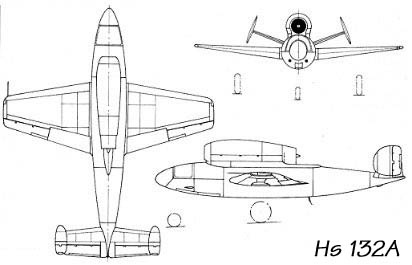 ---
Sources:
Gunston, Bill & Wood, Tony -
Hitler's Luftwaffe
, 1977, Salamander Books Ltd., London
---
LUFTWAFFE RESOURCE CENTER
>
SECRET PROJECTS & PROTOTYPES
>
PREVIOUS PAGE
---