---
LUFTWAFFE RESOURCE CENTER
>
SECRET PROJECTS & PROTOTYPES
>
PREVIOUS PAGE
---
Heinkel He 280
---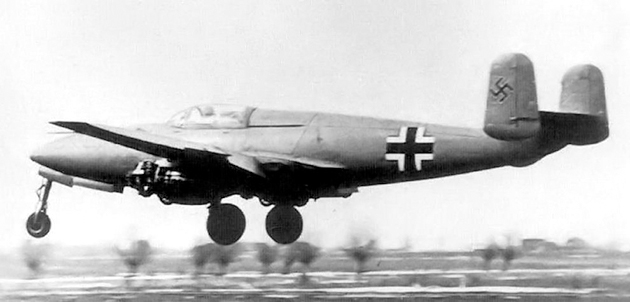 The He 280 landing after a successful maiden flight
---
Origin:
Ernest Heinkel
Type:
Single-seat fighter
Engines:
two 1,852lb (840kg) thrust Junkers Jumo 004A turbojets
Dimensions:
Span 12m; Length 10.20m; Height 3.19m
Weights:
Empty 7,386lb (3350kg); loaded 11,465lb (5200kg)
Performance:
Maximum speed 508mph (817kph); Range 382 Miles (615km)
This interesting fighter often goes unnoticed in the annals of flight, eclipsed by its more successful and glamorous brother the Me 262. The He 280 is however, a remarkable aircraft. It was the first jet combat aircraft, the first twin-jet aircraft and the first jet aircraft to go beyond prototype stage. The He 280 first flew under jet power on April 2, 1941 and eventually eight of these beautiful aircraft were built, but, even after a mock dogfight was arranged between the He 280 and a Fw 190, which the jet won easily, there was little interest in the jet. If the He 280 had ever reached combat, it was most likely to have been armed with three 20mm MG 151 cannons.
---
Sources:
Gunston, Bill & Wood, Tony -
Hitler's Luftwaffe
, 1977, Salamander Books Ltd., London
---
LUFTWAFFE RESOURCE CENTER
>
SECRET PROJECTS & PROTOTYPES
>
PREVIOUS PAGE
---