---
LUFTWAFFE RESOURCE CENTER
>
SECRET PROJECTS & PROTOTYPES
>
PREVIOUS PAGE
---
Heinkel He 176
---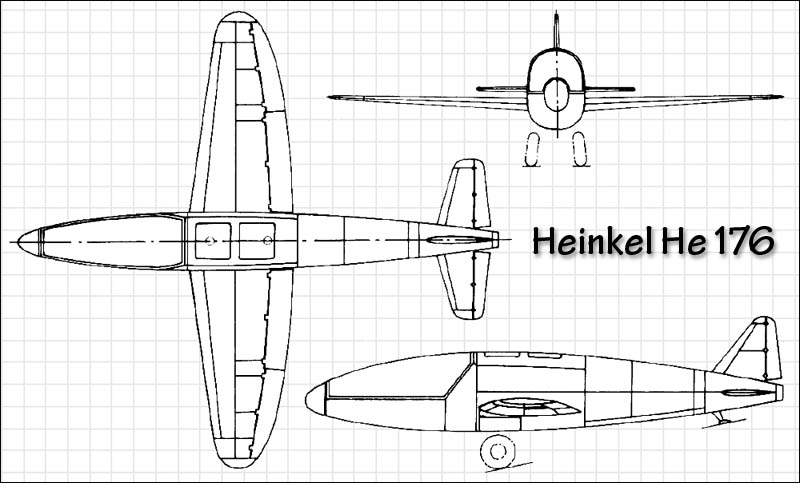 ---
Type: Experimental airframe.
Origin: Ernst Heinkel AG
Models: V1
Crew: One
First Flight: March 1939


---

Engine:
Model: Walter HWK R1-203
Type: Liquid-propellant rocket
Number: One Thrust: 1,323 lb. (600kg)

Fuel:
"Cold" mixture of HTP and calcium permanganate.


---

Dimensions:
Wing span:
First Wing: 13 ft. 1.5 in. (4.00m)
Second Wing: 16 ft. 5 in. (5.00m)
Length: 17 ft. 1 in. (5.20m)
Height: 4 ft. 11 in. (1.50m)
Wing Surface Area: N/A

Weights:
Empty (First Wing): 3,462 lb. (1570 kg)
Loaded: 4,409 lb. (2000 kg)


---

Performance:
Maximum Speed:
Theoretical with sufficient fuel: 466 mph
Max. Achieved: 215 mph
Initial Climb: N/A
Service Ceiling: N/A
Range: N/A
Max. Endurance Achieved: 50 Seconds


---

Comments: The 176 was the first aircraft designed for rocket propulsion. However, with the first wing the airframe was unable to achieve flight even under tow. A revised wing allowed the type to fly but insufficient fuel tankage prevented the aircraft from achieving even half of the theoretical speed.

---
Sources:
Gunston, Bill & Wood, Tony -
Hitler's Luftwaffe
, 1977, Salamander Books Ltd., London
---
LUFTWAFFE RESOURCE CENTER
>
SECRET PROJECTS & PROTOTYPES
>
PREVIOUS PAGE
---