---
LUFTWAFFE RESOURCE CENTER
>
BOMBERS
>
PREVIOUS PAGE
---
DORNIER Do 317
---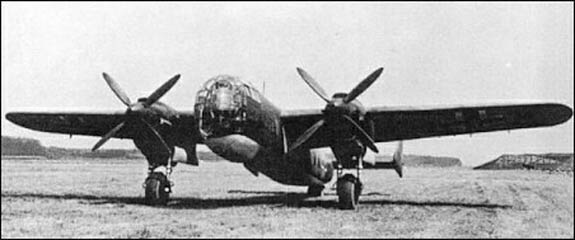 ---
Type: High Altitude Bomber
Origin: Dornier-Werke GmbH
Models: V1, V2 and B
Production: 6 Prototypes
First Flight: 1941

Engine:
V1 & V2: Daimler-Benz DB 603A inverted V12
Horsepower: 1,750hp
Number: 2

B: Daimler-Benz DB 610A/B double engines*
Horsepower: 2,870hp
Number: 2
*2 x DB 605

Fuel/Fluids:
Fuel Capacity: N/A
Type: N/A
Lubricant Capacity: N/A
Type: N/A
Hydraulic Fluid Capacity: N/A
Type: N/A

Dimensions:
Wing span (V1 & V2): 20.65m (67 ft. 8.25 in.)
Wing span (B): 25.90m (85 ft.)
Wing Surface Area: N/A
Length: 16.80m (55 ft. 1.5 in.)
Height: 5.45m (17 ft. 10.5 in.)
Stabilizer Span: N/A


Weights:
Empty: N/A
Loaded (B): 24,000 kg (52,910 lbs.)

Performance:
Maximum Speed (V1): 373 mph (600 kph)
Maximum Speed (B): 416 mph (670 kph)
Cruise Speed: N/A
Range (B, without auxiliary bomb-bay tank):
3600km (2,237 miles)
Initial Climb: N/A
Endurance: N/A
Service Ceiling: N/A

Armament:
Do 317 V1:
Bombload of six 1,102 lb. (500kg) bombs in internal bomb bay.

Do 317B:
Bombload of 12,346 lb. (5600kg) in internal bomb bay
Plus
Two 3,968 lb. (1800kg) bombs on wing racks.
---
Notes:
Essentially a development of the Do 217 with a new fuselage and pressurized cabin. The later B model had more powerful engines, long-span wing, remote-control barbette cannons and a much heavier bomb load. Six B model prototypes were built, though only the first included the pressurized cabin. The remaining five were redesignated Do 217R and issued to III/KG 100 at Orleans-Bricy to launch Hs 293 missles. No further examples were built and the Do 317 programme was abandoned.
---
Sources:
Gunston, Bill & Wood, Tony -
Hitler's Luftwaffe
, 1977, Salamander Books Ltd., London
---
LUFTWAFFE RESOURCE CENTER
>
BOMBERS
>
PREVIOUS PAGE
---