---
LUFTWAFFE RESOURCE CENTER
>
SECRET PROJECTS & PROTOTYPES
>
PREVIOUS PAGE
---
Blohm und Voss Bv 142


Blohm und Voss Bv 142.
---
Type: Bomber/Transport
Origin: Blohm und Voss, Abt. Flugzeugbau
Models: V1 to V4
Production: 4 Prototypes
First Flight: 1938


---

Powerplant:
Model: BMW 132H
Type: 9-cylinder radials
Number: Four Horsepower: 880 hp


---

Dimensions:
Wing span: 29.53m (96 ft. 10.75 in.)
Wing Surface Area: 1.399.35 Sq. Ft. (130m²)
Length: 20.45m (67 ft. 1.25 in.)
Height: 4.44m (14 ft. 6.75 in.)

Weights:
Empty: 11,080kg (24,427 lbs.)
Loaded: 16,560kg (36,508 lbs.)

Performance: (D Model)
Maximum Speed (At Sea Level):
232 mph (375 kph)
Cruise Speed: 202 mph (325 kph)
Range (No bombs): 3900km (2,423 miles)
Initial Climb: N/A
Endurance: N/A
Service Ceiling: 29,525 ft. (9000m)


---

Armament:
One 7.92mm MG 15 machine gun in nose.
One 7.92mm MG 15 machine gun in ventral position.
One 7.92mm MG 15 machine gun in each beam position.
One 7.92mm MG 15 machine gun in powered dorsal turret.

Payload:
Bombload of four 220lb. or eight 110 lb. bombs in former mail compartment.

---
The aircraft had four engines, low monoplane wing, high horizontal stabilizer, and a double vertical tail, based on the Blohm & Voss Ha 139 seaplane.
It possessed the characteristic three-part wing. The central main wing was strengthened by a typical Blohm & Voss cross-girder, which consisted of a large-diameter pipe. This transverse tube also contained the fuel, inside five inner divisions. The center wing was metal-covered, while the outer wings were fabric-covered. There were six hydraulically-operated flaps in the mid-wing. The fuselage was of metal and had an approximately circular cross-section.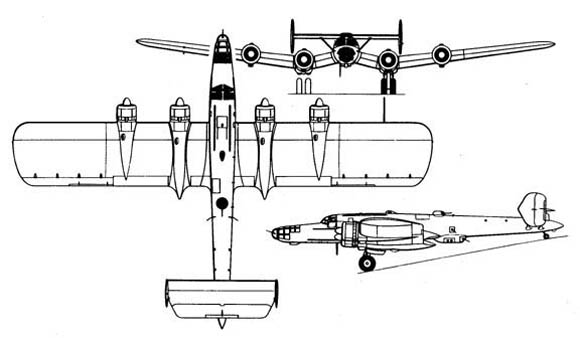 Blohm und Voss Bv 142.
Each main landing gear leg had dual wheels and was fully retractable, as was the tailwheel. The landing gear was hydraulically lowered and retracted.
Only four prototypes (V1, V2, V3, and V4) were built. These aircraft were tested by Lufthansa and used in the postal service. However, the outbreak of World War II prevented further development of the civilian project.

Blohm und Voss Bv 142V1.
Soon after the start of World War II, it was proposed to convert all four prototype BV 142 to long-range maritime patrol aircraft. The BV 142 V2, thus underwent a trial modification. It was fitted with an extended nose section with extensive glazing (like the Heinkel He 111 H-6), defensive armament (7.92 mm/.312 in MG 15 machine gun in nose, twin-beam position, ventral cupola, and a powered dorsal turret), a compartment for ordnance in the fuselage, and navigation and military radio equipment.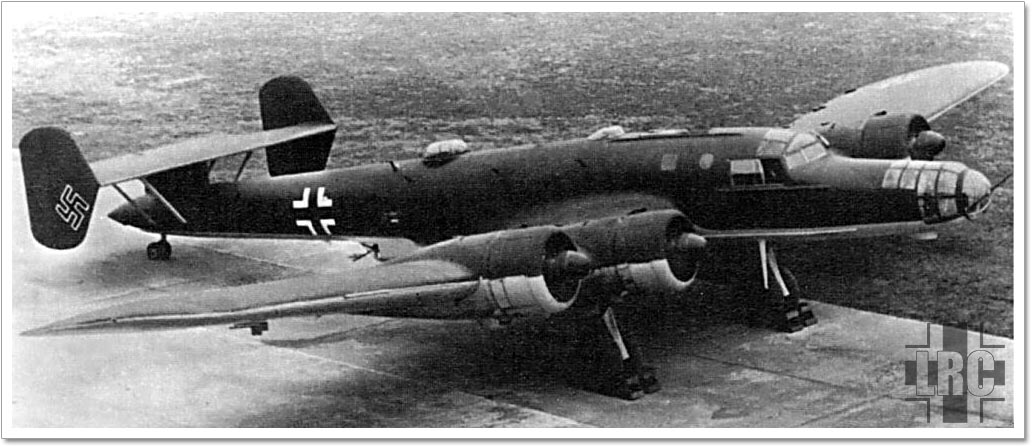 Blohm und Voss Bv 142.
The BV 142 V2, was redesignated BV 142 V2/U1 while V1 was similarly converted. Both were used operationally from late 1940 and were posted to the Luftwaffe's second surveillance Group. This unit was assigned to the operations staff of Luftflotte III in France. However, their performance was disappointing, and after only a few missions, they were withdrawn from service in 1942. The two other aircraft (V3 and V4) were used as transport aircraft for the occupation of Denmark and in the Norway campaign with the KGr.z.b.V. 105 (Special combat team) and could transport 30 fully equipped soldiers over 4,000 km (2,490 mi). The ultimate fate of V3 and V4 is unknown. It was later planned to use V1 and V2 to carry the Henschel GT 1200C guided torpedo, but the plan was scrapped.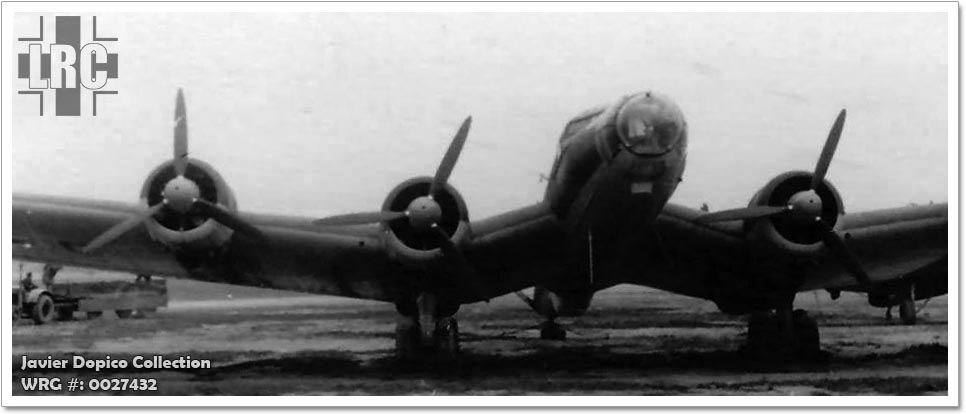 Blohm & Voss BV 142 V2-U1 coded PC+BC WNr 219.
[Source: Javier Dopico Collection]
---
Sources:
Gunston, Bill & Wood, Tony -
Hitler's Luftwaffe
, 1977, Salamander Books Ltd., London
Wikipedia - Blohm und Voss Bv 142
---
LUFTWAFFE RESOURCE CENTER
>
SECRET PROJECTS & PROTOTYPES
>
PREVIOUS PAGE
---