---
LUFTWAFFE RESOURCE CENTER
>
FIGHTERS/DESTROYERS
>
PREVIOUS PAGE
---
Arado Ar 76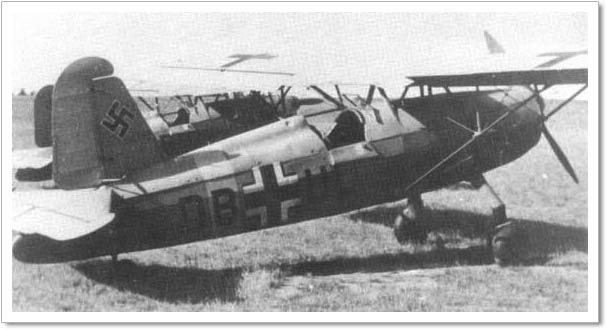 ---
Type: Light fighter and advanced trainer prototype
Origin: Arado Handelsgesellschaft, Warnedmunde
Models: Ar 76A
First Flight: Late 1934
Service Delivery: 1936, single small batch
Final Delivery: N/A


---

POWERPLANT:
Model: Argus As 10C
Type: Inverted-V8 aircooled
Number: One Horsepower: 240 hp


---

DIMENSIONS:
Wing span: 9.50m (31 ft. 2 in.)
Length: 7.20m (23 ft. 7½ in.)
Height: 2.54m (8 ft. 4¼ in.)
Wing Surface Area: N/A

WEIGHTS:
Empty: 750kg (1,653 lbs.)
Maximum: 1,070kg (2,359 lbs.)


---

PERFORMANCE:
Maximum Speed: 267kph (166 mph)
Initial climb: N/A
Range: 292 Miles (470 km)
Service Ceiling: 21,000 ft. (6400m)


---

ARMAMENT:
Fighter - Two fixed MG 17 7.92mm machine guns mounted above engine.

Trainer - One fixed MG 17 7.92mm machine gun mounted above engine.
---
The Arado Ar 76 was a German aircraft of the 1930s, designed as a light fighter with a secondary role as an advanced trainer in mind. It was Arado's response to a requirement by the Reichsluftfahrtministerium (RLM) for such an aircraft, and in 1935 was evaluated against the
Heinkel He 74
,
Focke-Wulf Fw 56
, and the
Henschel Hs 121
and
Hs 125
. Although the Fw 56 was selected for the main production contract, the RLM was sufficiently impressed by the Ar 76 to order a small number of these as well. The Ar 76 was a parasol-wing monoplane with fixed, tailwheel undercarriage. The wings were fabric over wood, and the fuselage was fabric over steel tube.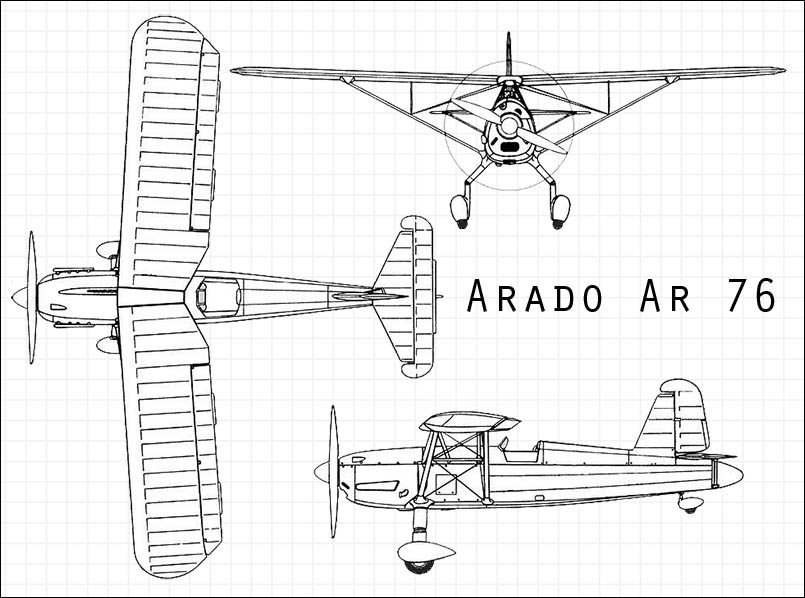 Variants
- Ar 76a: First prototype.
- Ar 76 V2: Second prototype.
- Ar 76 V3: Third prototype.
- Ar 76A: Single-seat advanced trainer, lightweight fighter aircraft. Built in small numbers.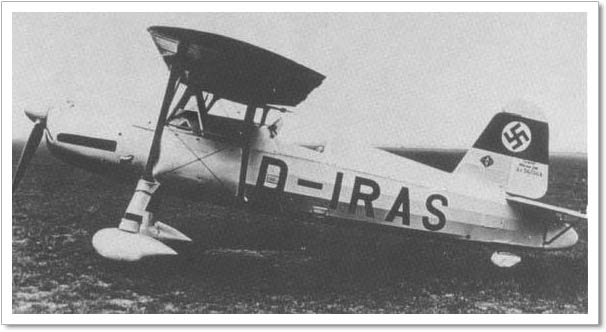 ---
Sources:
Gunston, Bill & Wood, Tony -
Hitler's Luftwaffe
, 1977, Salamander Books Ltd., London
Wikipedia - Arado Ar 76
---
LUFTWAFFE RESOURCE CENTER
>
FIGHTERS/DESTROYERS
>
PREVIOUS PAGE
---