---
LUFTWAFFE RESOURCE CENTER
>
FIGHTERS/DESTROYERS
>
PREVIOUS PAGE
---
Focke Wulf Fw 56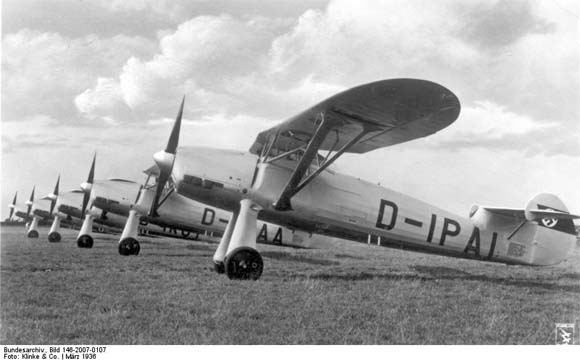 Type: Light fighter and advanced trainer
Origin: Focke-Wulf Flugzeugbau GmbH
Models: Prototypes and A-1
First Flight: 1933
Service Delivery: 1936
Final Delivery: 1940


---

POWERPLANT:
Model: Argus As 10C
Type: Inverted V-8 air-cooled
Horsepower: 240 hp


---

DIMENSIONS:
Wing span: 10.50m (34 ft. 5.5 in.)
Length: 7.55m (25 ft. 1.25 in.)
Height: 2.54m (8 ft. 4.25in.)
Wing Surface Area: N/A

WEIGHTS:
Empty: 670kg (1,477 lbs.)
Maximum: 985kg (2,171 lbs.) PERFORMANCE:
Maximum Speed: 270kph (168 mph)
Initial climb: N/A
Service Ceiling: N/A
Range: 230 miles (370 km)


---

ARMAMENT:
1 or 2 synchronized MG 17 machine gun. Bomb capacity:
Three 22lb. (10kg) practice bombs.

---
The Focke Wulf Fw 56 Stösser (German : Goshawk) was a single-engine, high-wing monoplane advanced trainer, built in the 1930s in Germany. It was developed, in accordance with a request by the Reich Air Ministry for an advanced fighter trainer, by Kurt Tank, chief engineer with Focke-Wulf. It was also considered for possible use as a home defence fighter. The first prototype flew for the first time in November 1933. A second prototype had some modifications made to the fuselage, and metal rather than wooden wings for flight testing. The third prototype, which flew in February 1934, reverted to the wooden wing and satisfied the technical designers. After comparison flights in 1935 against its two competitors - the Arado Ar 76 and the Heinkel He 74 - the Air Ministry ordered production to begin. About 1,000 aircraft where built, mostly used by Germany, though numbers were used by Austria and Hungary. A few were sold for private use, for instance to Gerd Achgelis, who later founded the helicopter company Focke-Achgelis with Henrich Focke. Ernst Udet, an advocate of the use of dive bombers, tested the second prototype - Fw 56 V2 - in this role, and on his recommendation the development of dive bombers was given greater attention. The Fw 56 was a high-wing aircraft with a fuselage of steel tubes, clad in metal at the front, and canvas elsewhere. The wing was of wood, clad mostly in plywood, while the trailing edge was covered with material. The three-point undercarriage was fixed and possessed a tail skid.
Fw 56 mounted to DFS 230 glider in a Mistel configuration.
Variants:
- Fw 56a: First prototype.
- Fw 56 V2: Second prototype.
- Fw 56 V3: Third prototype.
- Fw 56A-0: Three pre-production aircraft.
- Fw 56A-1: Single-seat advanced trainer. Main production version.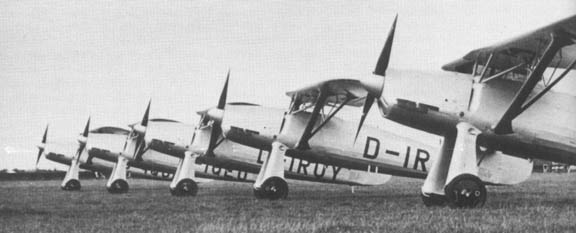 ---
Sources:
Gunston, Bill & Wood, Tony -
Hitler's Luftwaffe
, 1977, Salamander Books Ltd., London
Wikipedia - Focke Wulf Fw 56
---
LUFTWAFFE RESOURCE CENTER
>
FIGHTERS/DESTROYERS
>
PREVIOUS PAGE
---