---
U.S. NAVAL AVIATION RESOURCE CENTER > RECON/OBSERVATION/PATROL > VENTURA > PREVIOUS PAGE

---
LOCKHEED PV-1 VENTURA
Variants
B-34
US designation for the Model 137 (with 2000hp R-1820-31 engines) bought for the Royal Air Force, 200 built and designated the Ventura IIA by the British.
B-34A
Former Royal Air Force Venturas returned to USAAF under a reverse lend-lease.
B-34B
B-34As converted as navigation trainers.
B-37
Lockheed Model 437 for the USAAF (with 2000hp R-2600-13 engines), only 18 out of an order of 550 built for armed observation. Originally designated the O-56, it was later designated the RB-37.
PV-1
United States Navy version of the B-34; 1,600 built. A total of 388 were delivered to the Royal Air Force as the Ventura GR.V, others to the RAAF, RNZAF and SAAF.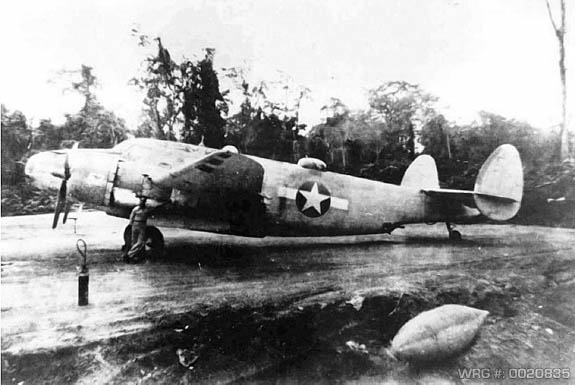 A U.S. Marine Corps Lockheed PV-1 Ventura night fighter of Marine night fighter
squadron VMF(N)-531 in the Southwest Pacific in 1943.
[Source: U.S. Marine Corps]

PV-1P
Designation for PV-1s fitted with a camera installation.

PV-3
The PV-3 was the designation given to the final 27 Ventura Mk.IIs reallocated from a Royal Air Force contract. They had been assigned RAF serials AJ511 to AJ537 and were reassigned U.S. Navy BuNos. 33925 to 33951. They were assigned in October 1942 to VP-82 which operated from Newfoundland on anti-submarine patrols over the Atlantic.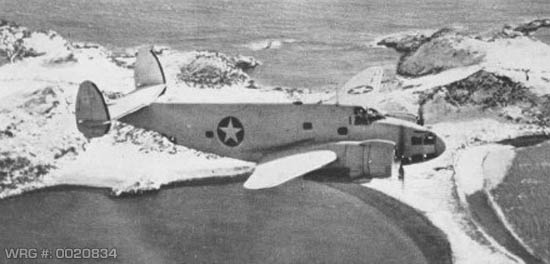 A Lockheed PV-3 Ventura in flight in early 1943.
[Source: U.S. Navy]

Ventura I
R-2800-S1A4-G powered variant for the Royal Air Force; 188 built, 30 to the RCAF and some to the SAAF, later re-designated the Ventura GR.I.

Ventura II
R-2800-31 powered variant for the RAF, 487 built, some transferred to the USAAC and USN.

Ventura IIA
British designation for the B-34.

Ventura V
British designation for the PV-1, later designated Ventura GR.V.
---
Sources:
Wikipedia
---
U.S. NAVAL AVIATION RESOURCE CENTER > RECON/OBSERVATION/PATROL > VENTURA > PREVIOUS PAGE

---