---
NAVAL AVIATION RESOURCE CENTER > FLEET CARRIERS > PREVIOUS PAGE

---
U.S.S. PRINCETON (CV 37)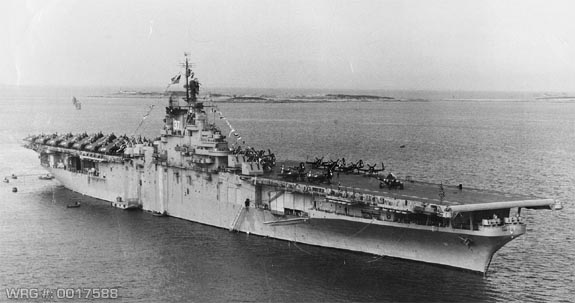 The U.S. Navy aircraft carrier USS Princeton (CV-37) pictured at anchor in Tsingtao, China, with aircraft of Carrier Air Group Thirteen (CVG-13) on the flight deck, circa November 1948.
Note that her airgroup was composed only of Grumman F8F-1 Bearcat fighters (VF-131, VF-132) and Grumman TBM-3E/-3Q Avenger bombers (VA-15, VA-135).
Source: U.S. Navy National Museum of Naval Aviation photo No. 1996.438.016

---
Name: U.S.S. Princeton
Number: CV 37
Class: Essex
Builder: Philadelphia Naval Shipyard
Laid down: September 14, 1943
Launched: July 8, 1945

Commissioned: November 18, 1945
Decommissioned: June 21, 1949
Recommissioned: August 28, 1950
Decommissioned: January 30, 1970
Reclassified: CVA-37, CVS-37 and LPH-5
Fate: Sold for scrap in 1971

---
USS Princeton (CV/CVA/CVS-37, LPH-5) was one of 24 Essex-class aircraft carriers built during and shortly after World War II for the United States Navy. The ship was the fifth US Navy ship to bear the name, and was named for the Revolutionary War Battle of Princeton. Princeton was commissioned in November 1945, too late to serve in World War II, but saw extensive service in the Korean War, in which she earned eight battle stars, and the Vietnam War. She was reclassified in the early 1950s as an attack carrier (CVA), then as an Antisubmarine Aircraft Carrier (CVS), and finally as an amphibious assault ship (LPH), carrying helicopters and marines. One of her last missions was to serve as the prime recovery ship for the Apollo 10 space mission.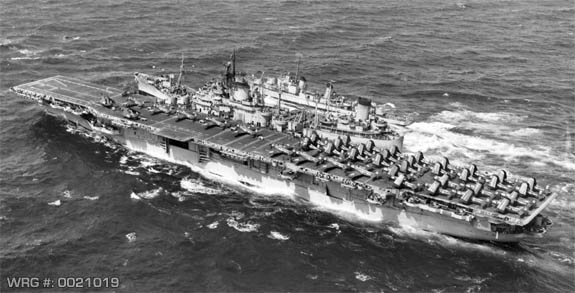 The U.S.S. Princeton (CV 37) in underway replenishment while operating off Korea on April 23, 1951.
Source: U.S. Navy National Museum of Naval Aviation


Unlike most of her sister ships, she received no major modernizations, and thus throughout her career retained the classic appearance of a World War II Essex-class ship. She was decommissioned in 1970, and sold for scrap in 1971.

Sources:
Wikipedia

---
NAVAL AVIATION RESOURCE CENTER > FLEET CARRIERS > PREVIOUS PAGE

---
HOW CAN I
SUPPORT
THIS SITE?
(Click Here For Info)
---
---
---