---
U.S. NAVAL AVIATION RESOURCE CENTER > FLEET CARRIERS > PREVIOUS PAGE

---
U.S.S. Kearsarge/CV-33
---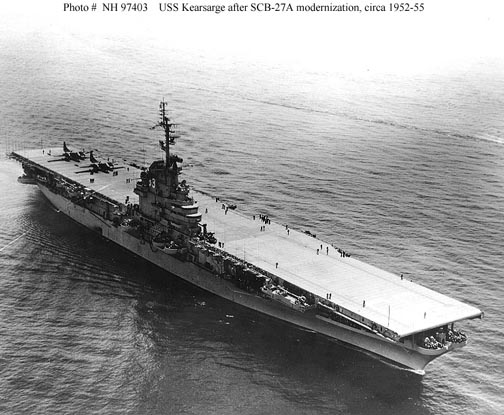 [Source: U.S. Navy]

---
USS Kearsarge (CV/CVA/CVS-33) was one of 24 Essex-class aircraft carriers completed during or shortly after World War II for the United States Navy. The ship was the third US Navy ship to bear the name, and was named for a Civil War-era steam sloop. Kearsarge was commissioned in March 1946. Modernized in the early 1950s as an attack carrier (CVA), she served in the Korean War, for which she earned two battle stars. In the late 1950s she was further modified to become an anti-submarine carrier (CVS). Kearsarge was the recovery ship for the last two manned Project Mercury space missions in 1962-1963. She completed her career serving in the Vietnam War, earning five battle stars.

She was decommissioned in 1970, and sold for scrap in 1974.
Name: USS Kearsarge
Hull Number: 33
Namesake: USS Kearsarge (1861)
Builder: New York Naval Shipyard
Laid down: 1 March 1944
Launched: 5 May 1945

Commissioned: 2 March 1946
Decommissioned: 13 February 1970
Reclassified:
CV to CVA 1952-02-15
CVA to CVS 1957
Fate: Scrapped in 1974

---
Sources:
Wikipedia
---
U.S. NAVAL AVIATION RESOURCE CENTER > FLEET CARRIERS > PREVIOUS PAGE

---
HOW CAN I
SUPPORT
THIS SITE?
(Click Here For Info)
---
---
---