---
LUFTWAFFE RESOURCE CENTER
>
FIGHTERS/DESTROYERS
>
BF 109
>
PREVIOUS PAGE
---
MESSERSCHMITT Bf 109
Operators
This list includes foreign operators who used Bf 109s for active service or combat.
It does not include captured aircraft used for testing and evaluation.
Bulgaria
Bulgarian Air Force operated 19 E-3s and 145 G-2/-6/-10s.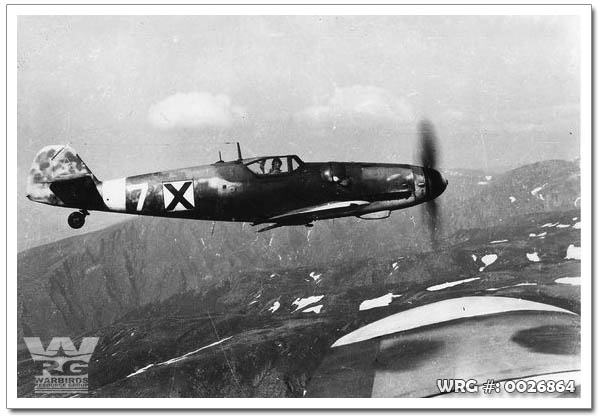 Bulgarian Air Force Bf 109.
[Source: Unknown]
Independent State of Croatia/NDH
The Air Force of the Independent State of Croatia operated over 50 Bf 109s, including E-4, F-2, G-2/-6/-10 and Ks.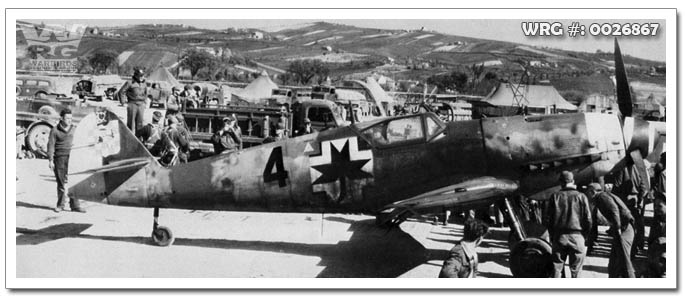 Croatian Bf 109.
[Source: Unknown]
Czechoslovakia
Czechoslovak Air Force operated captured aircraft and continued building Messerschmitt Bf 109Gs after the war under the Avia S-99 name, but soon ran out of the 109's Daimler-Benz DB 605 engine after many were destroyed during an explosion at a warehouse in Krásné Březno.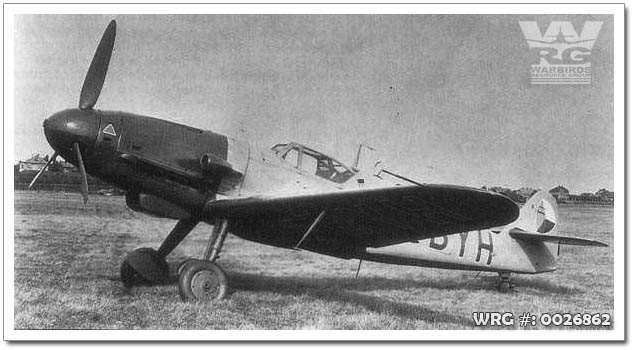 Czechoslovak Air Force S-99.
[Source: Unknown]
Finland
Finnish Air Force ordered 162 aircraft (48 G-2s, 111 G-6s and three G-8s) from Germany, but 3 were destroyed during transit, leaving the FAF with 159 Bf 109s.

Finnish Air Force Bf 109 G-2 at Helsinki Malmi airport in June 1943.
[Source: Unknown]
Hungary
Royal Hungarian Air Force operated 3 D-1s, 50 E-3/-4s, 66 F-4s and ~490 G-2/-4/-6/-8/-10/-14s.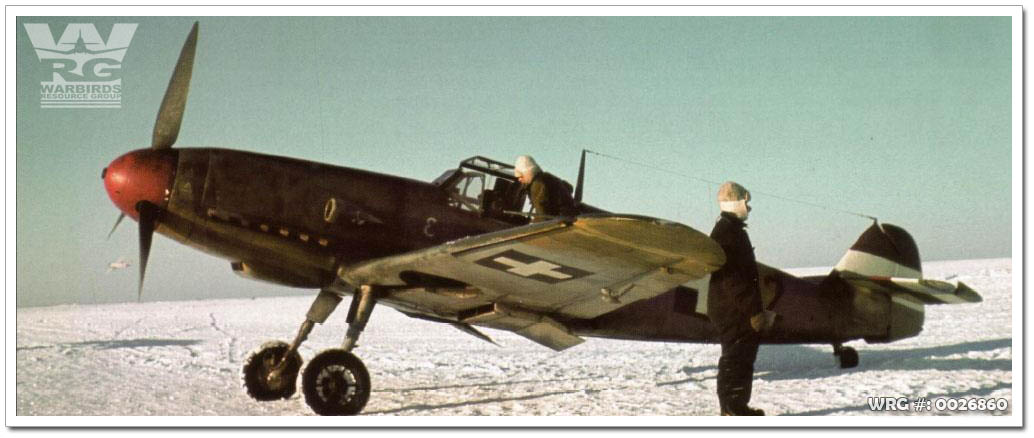 Hungarian Air Force Bf 109 G-2.
[Source: Unknown]
Israel
Israeli Air Force operated the Avia S-199 derivative, bought from Czechoslovakia. Despite the type's shortcomings the Israeli scored 8 victories. Egypt and Syria claimed 4 S-199 kills, and 1 probable.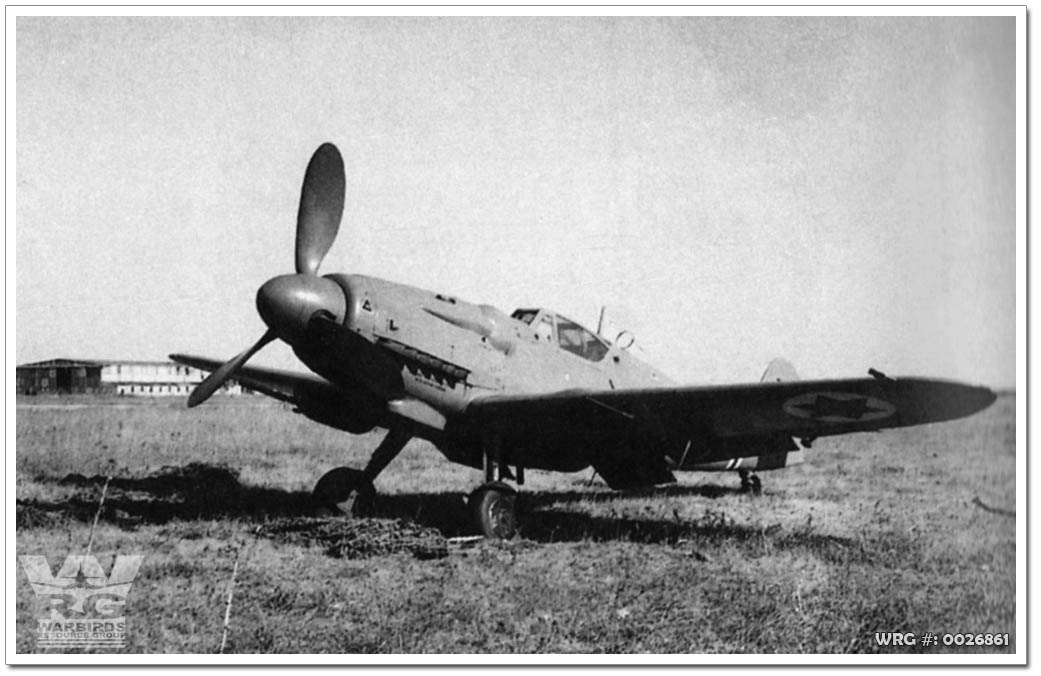 Israeli Air Force Avia S-199 of the 101st squadron in June 1948.
[Source: Unknown]
Italy
Regia Aeronautica operated several dozen Bf 109s in the first half of 1943.
Italian Social Republic
Aeronautica Nazionale Republicana operated 300 G-6/-10/-14s and two G-12s; three K-4s were also received.
Japan
Imperial Japanese Army Air Force purchased 5 E-7s in 1941. The aircraft were used for tests and trials.


Imperial Japanese Army Air Force Bf 109E-7.
[Source: Unknown]
Romania
Royal Romanian Air Force operated 50 E-3/4s, 19 E-7s, 2 F-2s, 5 F-4s and at least 235+ G-2/G-4/G-6/-8s plus 75 IAR built 109G-6a.
Romanian Air Force – Postwar.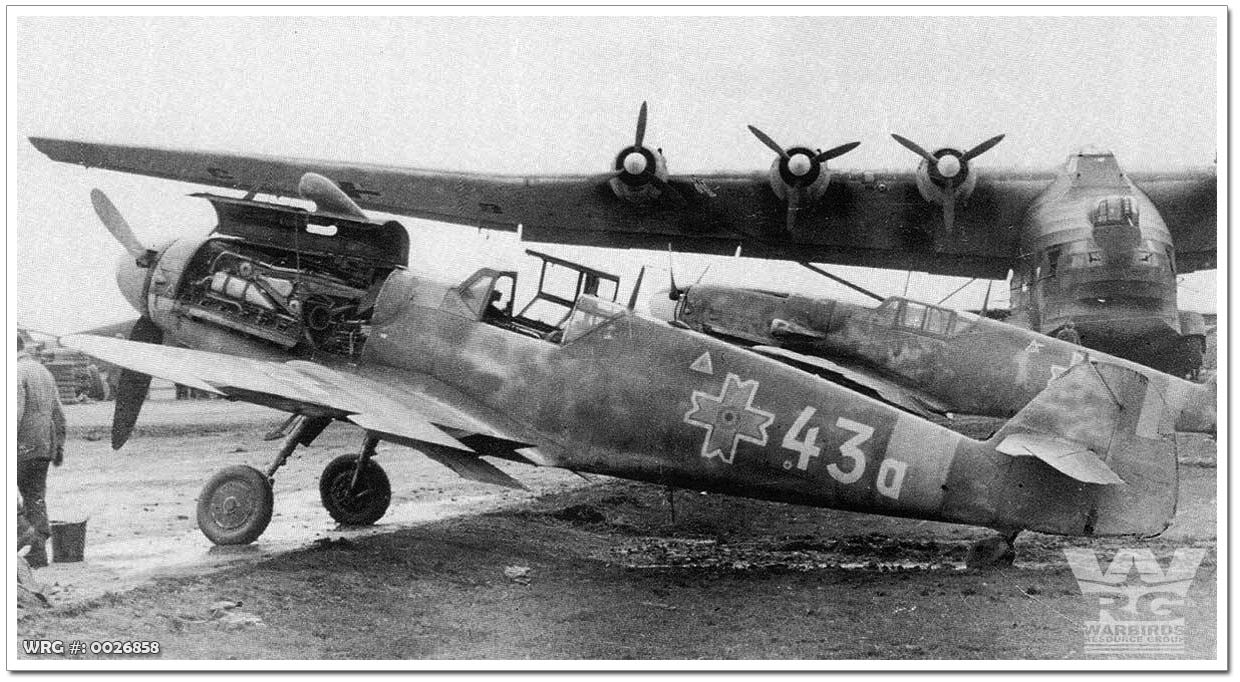 Romanian Bf 109 with a Luftwaffe Me 323 looming in the background.
[Source: Unknown]
Slovakia Slovak Republic
Slovenské vzdušné zbrane operated 16 E-3s, 14 E-7s and 30 G-6s.
Slovak Insurgent Air Force operated 3 G-6s.
Spanish State
Spanish Air Force operated some D-1s, E-3s and 15 F-4s, and may have received several older B-types. Volunteers of Escuadrilla Azul on the Eastern Front operated E-4, E-7, E-7/B, F-2, F-4 (belonged in JG-27 under the command of Luftflotte 2,until April 1943) among G-4 and G-6 (detached in JG-51 under the command Luftflotte 4, until June 1944). A variant under license by the name Hispano Aviación HA-1112 was produced until 1958.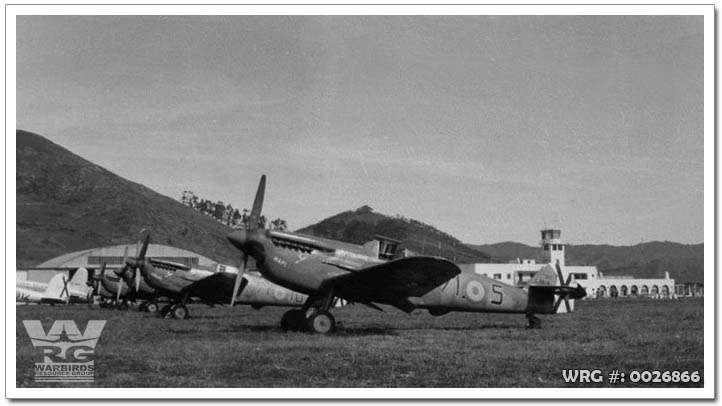 Spanish Air Force HA-1112s.
[Source: Unknown]
Switzerland
Swiss Air Force operated 10 D-1s, 89 E-3a variants, 2 F-4s and 14 G-6s.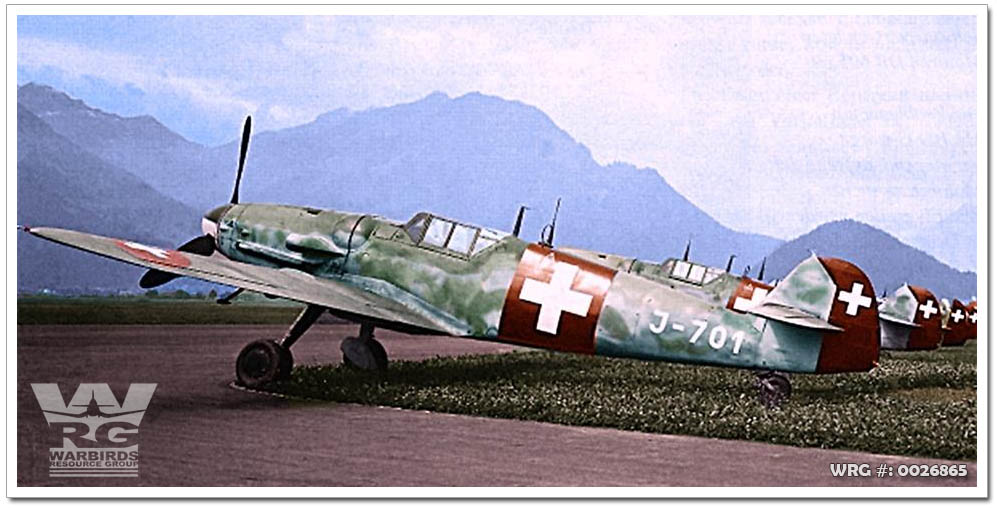 Swiss Air Force Bf 109s.
[Source: Unknown]
Yugoslavia
Royal Yugoslav Air Force operated 73 E-3a variants.
SFR Yugoslav Air Force operated several ex-NDH and Bulgarian Bf 109Gs.
---
LUFTWAFFE RESOURCE CENTER
>
FIGHTERS/DESTROYERS
>
BF 109
>
PREVIOUS PAGE
---