---
BRITISH AVIATION RESOURCE CENTER
>
EXPERIMENTAL/PROTOTYPES
>
PREVIOUS PAGE
---
CIERVA W-9
---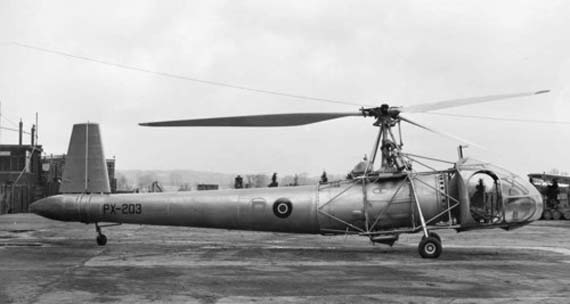 ---
The Cierva W.9 was a British 1940s experimental helicopter with a three-blade tilting-hub controlled main rotor, and torque compensation achieved using a jet of air discharged from the rear port side of the fuselage.
SPECIFICATIONS:

Type: Helicopter
Origin: Cierva Autogiro Company, Ltd.
Designed by: N/A
Models: Prototype
Crew: Two
First Flight: 1945
Service Delivery: None
Retired: 1946
Number Produced: 1


---

POWERPLANT:
Model: Gipsy Six
Manufacturer: de Havilland
Type: inline piston engine
Number: One Horsepower: 205 hp


---

Dimensions:
Rotor Diameter: 36 ft 0 in (10.97 m)
Length: N/A
Height: N/A
Rotor Surface Area: N/A

Weights:
Empty weight: N/A
Loaded weight: 2,647 lb (1,201 kg)
Max. Take-Off wt: N/A


---

Performance:
Maximum speed: N/A
Cruise speed: N/A
Stall speed: N/A
Range: N/A
Rate of climb: N/A
Wing loading: N/A
Power/mass: N/A


---

Armament: None

---
DESIGN/DEVELOPMENT:
In 1943 primary investor G & J Weir Ltd., revived the moribund Cierva Autogiro Company to develop an experimental helicopter to Air Ministry Specification E.16/43. The W.9 was to investigate James G. Weir's contention that a powered tilting hub controlled rotor with automatic collective pitch control, and torque reaction control using jet efflux, were both safer and more efficient than the Sikorsky R-4 helicopter fitted with manually controlled main rotor cyclic and collective pitch and the anti-torque tail rotor system. The W.9 was completed late in 1944 and serialed PX203. It was damaged during ground-running due to incorrect control phasing arising from a high order of pitch-flap coupling, and did not start test flying until 1945.
The most visible characteristic of the W.9 was torque compensation using air blown by an engine-driven fan in its hollow tail boom exhausting to port. Of more importance, however, was the hydraulically powered shaft-driven tilting rotor hub with rotational speed variation to give automatic collective pitch control. Development of the rotor system resulted in a tilting hub combined with cyclic pitch control of each blade to minimize control forces. Manual control of collective pitch was added to the automatic collective pitch change system to provide precise vertical control in hover and the ability to cushion a landing from an autorotative descent. The helicopter was destroyed in an accident in 1946 and the project was abandoned. Parts of the W.9 rotor hub were used in the W.14 Skeeter prototype.
---
Sources:
Wikipedia
---
MAIN INDEX >
EXPERIMENTAL/PROTOTYPES
---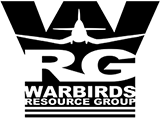 A WARBIRDS RESOURCE
GROUP WEBSITE
---
HOW CAN I
SUPPORT
THIS SITE?
(Click Here For Info)
---
---