---
U.S.A.A.F. RESOURCE CENTER
>
EXPERIMENTAL
>
PREVIOUS PAGE
---
CURTIS XA-43/XP-87 BLACKHAWK
---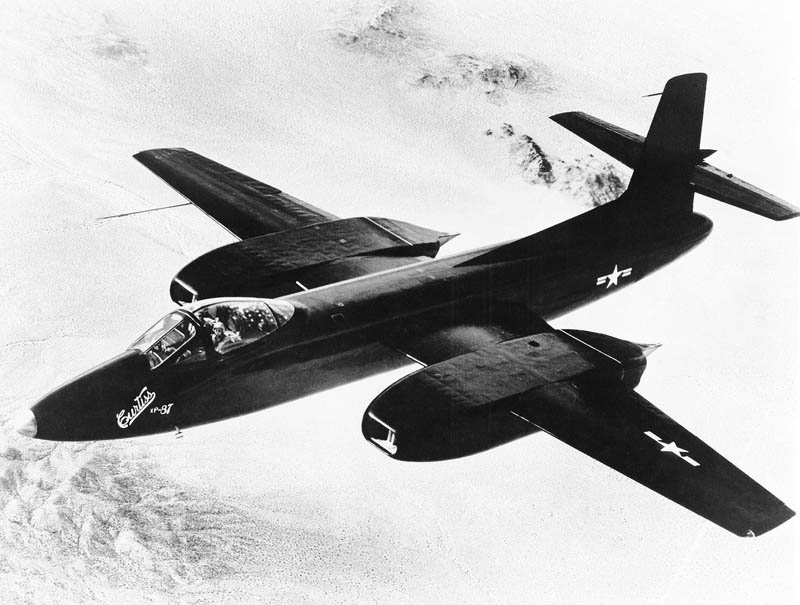 ---
The last aircraft produced by the Curtiss company, the XP-87 was also the companies only all-jet design. Initially designed in 1945 as an attack aircraft under the designation XA-43 (Model 29), this was later changed in response to a USAAF requirement for a replacement for the P-61 Black Widow night fighter. The resultant aircraft was designated the XP-87 (Model 29A) and the orders for the two XA-43 prototypes were cancelled and issued for the XP-87.
The prototype flew in 1948 followed soon after by the second prototype. However, this was the beginning of the era of rapid jet technology advancement and the performance of the XP-87 was soon surpased. The contract for the Blackhawk was cancelled on Oct. 10, 1948 and soon after the Curtiss Company aviation division was sold to North American Aviation.
Type: All-Weather Interceptor
Origin: Curtiss
Crew: two
Model: Model 29A, XA-43, XP-87
First Flight: March 5, 1948
Production: 2 Prototypes


---

Powerplant:
Model: Westinghouse J-34-WE-7
Type: Turbojets
Number: Four Thrust: 3,000 lb.


---

Dimensions:
Wing span: 60 ft. (18.3m)
Length: 62 ft. 10 in. (18.9m)
Height: 20 ft. 6.2m)
Wing Surface Area: 600 sq. ft. (55.7m²)

Weights:
Empty: 25,930 lbs. (11,760 kg.)
Max. Take-Off: 49,900 lbs. (22,600 kg)

Performance:
Maximum Speed: 600 mph (970 kph)
Cruising Speed: N/A
Service Ceiling: 41,000 ft. (12,500m)
Combat Range: 1,000 miles (1,600 km)

Armament: Proposed
XA-43:
Two .50 machine guns in remote nose turret.
Two .50 machine guns in remote tail turret.
Internially mounted rockets.

XP-87:
Four 20mm cannons in articulated nose turret.

Payload: N/A

---
Image Gallery
---
Sources:
USAF Museum
, www.wpafb.af.mil/museum/index.htm, 2005.
---
U.S.A.A.F. RESOURCE CENTER
>
EXPERIMENTAL
>
PREVIOUS PAGE
---