---
U.S.A.A.F. RESOURCE CENTER
>
EXPERIMENTAL
>
PREVIOUS PAGE
---
BELL XP-83
---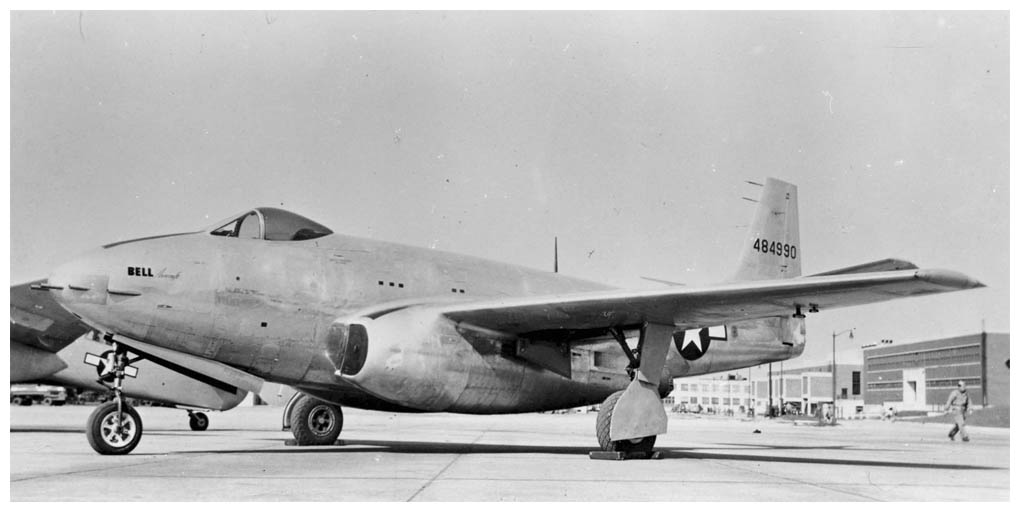 ---
The XP-83 was designed to overcome a major flaw the P-59 Airocomet, namely meager fuel load and thus short range. The XP-83 is constructed along the same lines as the P-59 though in a much more portly fashion. Performance was disappointing at best and the project was eventually abandoned.
Type: Long-Range Fighter
Origin: Bell
Crew: One
First Flight: February 25, 1945
Project Termination: N/A
Aircraft Produced: 2


---

Powerplant:
Model: General Electric J33-GE-5
Type: Turbojet
Number: Two Thrust: 4,000 lb.


---

Dimensions:
Wing span: 53 ft. (16.15m)
Length: 44 ft. 10 in. (13.66m)
Height: 15 ft. 3 in. (4.65m)
Wing Surface Area: 431 sq. ft. (40.04m²)

Weights:
Empty: 14,105 lb. (6,398 kg)
Loaded: 24,090 lb. (10,927 kg)

Performance:
Maximum Speed:
522 mph (840 kph) at 15,660 ft. (4775m)
Initial Climb: N/A
Service Ceiling: 45,000 ft. (13,715m)
Range (with Drop Tanks): 1,730 miles (2784 km)


---

Armament:
Six .50 in. Browning machine guns mounted in nose.

---
Image Gallery
---
Sources:
The Complete Encyclodepia of World Aircraft
, 1997, Barnes & Nobles Books, ISBN: 0 7607 0592 5
---
U.S.A.A.F. RESOURCE CENTER
>
EXPERIMENTAL
>
PREVIOUS PAGE
---