---
U.S.A.A.F. RESOURCE CENTER
>
EXPERIMENTAL
>
PREVIOUS PAGE
---
NORTHROP XP-79
---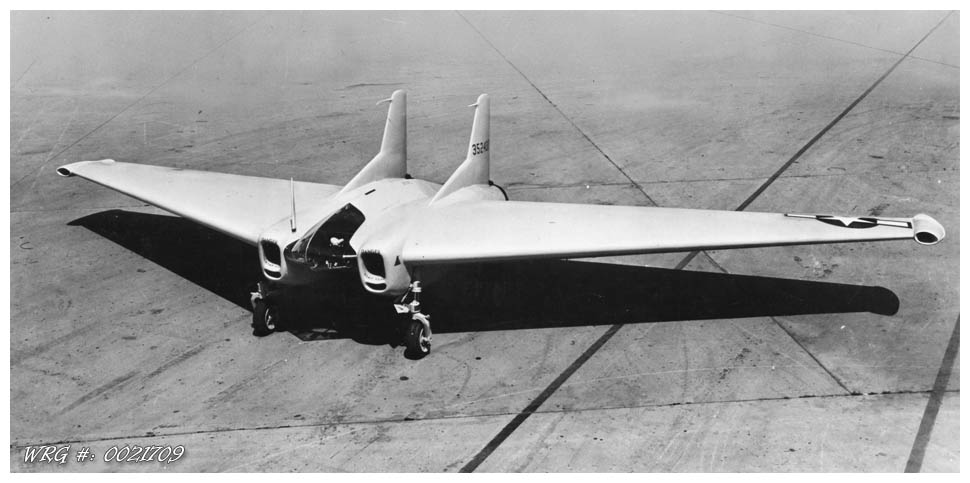 ---
The Northrop XP-79 was an ambitious design for a flying wing fighter aircraft, designed by Northrop. It had several notable design features; among these, the pilot would operate the aircraft from a prone position, permitting the pilot to withstand much greater g-forces in the upward and downward direction with respect to the plane – and welded magnesium monocoque structure instead of riveted aluminum.
Type: Fighter
Origin: Northrop
Crew: One
Model: XP-79, XP-79A, XP-79B
First Flight: Sept. 12, 1945
Production: 1 Prototype


---

Powerplant:
Model: Westinghouse 19B
Type: Turbojets
Number: Two Horsepower: 1,150 lb.


---

Dimensions:
Wing span: 38 ft. 0 in.
Length: 14 ft. 0 in.
Height: 7 ft. 6 in.
Lifting Surface Area: N/A

Weights:
Empty: N/A
Loaded: N/A
Maximum: N/A


---

Performance:
Maximum Speed: N/A
Maximum Climb Rate: N/A
Service Ceiling: N/A
Maximum Range: N/A


---

Armament: Proposed
Four .50-cal. machine guns.
Ammunition: N/A.

---
Image Gallery
---
Sources:
USAF Museum
, www.wpafb.af.mil/museum/index.htm, 2005.
---
U.S.A.A.F. RESOURCE CENTER
>
EXPERIMENTAL
>
PREVIOUS PAGE
---