---
U.S.A.A.F. RESOURCE CENTER
>
EXPERIMENTAL
>
PREVIOUS PAGE
---
BELL XP-77
---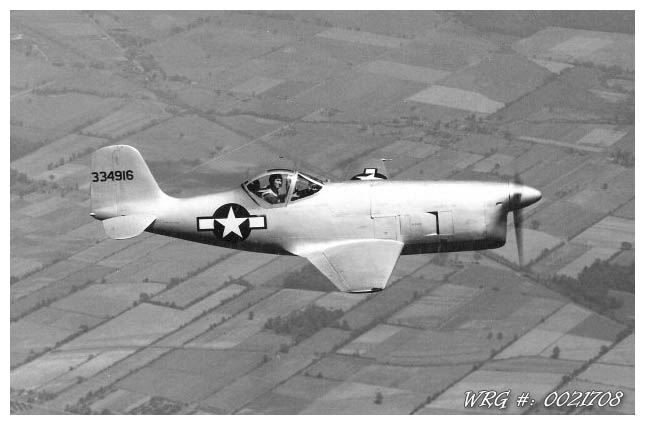 ---
Type: Lightweight Fighter-Bomber
Origin: Bell
Crew: One
First Flight: April 1, 1944
Project Termination: December 1944
Aircraft Produced: 2


---

Powerplant:
Model: Ranger XV-770-7
Type: Inline piston engine
Number: One Horsepower: 520 hp


---

Dimensions:
Wing span: 27 ft. 6 in. (8.38m)
Length: 22 ft. 10½ in. (6.97m)
Height: 8 ft. 2¼ in. (2.50m)
Wing Surface Area: 9.29m²

Weights:
Empty: 2,855 lb. (1295 kg)
Loaded: 4,028 lb. (1827 kg)

Performance:
Maximum Speed: 330 mph (531 kph)
Initial Climb: N/A
Service Ceiling: 30,100 ft. (9175m)
Range: 550 miles (885 km)


---

Armament:
Two .50 in. Browning machine guns.

Payload:
One bomb not exceeding 300 lb. (136 kg)


---

Comments: The XP-77 was designed to take advantage of non-strategic materials. However, shortcomings in the design as well as vanishing need meant that priority was shifted elsewhere. When the second prototype crashed in October 1944 the project was terminated two months later.

---
IMAGE GALLERY
---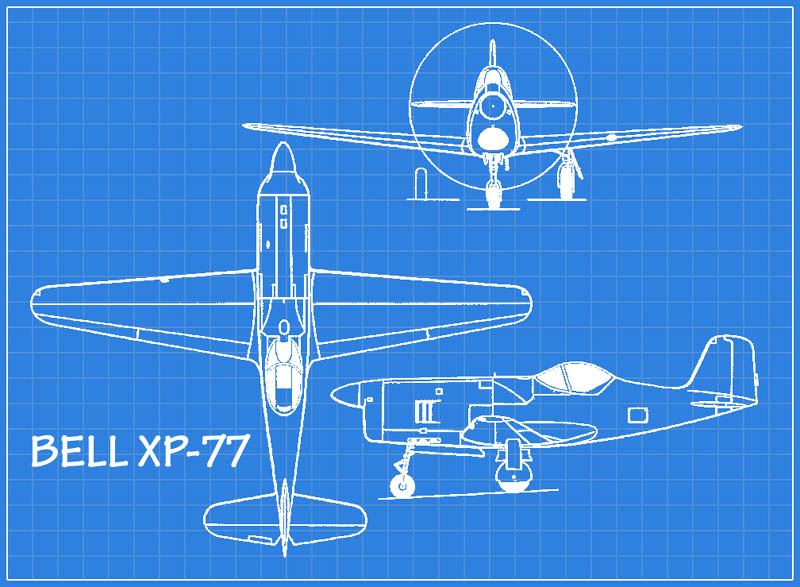 ---
Sources:
The Complete Encyclodepia of World Aircraft
, 1997, Barnes & Nobles Books, ISBN: 0 7607 0592 5
Green, William -
War Planes Of The Second World War - Fighters - Vol. 4
, 1964, Doubleday And Company, Inc., New York
---
U.S.A.A.F. RESOURCE CENTER
>
EXPERIMENTAL
>
PREVIOUS PAGE
---