---
U.S.A.A.F. RESOURCE CENTER
>
EXPERIMENTAL
>
PREVIOUS PAGE
---
McDONNELL XP-67
---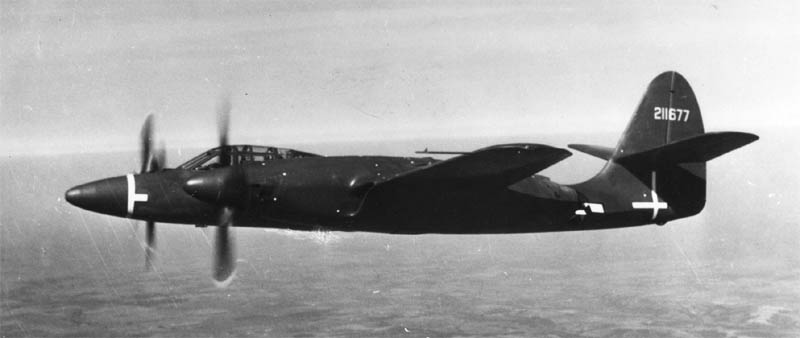 ---
One of the first aircraft built by the newly formed McDonnell Aircraft Corporation, the XP-67 was developed from an earlier design study for a long-range fighter. This earlier design, though rejected by the Army Air Corps, showed sufficient innovation to warrant the allocation of development funds. McDonnell came up with a new design and on July 29, 1941 this project received the designation of XP-67 and two prototypes were ordered.
The McDonnell design team created an interesting looking aircraft by using airfoils whenever possible, forming a design that seems to have the various components merge together. The XP-67 was fitted with a pressurized cabin and powered by two Continental XI-1430 engines equipped with GE D-2 Turbo-Superchargers driving four-bladed airscrews. The original armament was to be six .50 machine guns and four 20mm cannon later changed to six 37mm M-4 cannon though studies were made to equip the aircraft with a 75mm cannon.
Ground trials began in early December but halted on the 8th when fires started in both nacelles during an engine run-up. The problem was identified as a malfunction of the exhaust manifold slip rings and delayed the flight trials for nearly a month. Flight testing commenced on January 6, 1944 but the first flight was aborted due to engine problems. Various modification were made and flight testing resumed but was once again halted when on the fourth flight the engines were overspeeded resulting in the bearings burning themselves out.
Due to parts being unavailable the aircraft was returned to McDonnell where modifications to the tailplane were undertaken. It wasn't until March 23, 1944 that flight testing resumed. Despite repeated modifications the aircraft suffered from generally poor performance and dangerous handling characteristics. On September 6th, 1944 the prototype was severely damaged by fire and it was decided that the second prototype would require too much time to complete and the development contract was cancelled.
Type: Long Range Fighter
Origin: McDonnel Aircraft Corporation
Crew: One
Model: XP-67
First Flight: January 6, 1944
Production: 1 Prototype


---

Engine:
Model: Continental XI-1430-17/19
Type: 12-Cylinder inverted-Vee aircooled
Number: Two Horsepower: 1,350 hp


---

Dimensions:
Wing span: 55 ft. 0 in.
Length: 44 ft. 9.25 in.
Height: 15 ft. 9 in.
Lifting Surface Area: 414 sq. ft.

Weights:
Empty: 17,745 lb.
Loaded: 22,114 lb.
Maximum: 25,400 lb.

Performance:
Maximum Speed: 405 mph at 25,000 ft.
Maximum Speed: 357 mph at 10,000 ft.
Maximum Climb Rate: 2,600 ft./min.
Service Ceiling: 37,400
Maximum Range: 2,385 miles


---

Armament: Proposed
Six 37mm M4 cannon mounted in wing roots
Ammunition: 45 rounds per gun.

---
Image Gallery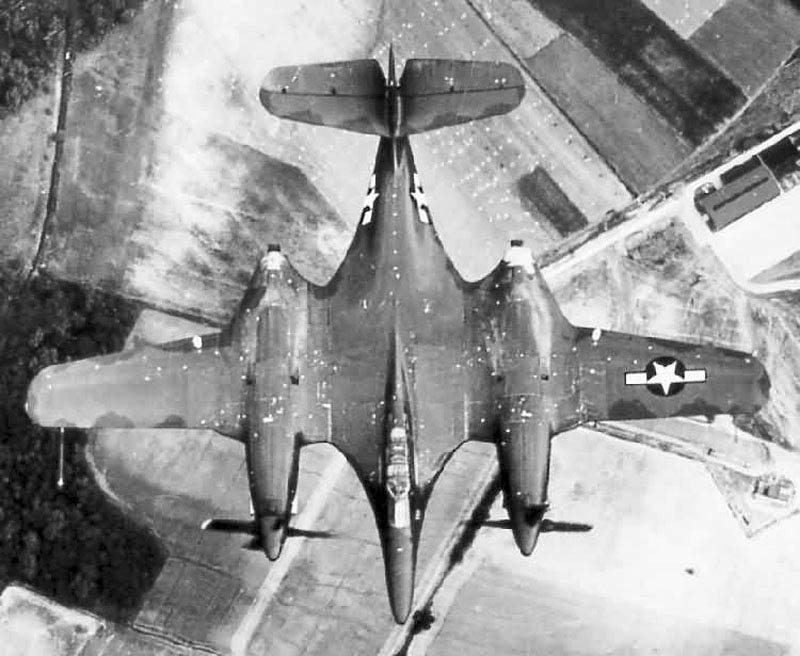 ---
Sources:
The Complete Encyclodepia of World Aircraft
, 1997, Barnes & Nobles Books, ISBN: 0 7607 0592 5
Green, William -
War Planes Of The Second World War - Fighters - Vol. 4
, 1964, Doubleday And Company, Inc., New York
---
U.S.A.A.F. RESOURCE CENTER
>
EXPERIMENTAL
>
PREVIOUS PAGE
---