---
U.S.A.A.F. RESOURCE CENTER
>
EXPERIMENTAL
>
PREVIOUS PAGE
---
NORTHROP XP-56 BLACK BULLET
---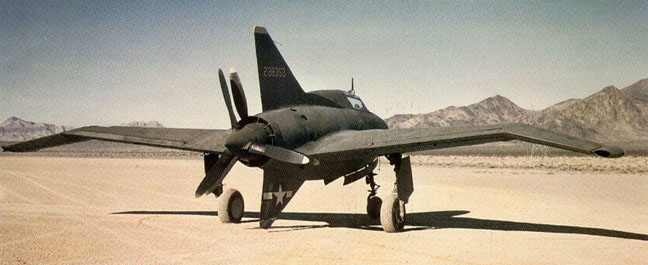 Second Prototype (42-38353).
---
The XP-56 "Black Bullet" was concieved of at a time where almost any concept could find official backing. This environment led to some interesting designs and one of the strangest was Northrop's model N2B (later given the designation XP-56).
The initial concept of a tailless fighter was put forth by Northrop designers in 1939 and was to be designed around the experimental Pratt & Whitney X-1800 liquid-cooled engine. The powerplant was to be installed as a pusher type driving two 3-bladed contra-rotating airscrews. Engineering studies began on June 22, 1940 with a prototype being ordered on September 26th. With such an innovative design, problems were expected and they were not long in coming. The first major hurdle presented itself before the initial drawings were complete. Pratt & Whitney decided not to pursue development of the X-1800 and the experimental powerplant was cancelled. The Northrop design team finally decided to replace the X-1800 with the Pratt & Whitney R-2800 even though they felt the air-cooled powerplant wasn't entirely suitable for the application. Development continued on the first prototype (41-786) and after realizing the folly of having a single prototype the U.S.A.A.F. ordered a second one (42-38353) on February 13, 1942.
Taxi tests began with the first prototype in April 1943 and the aircraft was found to have stability issues, particularly at high speeds. The problem eluded the engineers but was thought to involve the wheel brakes. Further testing was postponed until manual hydraulic brakes were fitted. Problems with the powerplant as well as other systems conspired to delay the initial flight until September 30, 1943 at Muroc, CA. This first flight proved to be successful though the maximum altitude reached was only 5 feet. Several more test flights were logged with the aircraft reaching higher altitudes with each one. Handling was considered good but further testing was abruptly halted when the prototype was destroyed after the port tire blew out while taxiing at high speed.
The second prototype had been completed by this point and was shipped to Muroc to begin testing. 8353 differed from the first prototype by having a redesigned and lengthened upper vertical fin. Additional changes included a bellow operated split flap system installed in the wing tips with the air for the bellows being drawn from venturi's mounted on the wingtips. These flaps gave the XP-56 better directional control and served to augment the rudder. The designers also changed the center of gravity by shifting the ballast, this in an attempt to improve stability.
8353 clawed into the sky for the first time on March 23, 1944 but the flight was cut short after the pilot reported excessive nose heaviness and a reluctance for the aircraft to rotate the nose up under 160 mph. For safety's sake the flight was aborted after seven and a half minutes. After some minor changes the second flight took place and proved to be more successful, with the heaviness in the nose disappearing after the nose wheel was retracted. Unfortunately the top speed of the aircraft fell far below expectations and defied all attempts to increase it. On May 30, 1944 the descision was made for N.A.C.A. to investigate the designs reluctance to go fast and 8353 was shipped to Moffett Field, CA so it could be tested in the wind tunnel located there. Higher priority projects meant that the earliest the XP-56 could be tested would be October. While waiting for it's wind tunnel test several flight tests were performed. During the tenth test the pilot reported that the aircraft was suffering from an excessively heavy tail and a lack of power. These issues combined with and inexplicably high fuel consumption led to the suspension of further flight testing. Development was shelved for a year and was eventually cancelled.
Type: Experimental fighter
Origin: Northrop
Crew/Seats: One
Model: XP-56
First Flight:
First Prototype: September 6, 1943
Second Prototype: March 23, 1944
Final Flight:
First Prototype: Destroyed in crash, 1943
Second Prototype: N/A


---

Engine:
Model: Pratt & Whitney R-2800-29 Double Wasp
Type: Twin-Row 18-cylinder radial piston engine
Number: One Horsepower: 2,000 hp


---

Dimensions:
Wing span: 42 ft. 6 in. (12.95m)
Length: 27 ft. 6 in.
Height: 11 ft. 0 in.
Wing Surface Area: 306 sq. ft.

Weights:
Empty: 8,700 lb.
Loaded: 11,350 lb.
Maximum: 12,145 lb.


---

Performance:
Maximum Speed:
465 mph (748 kph) at 25,000 ft.
417 mph at sea level
Climb rate: 3,125 ft/minute at 15,000 ft.
Time to 20,000 ft.: 7.2 minutes
Service Ceiling: 33,000 ft.
Normal Range: 445 miles at 396 mph
Maximum Range: 660 miles


---

Armament: Proposed
Two 20mm cannon with 100 r.p.g.
Four .50 machine guns with 400 r.p.g.

---
Image Gallery
---
Sources:
The Complete Encyclodepia of World Aircraft
, 1997, Barnes & Nobles Books, ISBN: 0 7607 0592 5
Green, William -
War Planes Of The Second World War - Fighters - Vol. 4
, 1964,Doubleday And Company, Inc., New York
USAF Museum
, www.wpafb.af.mil/museum/index.htm, 2005.
---
U.S.A.A.F. RESOURCE CENTER
>
EXPERIMENTAL
>
PREVIOUS PAGE
---