---
U.S.A.A.F. RESOURCE CENTER
>
EXPERIMENTAL
>
PREVIOUS PAGE
---
DOUGLAS XA-42/XB-42 "MIXMASTER"
---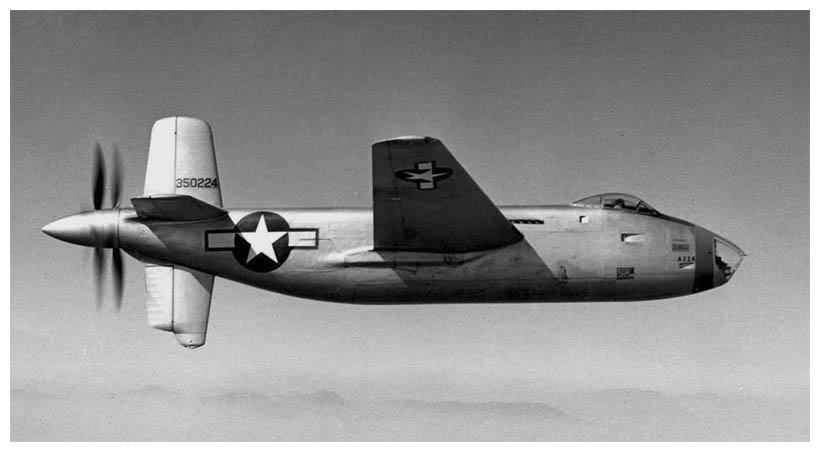 ---
The Mixmaster was the last twin-engined propellor driven bomber tested by the air force and was developed as a long range bomber against the possible failure of the B-29 program. Designed in 1943 as an attack aircraft and designated the XA-42, the aircraft was redesignated as the XB-42 in 1944. The two V-12 engines used a complicated gearbox driven by 5 P-39 propellor shafts to drive the large contra-rotating propellers. With the success of the B-29 program the need for the XB-42 evaporated and the first prototype was fitted with jet engines and redesignated XB-42A.
Type: Bomber
Origin: Douglas
Crew/Seats: Three
Model: XA-42, XB-42
First Flight:
First Prototype: May 6, 1944
Second Prototype: August 1, 1945
Final Flight:
First Prototype: Destroyed in crash, Dec. 1944
Second Prototype: June 1949


---

Powerplant:
Model: Allison V-1710-125
Type: V-12 piston engine
Number: Two Horsepower: 1,800 hp


---

Dimensions:
Wing span: 70 ft. 6 in. (21.49m)
Length: 53 ft. 7 in. (16.36m)
Height: 20 ft. 9 in. (5.74m)
Wing Surface Area: 555 Sq. Ft. (51.56m²)

Weights:
Empty: N/A
Loaded: 35,703 lb.

Performance:
Maximum Speed: 410 mph (660 kph) at 29,400 ft.
Cruising Speed: 312 mph (502 kph)
Initial Climb: N/A
Service Ceiling: 29,400 ft. (8960m)
Range: 1,800 miles (2897 km)


---

Armament:
Six .50-cal. Machine guns.

- Two fixed, one on each side of fuselage.
- Two flexible remote operated guns mounted on trailing edge of each wing.
Payload:
8,000 lb. (3629 kg) of bombs carried internally.

---
Image Gallery
---
Sources:
USAF Museum
, www.wpafb.af.mil/museum/index.htm, 2005.
---
U.S.A.A.F. RESOURCE CENTER
>
EXPERIMENTAL
>
PREVIOUS PAGE
---