---
U.S.A.A.F. RESOURCE CENTER
>
EXPERIMENTAL
>
XA-38 GRIZZLY
>
PREVIOUS PAGE
---
BEECHCRAFT XA-38 GRIZZLY
Design & Development
The United States Army Air Forces awarded the Beech Aircraft Corporation a contract in December 1942 for two prototypes for their Model 28 "Destroyer". The requirement was for a powerful ground attack aircraft to replace the Douglas A-20 Havoc, with the ability to hit "hardened" targets like tanks and bunkers. This capability was achieved through a 75 mm cannon with 20 rounds, mounted in a fixed position on the nose as well as two .50 cal M2 Browning machine guns firing forward. Defensive armament consisted of remotely-controlled ventral and dorsal turrets, each armed with twin .50 cal machine guns. There were to be two crew members, a pilot and an observer/gunner in the rear cabin, using periscope sights to aim the guns.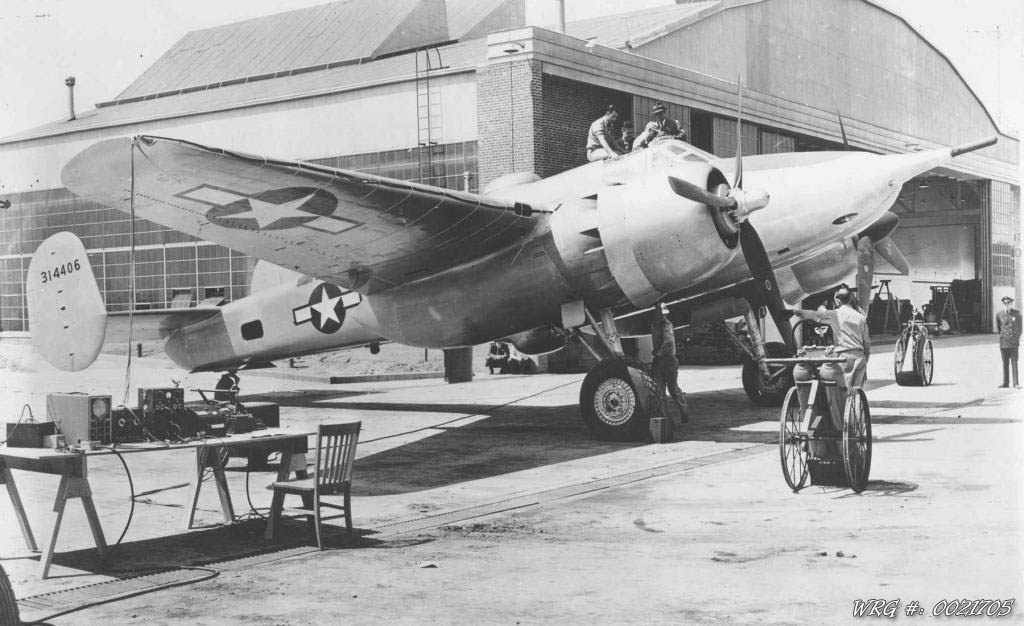 Beechcraft XA-38 Grizzly/43-14406 during ground vibration tests. Tests were set-up to determine natural frequencies excited during engine operation.
[Source: U.S. Air Force photo]
On May 7th, 1944, Beech test pilot Vern Carstens flew the XA-38 on its maiden flight from the company's Wichita airfield. The aircraft proved satisfactory in all respects and better than expected in some, including top speed.
During testing, the XA-38 prototypes were flown by U.S. Army pilots and serviced by military personnel, proving to be reliable and establishing a high level of serviceability.
The armament proved especially effective and had it not been for wartime priorities shifting in 1944, the aircraft would most likely have been ordered in quantity[citation needed], although the B-29 had priority for the Wright R-3350 engines. Instead, one prototype was scrapped and the other, intended for the USAF Museum, had an unknown fate.

---
Sources:
WikiPedia
---
U.S.A.A.F. RESOURCE CENTER
>
EXPERIMENTAL
>
XA-38 GRIZZLY
>
PREVIOUS PAGE
---