---
U.S.A.A.F. RESOURCE CENTER
>
POST WAR: 1946-1960
>
PREVIOUS PAGE
---
P-80 SHOOTING STAR
---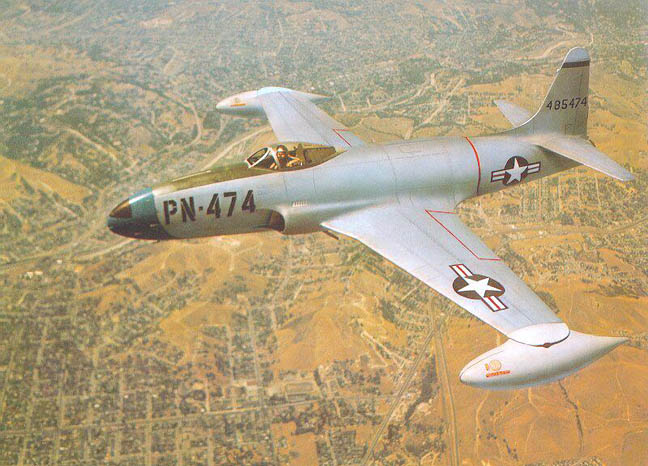 ---
Type: High-altitude Interceptor
Origin: Lockheed
Crew: One
Model:
XF-80, XF-80A, YF-80A, F-80A
XF-80B, F-80B, F-80C
First Flight: January 8, 1944
Production: 1,731
XF-80: 1
XF-80A: 3
YF-80A: 13
F-80A: 917
XF-80B: 1 (converted)
F-80B:240 (converted from P-80A)
F-80C:798


---

POWERPLANT: F-80C
Model: Allison J33
Type: Turbojet
Number: One Horsepower: 5,400 hp*
* with water-alcohol injection.


---




DIMENSIONS: F-80C
Wing span: 38 ft. 10½ in.
Length: 34ft. 6 in.
Height: 11 ft. 4 in.
Wing Surface Area: N/A

WEIGHTS: F-80C
Empty: N/A
Loaded: N/A
Maximum Loaded: 16,856 lb.


---

PERFORMANCE: F-80C
Maximum Speed: 580 mph
Cruising Speed: 437 mph
Initial Climb Rate: N/A
Time to 20,000ft: N/A
Service Ceiling: 46,800 ft.
Absolute Ceiling: N/A
Normal Range: 1,090 miles


---

ARMAMENT:
Six .50 in. Browning machine guns
Ammunition: N/A

BOMB LOAD:
Eight 5 in. rockets or 2,000 lbs. bombs.

---
COMMENTS:
The P-80 was the first American built jet aircraft that was produced in large quantities and was the first USAF aircraft to exceed 500 mph in level flight. Designed during WWII but arriving too late to see combat, the P-80 eventually saw combat in the Korean conflict. Redesignated F-80 in 1948, the F-80C saw extensive use in the low-level strike fighter role utilizing rockets, bombs and napalm. On Nov. 8, 1950 the F-80 reasserted its Interceptor roots and a Shooting Star flown by Lt. Russell J. Brown of the 16th FIS successfully engaged in the worlds first jet on jet combat, downing a Russian-built Mig-15.
---
IMAGE GALLERY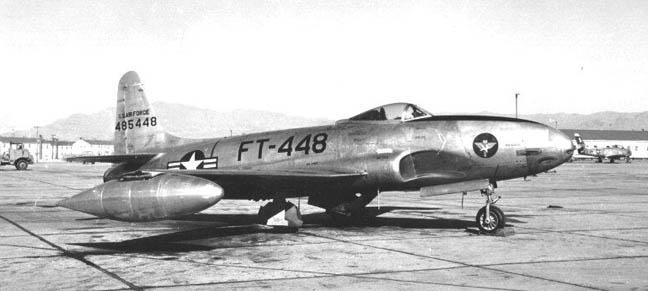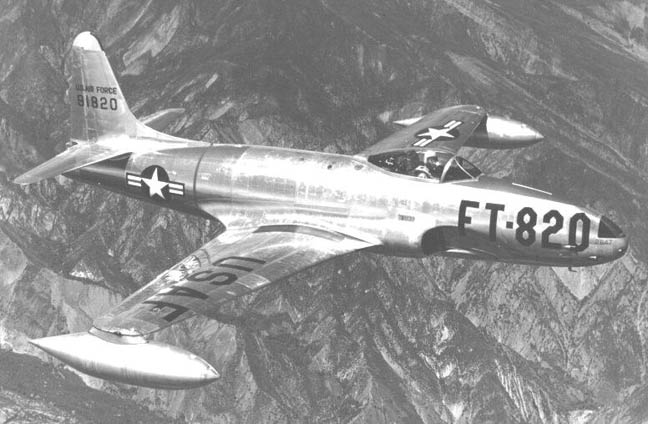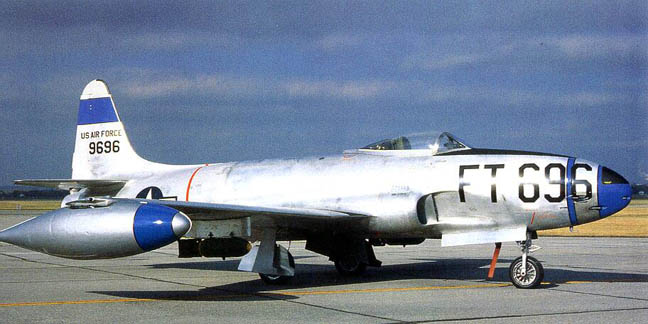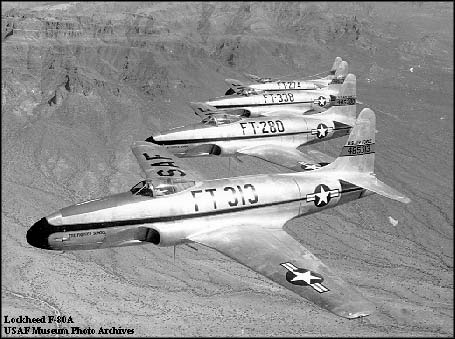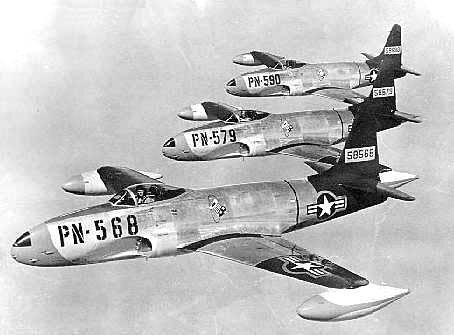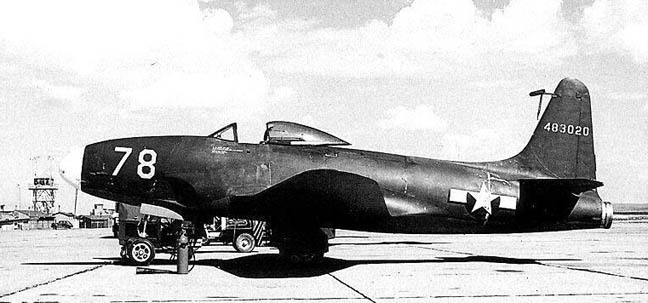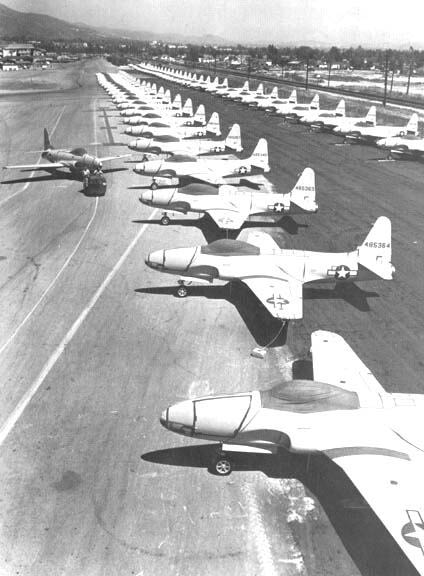 ---
Sources:
USAFM, Wright Patterson AFB
---
U.S.A.A.F. RESOURCE CENTER
>
POST WAR: 1946-1960
>
PREVIOUS PAGE
---