---
U.S.A.A.F. RESOURCE CENTER > FIGHTERS > P-61 BLACK WIDOW > PREVIOUS PAGE

---
P-61 BLACK WIDOW
Variants
All models and variants of the P-61 were produced at Northrop's Hawthorne, California manufacturing plant.
XP-61
The first two prototypes.
YP-61
Pre-production series; 13 built.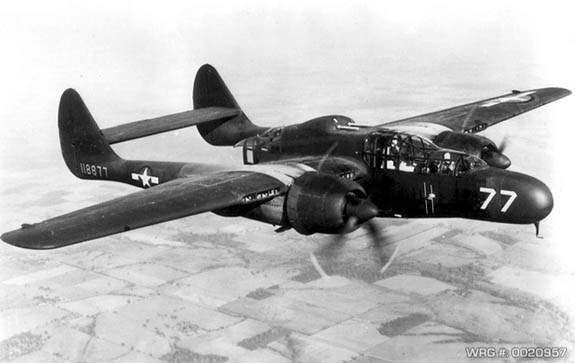 The Northrop YP-61-NO Black Widow pre-production prototype (serial number 41-18877).
[Source: USAF Photo]

P-61A-1
First production version, R-2800-10 engines producing 2,000 hp; 45 built, the last seven without the turret.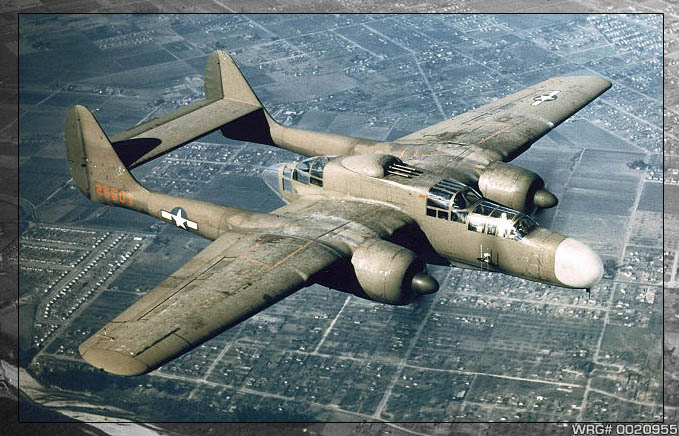 Northrop P-61A-1-NO Black Widow, serial number 42-5507,
assigned to 418th NFS lost in South Pacific on April 10, 1945.
[Source: USAF Photo]

P-61A-5
No turret, R-2800-65 engines producing 2,250 hp; 35 built.

P-61A-10
Water injection to increase duration of maximum power output; 100 built.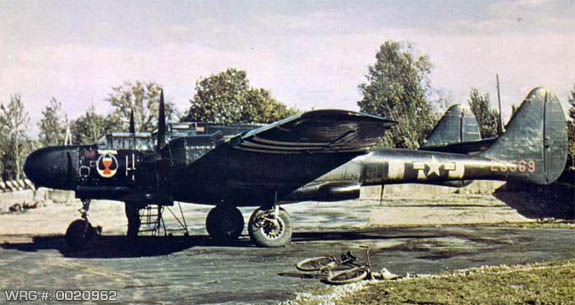 Northrop P-61A-10-NO Black Widow/42-5569 in 1944 in support of D-Day operations.
[Source: USAF Photo]

P-61A-11
One hardpoint under each wing for bombs or fuel tanks; 20 built.

P-61B-1
Nose stretched 8 in (20 cm), SCR-695 tail warning radar; 62 built.

P-61B-2
Reinstated underwing hardpoints as on P-61A-11; 38 built.

P-61B-10
Four underwing hardpoints; 46 built.

P-61B-11
Reinstated turret with two 0.50 in machine guns; five built.

P-61B-15
Turret with four 0.50 in machine guns; 153 built.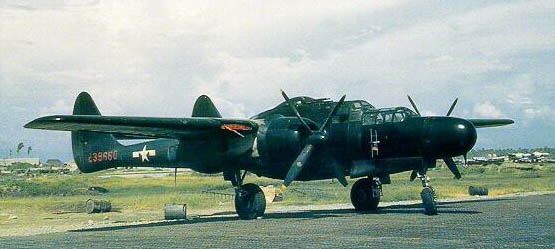 Northrop P-61B-15-NO Black Widow, serial number 42-39660, survived the war and was sent to the scrappers in Tachikawa, Japan, on November 23, 1949.
[Source: Unknown]

P-61B-16
Turret armament reduced to two machine guns; six built.

P-61B-20
New General Electric turret with four machine guns; 84 built.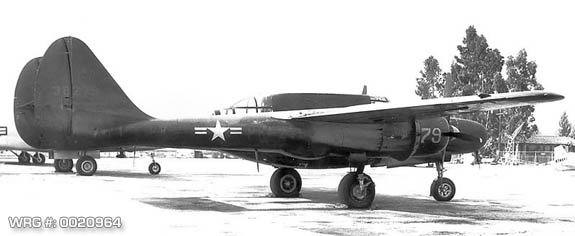 Northrop P-61B-20-NO Black Widow (s/n 43-8279)
of 318th FIghter Squadron at Hamilton Field, CA, December 1947.
[Source: USAF Photo]

P-61B-25
Turret automatically aimed and fired by the APG-1 gun-laying radar connected to an analogue computer; six built.

P-61C
Turbosupercharged R-2800-73 engines producing 2,800 hp, top speed increased to 430 mph (374 kn, 692 km/h) at 30,000 ft (9,145 m). However, the aircraft suffered from longitudinal instability at weights above 35,000 lb (15,875 kg) and from excessive takeoff runs—up to 3 mi (5 km) at a 40,000 lb (18,143 kg) takeoff weight; 41 built, 476 more cancelled after the end of the war.


A Northrop P-61C-1-NO Black Widow (s/n 43-8336) used for tests of the U.S. Navy Gorgon IV missile (designated KUM-1, PTV-2, and PTV-N-2). The U.S. Navy began the Gorgon IV programme in May 1945. .
[Source: Unknown]

TP-61C
P-61Cs converted to dual-control training aircraft.

XP-61D
One P-61A-5 (number 42-5559) and one P-61A-10 (number 42-5587) fitted with turbosupercharged R-2800-14 engines; cancelled when P-61C entered production.

XP-61E
Two P-61B-10s (numbers 42-39549 and 42-39557) converted to daytime long-range escort fighters. Tandem crew sat under a blown canopy which replaced the turret, additional fuel tanks were installed in place of the radar operator's cockpit in the rear of the fuselage pod, and four 0.50 in (12.7 mm) machine guns took place of the radar in the nose (the 20 mm/.79 in ventral cannon were retained as well). First flight 20 November 1944, cancelled after the war ended. The first prototype was converted to an XF-15, the second lost in take-off accident 11 April 1945.

XP-61F
Abandoned conversion of one P-61C to XP-61E standard.

P-61G
Sixteen P-61B converted for meteorological research.

F-15A Reporter
Photoreconnaissance variant with a new center pod with pilot and camera operator seated in tandem under a single bubble canopy, and six cameras taking place of radar in the nose. Powered by the same turbosupercharged R-2800-73 engines as the P-61C. The first prototype XF-15 was converted from the first XP-61E prototype, the second XF-15A was converted from a P-61C (number 43-8335). The aircraft had a takeoff weight of 32,145 lb (14,580 kg) and a top speed of 440 mph (382 kn, 708 km/h). Only 36 of the 175 ordered F-15As were built before the end of the war. After formation of the United States Air Force in 1947, F-15A was redesignated RF-61C. F-15As were responsible for most of the aerial maps of North Korea used at the start of the Korean War.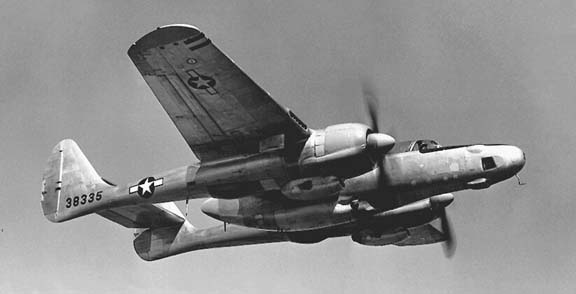 F-15 Reporter.
[Source: Unknown]

F2T-1
Five USAAF P-61s's transferred to the United States Marine Corps in 1946. Designated F2T-1, these aircraft had no armament and were used for training.

F2T-1N
Twelve USAAF P-61B's transferred to the United States Marine Corps.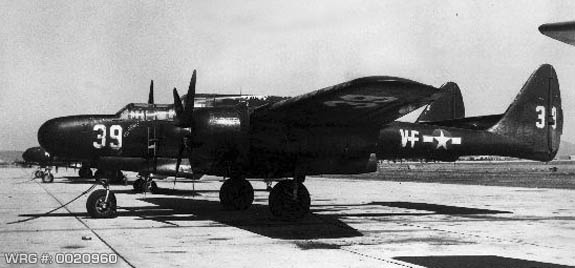 USMC Northrop F2T-1N Black Widow.
[Source: USMC Photo]
---
U.S.A.A.F. RESOURCE CENTER > FIGHTERS > P-61 BLACK WIDOW > PREVIOUS PAGE

---