---
U.S.A.A.F. RESOURCE CENTER
>
FIGHTERS
>
PREVIOUS PAGE
---
BELL P-59 AIRACOMET
---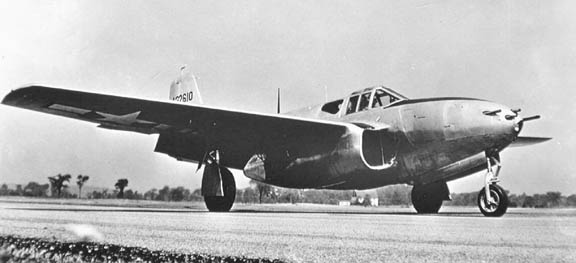 ---
The Airacomet was developed around the British Whittle Engine, Americanized and manufactured by General Electric (initial I-A produced 1,100 lbs. (500 kg) of thrust). Flight developement went smoothly and deliveries of 12 YP-59As for service trials were delivered in 1944. Total procurement amounted to only 66 units including three XF2L-1 prototypes for the US Navy.
It soon became apparent that the P-59's performance did not exceed the types currently in service but would make an excellent conversion trainer.
Type: Single Seat Jet Fighter Trainer
Origin: Bell Aircraft
Models: YP-59, P-59A and XF2L-1
First Flight:
XP-59A: October 1, 1942
P-59A: August 7, 1944
Service Delivery: N/A
Final Delivery: N/A
Total Produced: 66


---

Powerplant:
Model: General Electric J31-GE-3
Type: Turbojet
Number: Two Thrust: 2,000 Lbs. (907 kg)


---

Dimensions:
Wing span: 13.87m (45 ft. 6 in.)
Length: 11.63m (38 ft. 1.5 in.)*
Height: 3.66m (12 ft.)
Wing Surface Area: N/A

Weights:
Empty: 7,950 lb. (3610 kg)
Maximum: 12,700 lb. (5760 kg)


---

Performance:
Maximum Speed: 671km/h (413 mph)
Initial climb: N/A
Service Ceiling: 46,200 ft. (14,080 kg.)
Range: 520 miles (837 km)
With two 125 Imperial Gallon Drop Tanks at 289 mph


---

Armament:
Usually none but a few YP-59A fitted with nose gun package comprised of a 37mm Cannon and three .50 machine guns.
A rack mounted under each wing can handle bombs as well as drop tanks.

---

---
U.S.A.A.F. RESOURCE CENTER
>
FIGHTERS
>
PREVIOUS PAGE
---