---
U.S.A.A.F. RESOURCE CENTER
>
FIGHTERS
>
P-43 LANCER
>
PREVIOUS PAGE
---
P-43 LANCER
Operational History
An order of 125 P-43A-1s were ordered for China through the Lend-Lease program, intended to equip the Third American Volunteer Group (AVG). Pilots involved in the ferrying flights commended the P-43 for its good high-altitude performance compared to the Curtiss P-40, good roll rate and a radial engine without a vulnerable liquid cooling system. Apparently, several AVG pilots asked Chennault to keep some P-43s, but the request was denied due to the aircraft's lack of armor or self-sealing fuel tanks. In addition, the turbo-supercharger proved unreliable and the "wet wing" fuel tanks leaked constantly. In June 1942, Robert L. Scott Jr—an AVG pilot—photographed the peaks of Mt. Everest from 44,000 ft (13,000 m), attesting to the strengths of this aircraft. The P-43 performed poorly in combat in the hands of the Chinese Air Force against Japan due to its great vulnerability; it was replaced by other aircraft in early 1944. Rudimentary protection added on the P-43A-1 was insufficient. In addition, the P-43's R-1830 engines were in high demand for the Douglas C-47 transport, effectively grounding the surviving aircraft.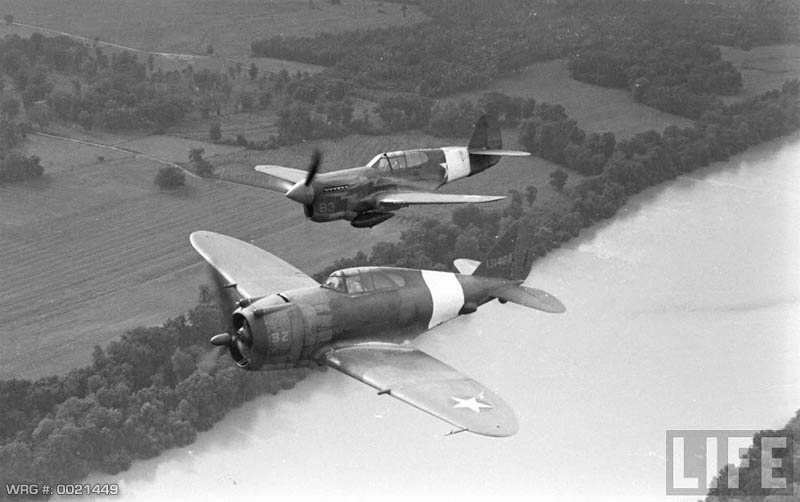 A Republic P-43 and a P-40 Warhawk flying during manuevers.
[Source: Life Magazine]
The USAAC considered the P-43 and its variants obsolete from the start and used them only for training purposes. In fall 1942, all surviving USAAF (transitioned from USAAC in June 1941) P-43s were redesignated RP-43 indicating they were unfit for combat. Most of the aircraft that were not sent to China were modified for photo-reconnaissance duties and used for training. Eight P-43s (four P-43a-1s and four P-43Ds) were loaned to the Royal Australian Air Force in 1942 and served with No. 1 Photo Reconnaissance Unit, based at Coomlie, Northern Territory. The RAAF flew many long range, high-altitude photo reconnaissance missions before the six survivors were returned to the USAAF in 1943.
---
Sources:
Wikipedia
War Planes of the Second World War, Fighters, Volume Four, William Green, Doubleday, 1964.
---
U.S.A.A.F. RESOURCE CENTER
>
FIGHTERS
>
P-43 LANCER
>
PREVIOUS PAGE
---