---
U.S.A.A.F. RESOURCE CENTER
>
FIGHTERS
>
P-36 HAWK
>
PREVIOUS PAGE
---
CURTISS P-36 HAWK
Design & Development
The Curtiss Model 75 was a private venture by the company, designed by former Northrop engineer Donovan Berlin. The first prototype constructed in 1934 featured all-metal construction with fabric-covered control surfaces, a Wright XR-1670-5 radial engine developing 900 hp (671 kW), and typical U.S. Army Air Corps armament of one 0.30-cal. and one 0.50-cal. machine guns firing through the propeller arc. Also typical of the time was the total absence of armor or self-sealing fuel tanks. The distinctive landing gear which rotated 90 degrees to fold the main wheels flat into the thin trailing portion of the wing was actually a Boeing-patented design for which Curtiss had to pay royalties.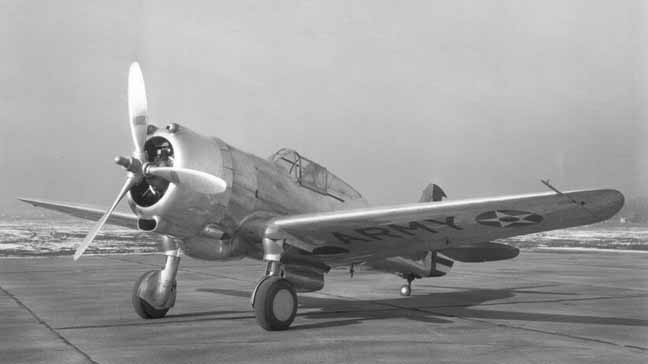 P-36 Hawk. Source: Unknown
The prototype flew in May 1935, reaching 281 mph (452 km/h) at 10,000 ft (3,050 m) during early test flights. On 27 May 1935, the prototype was flown to Wright Field, Ohio, to compete in the USAAC fly-off for a new single-seat fighter but the contest was delayed because the Seversky entry crashed on the way to the contest. Curtiss took advantage of the delay to replace the unreliable engine with a Wright XR-1820-39 Cyclone producing 950 hp (709 kW) and to rework the fuselage, adding the distinctive scalloped rear windows to improve rear visibility. The new prototype was designated Model 75B with the R-1670 version retroactively designated Model 75D. The fly-off finally took place in April 1936. Unfortunately, the new engine failed to deliver its rated power and the aircraft attained only 285 mph (460 km/h).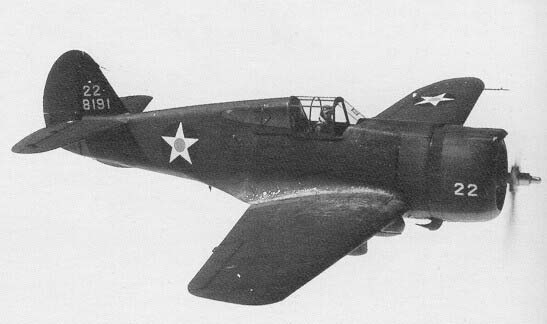 P-36 Hawk. Source: Unknown
Although its competitor, the Seversky P-35, also underperformed and was more expensive, it was still declared the winner and awarded a contract for 77 aircraft. Then, on 16 June 1936, Curtiss received an order from USAAC for three prototypes designated Y1P-36. The USAAC was concerned about political turmoil in Europe and about Seversky's ability to deliver P-35s in a reasonable timeframe and therefore wanted a backup fighter. The Y1P-36 (Model 75E) was powered by a Pratt & Whitney R-1830-13 Twin Wasp engine producing 900 hp (671 kW) and further enlarged scalloped rear canopy. The new aircraft performed so well that it won the 1937 USAAC competition with an order for 210 P-36A fighters.
---
Sources:
Wikipedia
Persyn, Kari, & Thomas. P-36 Hawk Aces of World War 2. Oxford: Osprey Pub. (2009)
Green, William.
War Planes of the Second World War, Vol. Four: Fighters
. London: MacDonald & Co. Ltd., 1961
---
U.S.A.A.F. RESOURCE CENTER
>
FIGHTERS
>
P-36 HAWK
>
PREVIOUS PAGE
---