---
U.S.A.A.F. RESOURCE CENTER
>
USAAF ACES & LEGENDS
>
PREVIOUS PAGE
---
THOMAS BUCHANAN McGUIRE Jr
---
---
Rank:
Major
Unit(s):
5th Air Force
– 475th Fighter Group
—431st Fighter Squadron, CO
Theatre(s): PTO
Decoration(s):
Medal of Honor, Posthumously
Distinguished Service Cross
Silver Star with 2 OLC
Distinguished Flying Cross w 5 OLC
Air Medal with 14 OLC
Years Of Service: 1941-1945
Victories: 38
Total Combat Hours: 741


---

Place Of Birth: Ridgewood, NJ
Date Of Birth: August 1, 1920
Education:
– Georgia School of Technology

Aircraft Flown:
P-38H-5-LO, SN: 42-66765
#131 (name "Pudgy" not painted)

P-38H-5-LO, SN: 42-66817
#131 "PUDGY" (number II)

P-38J-10-LO, SN: (?)
#131 "PUDGY III"

P-38J, SN: (?)
#131 "Pudgy IV"

P-38L-1-LO, SN: 44-24155
#131 "PUDGY (V)"

Ground Crew:
C/C:
(1) S/Sgt. R.H. Applewhite
(2)T/Sgt. Frank J. Kish

Asst. C/C:
(1) Sgt. Frank J. Kish
(2) Cpl. R. Van Der Geest

Armorer.: Sgt. V.D. Spahr
---
SERVICE:
Enlisted as an Aviation Cadet at MacDill Field, Florida, July 12, 1941. Training at Randolph Field and Kelly Field, Texas. Commissioned 2/Lt. and received Wings in February 1942. Assigned Alaska Air Command. Arrived to the SWPA in Australia assigned to the 49th FG in March 1943 but saw no combat. Transferred to the newly formed 475th FG.
The 475th entered combat in August 1943 and McGuire quickly became an "Ace", destroying 5 Japanese E/A in two missions on August 18 and 21, 1943. Promoted to 1/Lt. in September 1943.
While flying 431st FS C.O. Frank Nichol's P-38, Lt. McGuire shot down three "Zekes", was himself shot down, WIA and had to be rescued from the sea by an American PT boat on October 17, 1943. McGuire was hospitalised until December 26, 1943 when, back in combat, he was credited with destroying 3.5 "Vals". Promoted to Captain, December 1943. McGuire was promoted to Major and C.O. of the 431st FS/475th FG on May 2, 1944.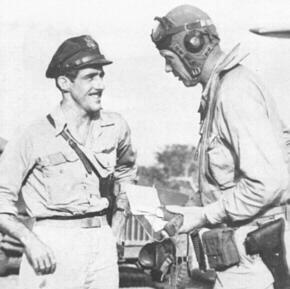 Maj. McGuire's consistent position as "#2" in the unofficial "Ace Race" stood with a tally of 31 confirmed victories when "#1" Dick Bong was relieved from combat in December 1944. McGuire shot down 3 E/A on Christmas Day 1944 and added 4 more E/A the next day, December 26, to bring his score to 38 victories - This feat, which in part, helped earn McGuire the Medal of Honor also prompted Gen. George C. Kenney to "ground" McGuire at least until top ace Maj. Bong received his "heroes' welcome" returning back to the USA.
On January 7, 1945, McGuire flying Fred Champlin's P-38 #112, was back leading an unauthorized flight over the Negros Islands, Phillipines when they attacked a lone IJAAF Ki. 43 "Oscar" piloted by Warrant Officer Akira Sugimoto of the 71st Sentai. McGuire gave an order to "Save droptanks..." The fiesty Sugimoto amazingly, turned to fight and immediately got strikes on Douglas Thropp's P-38 but was chased off by Frank Rittmayer. Sugimoto turned and again dove on McGuire and Edwin Weaver who stayed in a defensive circle close to the deck. Sugimoto was later chased into the clouds and out of the fight by Thropp. Damaged in the scrap, Sugimoto bellied-in on Negros Island only to be captured and later shot by Filipino guerillas. Coming out of the clouds over Negros, Thropp witnessed an aircraft burning on the ground which he later realized was the P-38 of McGuire. Over 30 years later, it was learned that a second E/A, an IJAAF Ki.84 "Frank", piloted by Master Sgt. Mizunori Fukuda, had entered the fight and immediately shot down Maj. Rittmayer. McGuire had then tried to rack his Lightning in a violent turn to help out but only managed to stall his heavily loaded and underspeed P-38 which then dropped into the jungle below and crashed. McGuire was too low to bail-out and was killed instantly. In attempting to engage the E/A, McGuire disregarded some of his own "rules of engagement" which included:
- Never attempt combat at low altitude.
- Never let your airspeed fall below 300 mph.
- Never keep your wing tanks on in a fight.
Fukuda's Ki.84 was also damaged in the scrap and he crash-landed while his returning to his base.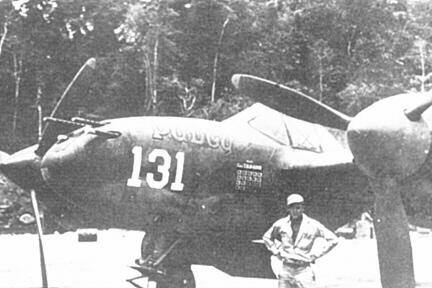 Pudgy (II) and unknown crewman
REMARKS:
McGuire aggressively pursued becoming the "Top Ace"and as the 475th FG cleared the air over New Guinea in the summer and fall of 1944. McGuire often attached to the 7th and 9th Fighter Squadrons of the 49th FG and some of his victories from that period are credited to the 49th FG tally. McGuire would join in the so-called "Fat Cat" flights with other highly experienced combat pilots or so-called "Ace Racers" Dick Bong, Bob Dehaven, Jerry Johnson et al. McGuire actually authored the book on combat tactics for the Pacific Air War that was adopted for training purposes by the Army Air Forces.
Major McGuire's remains were identified and recovered in 1949 and are permanently interred at Arlington National Cemetery. McGuire AFB, New Jersey is named in honor of Major McGuire.
Major Thomas B. "Tommy" McGuire, Jr. is to be enshrined in the National Aviation Hall of Fame during a ceremony in July 2000.
---
"This is the kind of place I like, where you have to shoot 'em down so you can land on your own airdrome! Say, how many has Bong got now?"
-Major McGuire, upon arrival at Tacloban Airdrome, Leyte, Phillipines.

---
Source: Artwork courtesy of Rocky Gooch.
THANKS to Charles A. Martin, author of "McGuire: The Last Great Ace" for his valuable concern and assistance in compiling this entry for Tommy McGuire.

---
---
U.S.A.A.F. RESOURCE CENTER
>
USAAF ACES & LEGENDS
>
PREVIOUS PAGE
---