---
U.S.A.A.F. RESOURCE CENTER
>
USAAF ACES & LEGENDS
>
PREVIOUS PAGE
---
Charles F. "Chuck" Mann
---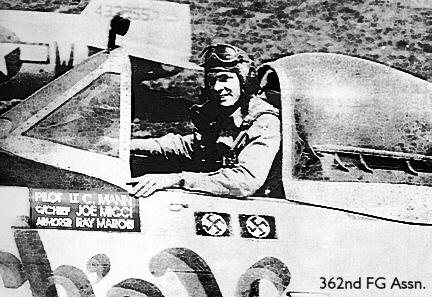 ---
Last Wartime Rank:
Lt.

Theatre(s): ETO

Decorations:
Silver Star
Distinguished Flying Cross
Air Medal with 12 OLC
Purple Heart
Distinguished Unit Citation with 1 OLC

Born:
August 14, 1924 at McKenzie, Tennessee

School:
Bethel College, 1941
University of Tennessee, 1942
Murray State, Kentucky, Post-war


Unit(s):
377th Fighter Squadron
362nd Fighter Group
9th Air Force

Victories: 2 Air
Bf 109 on March 14, 1945
Fw 190D-9 on March 17, 1945

Total Sorties: N/A
Strike Rate: N/A

Aircraft Flown:
P-47D-26-RE
SN: 42-26470, E4*T
"Chuck's Wagon"

---
SERVICE
- Enlisted USAAC Aviation Cadets, 1942.
- 1st College Training Detachment, Southwestern-Memphis.
- Aviation Cadet Center, San Antonio, Texas.
- Primary Training at Pine Bluff, Arkansas flying PT-19.
- Basic Training at Independence, Kansas flying BT-14.
- Advanced Training at Moore Field Mission, Texas flying AT-6. Graduated Class 44C.
- P-47 Fighter Schools at Richmond, Virginia; at Goldsboro and Wilmington, North Carolina.
- Assigned to 377th FS/362nd FG, XIX TAC, 9th AAF at Rheims, France in the Fall of 1944. Wounded by ground fire and hospitalized. Chuck Mann, in his own words "...returned from the hospital, to rejoin the 362FG at Frankfort-Rhein Main, (Germany) just in time to be sent to the Riviera for V.E. Day!" Trained replacement pilots for their "impending transfer" to the Pacific Theater in Summer 1945 at Straubing-Pocking, Germany. Following V.J. Day, the 362nd FG returned to Seymour-Johnson Field at Goldsboro, North Carolina. Mann later reverted to civilian with reserve status and graduated from Murray State, Kentucky in Physics and Chemistry. Continued flying fighters in the USAF Reserve and Tennessee Air National Guard.
- Recalled to active duty during Korean War, 1951-1953.
- Retired from Flying, Operations, Intelligence and Personnel assignements with Wing HQ, Tennessee ANG in 1965.
QUOTE:

"We are proud to have served well. In lasting honor, we salute near 100 comrades who perished while in service of their country with the 362nd Fighter Group."
Chuck Mann
Secretary, 362nd FG Association, January 1998
NOTES:
Rocket and dive-bombing missions with XIX TAC in support of General Patton's Third Army during the Battle of the Bulge and the Crossing of the Rhein River into Germany were Chuck Mann's proudest fare. He destroyed a Bf 109 over the Remagen Bridge then shot down a Fw 190D, three days later, after receiving a wound from ground fire.
Chuck Mann's civilian careers included 22 years with the Crane Company in Sales and Management followed by establishment of a manufacturer's agency partnership with his wife, Fern, retiring in 1992. Chuck and Fern Mann both served as Judges and Committee Chairpersons for International Aerobatic Club Competitions, as well as having built an aerobatic airplane.
In 1959, Chuck Mann co-founded the 362nd FG Association and in 1990, was a founder of the Ninth Air Force Association. He served in many capacities including Director, Asst. Secretary and Vice-President of Administration. Our friend, Chuck Mann, passed away April 20, 1998.

---

---
Sources:
Artwork by Rocky Gooch — Photograph courtesy of the 362nd FG Association.
---
U.S.A.A.F. RESOURCE CENTER
>
USAAF ACES & LEGENDS
>
PREVIOUS PAGE
---