---
U.S.A.A.F. RESOURCE CENTER
>
USAAF ACES & LEGENDS
>
PREVIOUS PAGE
---
WALKER M. "BUD" MAHURIN
---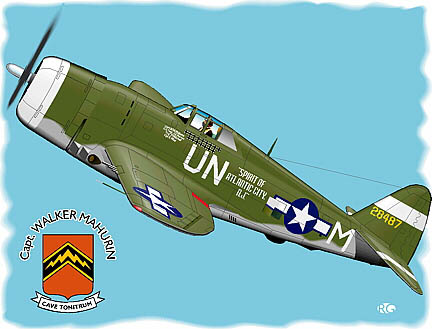 ---
Last Wartime Rank:
Lt. Colonel
Unit(s):
– 56th Fighter Group
— 63rd Fighter Squadron
Theatre(s): ETP, PTO, Korea
Decoration: N/A

Victories: 24.25
Total Sorties: N/A
Strike Rate: N/A
Aircraft Flown:
– P-47 Thunderbolt
— "Spirit Of Atlantic City, NJ"
Walker Melville Mahurin was born on December 5, 1918. Known as Bud Mahurin, he was an United States Air Force (USAF) officer and aviator. During World War II, while serving in the United States Army Air Forces (USAAF), he was a noted flying ace.
Mahurin was the first American pilot to become a double ace in the European Theater. He was the only United States Air Force pilot to shoot down enemy planes in both the European and Pacific Theaters and the Korean War. During World War II he was credited with 20.75 aerial victories, making him the sixth-highest American P-47 ace. He was credited with shooting down 3.5 MiG-15s in Korea, giving him a total of 24.25 aircraft destroyed in aerial combat.
Colonel Mahurin passed on May 11, 2010.

---
U.S.A.A.F. RESOURCE CENTER
>
USAAF ACES & LEGENDS
>
PREVIOUS PAGE
---