---
U.S.A.A.F. RESOURCE CENTER
>
UTILITY/LIASON
>
PREVIOUS PAGE
---
STINSON L-1 VIGILANT
---

L-1A Vigilant, serial # 41-18952, flown by Lt. Cy Gladen of the
44th FS on Guadalcanal and New Georgia, July 1943.
---
Type: Liason & Observation aircraft
Origin: Vultee
Crew: 1-3
Model(s): O-48, L-1, L-1A
First Flight: July 15, 1940
Final Delivery: 1941
Aircraft Produced:
L-1: 142
L-1A: 182
Unit Cost: $21,000


---

Powerplant:
Model: Lycoming R-680-9
Type: Radial piston engine
Number: One Horsepower: 295 hp


---

Dimensions: L-1A
Wing span: 50 ft. 11 in. (15.52m)
Length: 34 ft. 3 in. (10.44m)
Height: 9 ft. 10 in. 3.10m)
Wing Surface Area: 329 ft² (30.6 m²)

Weights: L-1A
Empty: 2,670 lb (1,211 kg)
Max Take off: 3,400 lb (1,542 kg)

Performance: L-1A
Maximum Speed: 122 mph (196 kph)
Cruising Speed: 109 mph
Rate of climb:
408 ft/min (124.36 m/min)
Service Ceiling: 12,800 ft (3,900m)
Range: 280 miles (451km)
Wing loading: 10.3 lb/ft² (50.4 kg/m²)
Power/mass:
0.0867 hp/lb (0.143 kW/kg)


---

Armament: None

Payload: N/A


---

Comments: Military version of Stinson Model 74.

---
The Stinson L-1 Vigilant was a 1940s American light observation aircraft built by the Stinson Aircraft Company at Wayne, Michigan (by November 1940 a division of Vultee Aircraft Corporation). The aircraft was operated by the United States Army Air Corps as the O-49 until 1942.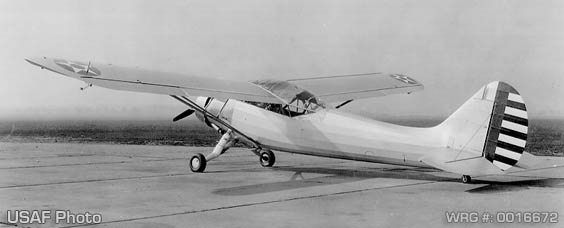 0-49 Vigilant at Patterson Field.
Design & Development:
The Vigilant was designed in response to a 1938 United States Army Air Corps design competition for a two-seat light observation aircraft. When the German-manufactured Fieseler Storch was demonstrated at the Cleveland Air Races, the Air Corps revised its specifications in an attempt to match the performance of the Storch. Stinson (later a division of Vultee), won the $1.5 million contract over 11 competitors, including the Bellanca YO-50 and Ryan YO-51 Dragonfly.
The Model 74 was a single radial engined high-wing monoplane with trailing-edge high-lift devices for low speed and high lift performance. The prototype aircraft was built full-span leading-edge automatic slots manufactured by Handley Page, and slotted flaps. The Model V-74 was given the Army designation YO-49 for evaluation, with the first flight by test pilot Al Schramm on 15 July 1940.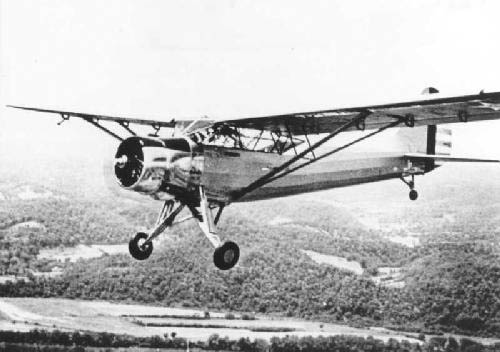 The aircraft was built of steel tubing and fabric, with the fuselage forward of the wing enclosed in sheet metal. Control surfaces and the empennage were fabric-covered stainless steel. The Lycoming power plant was hand-cranked inertia starting, and was fitted with a Hamilton Standard constant speed propeller. At least 12 ambulance conversions were fitted with Edo 49-4000 pontoons (4,000-pound displacement) for amphibious landings and takeoffs.
The Vigilant was capable of stopping in less than its own length, and could maintain stable flight at 31 miles per hour. Anecdotally, the Vigilant was said to be capable of backwards flight in a strong headwind.
Operational History
The Stinson Vigilant was used in diverse roles such as towing training gliders, artillery spotting, liaison, emergency rescue, transporting supplies and special espionage flights. Another contract was later awarded for the O-49A which had a slightly longer fuselage and other equipment changes. In April 1942 the aircraft were redesignated the L-1 and L-1A (liaison). Up to 17 L-1 and 96 L-1A aircraft were allocated to the British Royal Air Force under the Lend-Lease Act, with varying numbers given for aircraft actually delivered. The RAF designated the aircraft the Vigilant Mk I and Vigilant Mk II respectively. General Harry Crerar, Commander of the First Canadian Army in Europe during World War II, maintained a Vigilant for his personal use.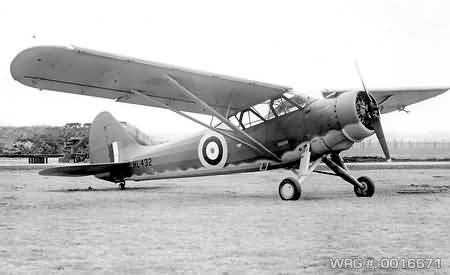 Royal Air Force L-1 Vigilant at Air Fighting Development Unit, Duxford, UK, circa 1941-42
Aircraft were modified for a variety of roles including as an ambulance aircraft. No further production orders were placed as the aircraft was superseded by procurement of vast numbers of the
L-5 Sentinel
and
L-4 Grasshopper
"puddle-jumper" aircraft.
---
Sources:
Wikipedia - Stinson L-1 Vigilant
Jack Cook Collection.
---
U.S.A.A.F. RESOURCE CENTER
>
UTILITY/LIASON
>
PREVIOUS PAGE
---