---
U.S.A.A.F. RESOURCE CENTER
>
USAAF ACES & LEGENDS
>
PREVIOUS PAGE
---
Gerald Richard Johnson
---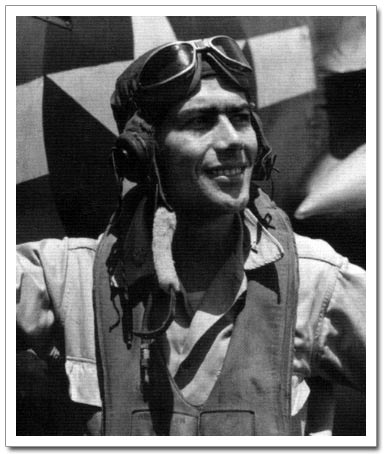 ---
Born: N/A
Hometown: Kenmore, Ohio
Last Wartime Rank:
Colonel
Unit(s):
Gerald Richard Johnson – 5th USAAF/SWPA
— C.O. 49th Ftr. Gp.
Theatre(s): ETO
Decoration:
– Distinguished Service Cross with 1 OLC
– Silver Star
– Legion of Merit
– Distinguished Flying Cross with 5 OLC
– Air Medal with 11 OLC
– Soldiers Medal
– Distinguished Unit Citation

Victories:
- 22 Aerial Destroyed
— including 1 RAAF Wirraway Shot Down
Total Sorties: N/A
Strike Rate: N/A


---

Aircraft Flown:
P-39
P-47D, #83
P-40N-CW-5, SN: 42-105826
P-38J, #83
P-38L, "Barbara"
P-38L, "Jerry"

---
Service:
Enlisted AAC as Aviation Cadet at Vancouver Barracks, Washington.
Primary Training at Oxnard, California. Basic Training at Bakersfield, California. Advanced Training at Luke Field, Arizona. Commissioned 2/Lt. and received Wings on October 31, 1941. Assigned to the 57th PS/54th PG at Everett, Washington, which later moved to Harding Field, Louisiana.
On May 27, 1942, Johnson moved with the 54th to Alaska and flew 58 combat missions, destroying 2 Japanese E/A. Returned to ZI and attended Fighter Command School in Orlando, Florida. Returned to 54th FG and later transferred to the 329th FG in Glendale, California. Assigned to the 9th Ftr. Sq./49th Ftr. Gp. and later promoted to Major and Squadron C.O. in October 1943. Became Deputy C.O. of the 49th FG and was attached to the 7th FS. Detached Service back in the ZI to attend Command and General Staff School at Ft. Leavenworth, Kansas from May 27, 1944 through October 4, 1944. Resumed duty as Deputy C.O. of the 49th FG. On December 7, 1944, Johnson scored 3 victories to bring his score to 20 destroyed and was promoted to Lt. Colonel. On March 10, 1945, Johnson became C.O. of the 49th FG.
After the end of WWII, Colonel Johnson was KFA during an administrative mission to Japan on October 7, 1945 - Johnson, flying a B-25, and his crew had become lost in a typhoon. With the aircraft running out of fuel, Johnson ordered crew and passengers to bail out but had to give his parachute to a passenger. Johnson and co-pilot tried to nurse the aircraft safely back but were killed when the B-25 went down in the ocean.
Remarks:
22 Victories scored, 11 in each of two tours, with the 49th FG. Johnson included an Australian Victory flag on his "tally board" displayed on his last P-38 - On November 15, 1943, Johnson had shot down a RAAF Wirraway recon/fighter (resembling a North American AT-6 Trainer or a Mitsubishi Zero from head-on!) in a head-on pass after being advised over the R/T by ground control that the Australians had left the combat area and Japanese Zeros had entered. The Wirraway pilot, RAAF Flight Officer Stewart managed to crash-land and was not seriously harmed. Johnson Air Base, Japan is named after Col. Johnson.
---
---
U.S.A.A.F. RESOURCE CENTER
>
USAAF ACES & LEGENDS
>
PREVIOUS PAGE
---