---
U.S.A.A.F. RESOURCE CENTER
>
USAAF ACES & LEGENDS
>
PREVIOUS PAGE
---
CYRUS R. GLADEN
---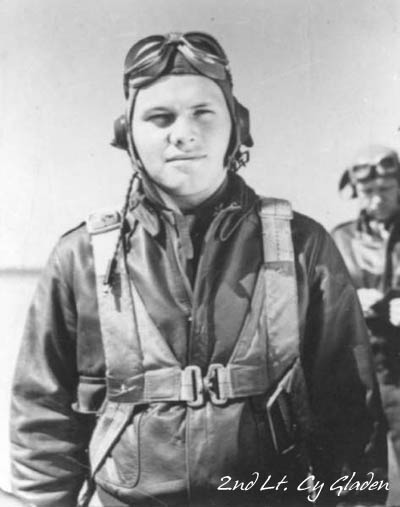 ---
Last Wartime rank: Captain

Unit(s):
45th Pursuit Squadron, 15th Pursuit Group
44th Fighter Squadron

Theatre(s): PTO

Decoration: Silver Star, DFC, Air Medal with 11 olc, Army Commendation Medal, Good Conduct Medal, American Defense Medal with 1 star, American Campaign Medal, Pacific Campaign Medal with 4 battle stars, WWII Victory Medal, AFLSA with 7 olc, Armed Forces Reserve Medal with hourglass.

Victories:
- 5 confirmed.
- 2 probables
- 3 damaged
Total Sorties: 164

Aircraft Flown:
P-40F, #133 (with Sharks Mouth)
P-40F-5 #115 "Fugari"

---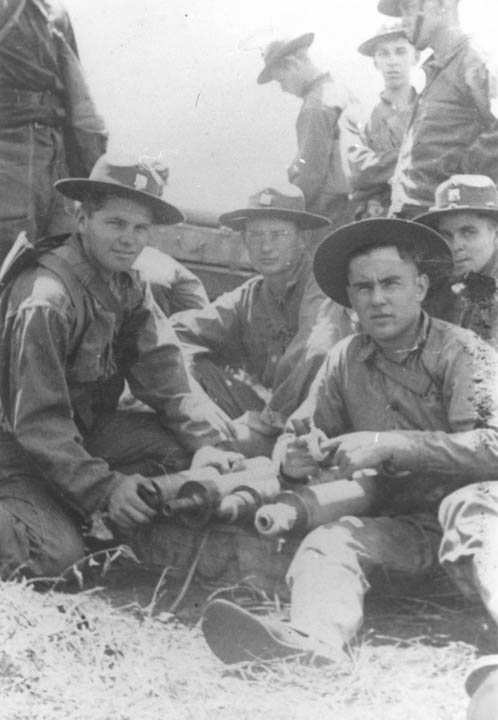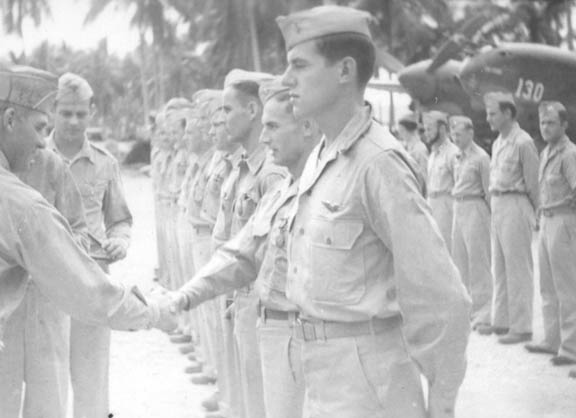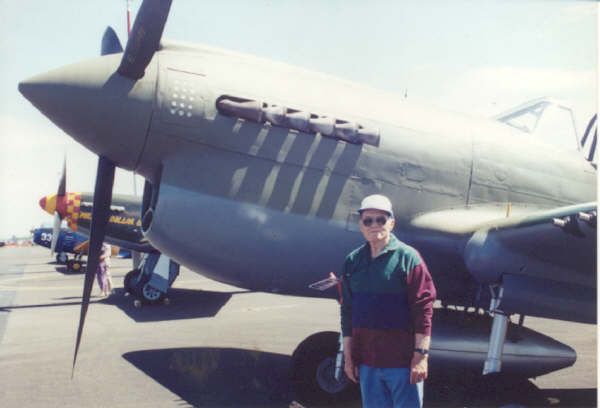 ---
COMMENTS/NOTES:
Cyrus R. Gladen was born on Nov. 4, 1920 in Bemidji, MN but grew up in the nearby farming community of Guthrie. After graduation from high school in 1938 he enlisted in the US Army at Fort Snelling, MN in the chemical warfare branch. After basic training he was assigned to Hawaii and served in a 4.2 chemical mortar company. In late 1940,Cpl Gladen took and passed the Army's college equivalency exams, which credited him with 2 years of college and applied for flight training. Transferred to the Air Corps which awaiting orders, he completed the aircraft mechanics basic school and was assigned to the 45th Pursuit Squadron has the assistant crew chief on the P-40B Tomahawk of the squadron CO Capt Aaron Tyer. On Dec. 7, 1941 Cpl. Gladen was on duty at Hickam field has Cpl. of the guard where he formed a squad armed with BARs and directed fire upon attacking Japanese aircraft for which he later received the Army Commendation Medal. Returning to the US on the first returning ship, he reported immediately for flight training and graduated with the class of 42G from Moore Field in Mission, Texas on Aug. 5, 1942. Transferred back to Hawaii, 2Lt Gladen proudly reported for duty to Maj. Tyer now CO of the 15th Pursuit Group whom assigned him to his old unit the 45th Pursuit Squadron. Gladen served with the 45th for the next 6 months gaining valuable experience and flight time. In March 1943, Lt Gladen was transferred to the 44th Fighter Squadron on Guadalcanal where he met up with a number of his friends from the 45th who had proceeded him to the combat area. Cy assigned has wingman for 1Lt Bob Byrnes in the 44th's "Shark Flight" consisting of flight leader Byrnes, his new wingman, 2Lt Dale Tarbet was the element leader and Cy's Moore Field buddy Mack Bunderson was Tarbet's wingman. Cy saw his first air combat in April and scored his first kills over Guadalcanal on June 16 when the Japanese made their last large scale 100+ aircraft raid. "Shark Flight" scored 6 of the 44th's 20 kills the wingmen dropping 2 Zeros each and Byrnes and Tarbet 1 Zero each. On this mission, Cy was flying P-40F #111 "The Reckless Prostitute" and smoked his first Zero after Byrnes missed. Byrnes quickly flamed another then passed the lead to Cy who had spotted a third, which he hit with a 3 second in the cockpit and left wing. Cy was able to fly close formation on the Zero observing the pilot dead in the cockpit. He followed in down until it crashed into the sea between Savo Island and Lunga Point. He later reported the Zero was painted in green camouflage and had 2 stripes and the rear fuselage. Flying numerous missions throughout June, July & August Cy didn't get a chance to scored again until Aug. 31 when his flight, operating from the 44th's forward base at Segi Point on New Georgia attacked a formation of Val DBs diving on a group of transport ships in Barakoma Harbor. In the ensuing combat, Cy hit at least 8 Vals (the last of which coated his Warhawk with oil blinding him) and was hit by a Zero which put 40 holes in the tail of his P-40F #115 before his wingman "Red" Fox shot it off his tail. Cy landed his bullet riddled and oil drenched P-40F at Segi with 6 rounds of .50 cal ammo left for his guns.
His final credits over the Vals were 3 confirmed, 2 probable and 3 damaged. Cy continued to fly missions in the worn out P-40s until Dec. 43 when the Squadron converted to P-38s and newly promoted Capt Gladen took command of the squadron's 6th flight. He flew 27 more missions with 10 to Rabaul before completing his combat tour in January 1944. When he returned to the states, he had flown 164 missions and received the Silver Star, Distinguished Flying Cross and 12 Air Medals. Cy later flew P-39s, P-63s and P-51s from Portland and Pendl
ETO
n Air Bases. He had preparing to go back to the Pacific has a squadron commander replacement when the war ended. He left the service but stayed active in the reserves retiring has a Lt. Col. He graduated from the Univ. of Oregon with a degree in Business and worked has a agent for Allstate Insurance until his retirement. An avid fisherman, hunter, craftsman Cy was always there for a friend. He was a longtime supporter and volunteer at the Boys & Girls Club. He passed away on Feb. 11, 1998 and rests in Willamette National Cemetery.
---
Sources:
Profile prepared by Jack Cook
---
---
U.S.A.A.F. RESOURCE CENTER
>
USAAF ACES & LEGENDS
>
PREVIOUS PAGE
---